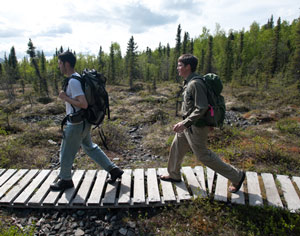 NPS Photo / Kent Miller
Enjoy a climb up to alpine lakes and tundra meadows, a stroll across river gravel bars, or a challenging bushwhack up to a seldom-visited waterfall. While day hiking opportunities are endless in places that can be reached by plane or boat there is only one maintained trail system. The Tanalian Trail system originates in Port Alsworth in the heart of the park.
Tanalian Trails
The Tanalian Trail system originates in the community of Port Alsworth on the southern shore of Lake Clark. Stop by the park visitor center in Port Alsworth for current trail conditions and directions to the trailhead. Download a Tanalian-area trail map
Tanalian Trails
Trails around Tanalian Mountain, in Lake Clark National Park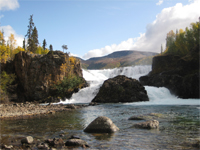 M. Richotte
Tanalian Falls and Kontrashibuna Lake
Difficulty: Moderate
Meandering through birch groves and up spruce studded hillsides with stunning views of Lake Clark this trail passes roaring Tanalian Falls on its way to the serenity of Kontrashibuna Lake.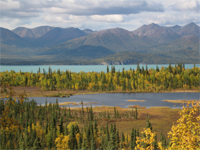 M. Richotte
Beaver Pond Trail
Difficulty: Moderate
Any hike in the Tanalian Trail system can be made into a loop by returning on the Beaver Pond Trail. This trail meanders through quiet birch groves and past an old beaver pond where shorebirds nest in the early summer.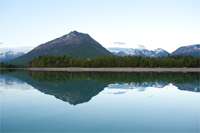 NPS photo/K Miller
Tanalian Mountain
Difficulty: Rigorous
The trail up Tanalian Mountain is steep and rigorous with stunning panoramic views of Lake Clark and the surrounding mountains.
Coastal Beach Hike

Difficulty: Easy

Excellent seasonal fishing (salmon runs from July to October). Great views, plentiful camping sites. This is a great way to get away from people as you will be traveling through areas that are not commonly visited. Learn more about hiking the beach along Cook Inlet.

Other Day Hikes
A boat or plane ride can provide access to endless opportunities for day hiking. While there are not additional maintained trails in the park, lakeshores, coastal beaches, and high tundra offer excellent hiking. When flying or boating to remote locations for day trips make sure you are prepared to spend the night if unexpected weather makes that necessary.
---
Safety
Remember, a day hike can turn into a night spent outside if you get lost or injured. Please carry basic safety equipment and be prepared for inclement weather. It is always helpful to let someone know where you are going and when you plan to return. Read up on how to stay safe in the park.