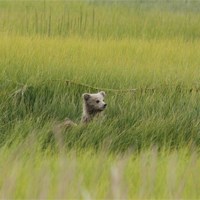 Salt marshes are among the most productive ecosystems in the world and a prominent feature of Lake Clark National Park's coastline. Each spring brown and black bears congregate in these meadows to graze on the fresh green sedges after winter hibernation. With their fat reserves depleted and with young cubs to feed, bears emerge from their dens in need of high protein nutrition. Young sedges in the salt marshes are a critical early season nutrition source for bears.
During low tide bears leave the salt marshes for the adjacent mud flats to dig razor clams and other bivalves. Tidal streams bisecting the salt marshes provide nursery habitat for a variety of juvenile fish. In late summer, salmon enter the salt marsh streams on their way to their spawning grounds. As salmon arrive, bears transition from sedges to salmon in preparation for the upcoming winter months. Waterfowl, shorebirds, song birds, moose, river otters, and other small mammals can also be found using these marshes.
Coastal salt marshes comprise less than 1% of Lake Clark National Park and Preserve yet are critical to the survival of the park's coastal brown bears. The importance of the salt marshes to the ecology of the park has prompted National Park Service scientists to monitor the condition of these vital systems.