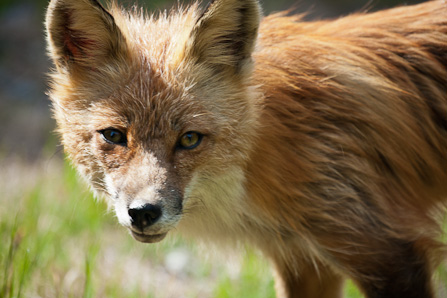 NPS/Kevyn Jalone
A bear splashes into a stream and emerges with a spawning salmon ... tundra swans glide elegantly across a boggy pond ... a porcupine curls up and shows his quills to a curious hiker ... a sharp-shinned hawk dives on a redback vole ... wolves howl into the winter night. Lake Clark National Park and Preserve teems with wildlife.

A full complement of sub-arctic wildlife species inhabits the Lake Clark area. Thirty-seven species of terrestrial mammals are believed to be present in the region. Five different marine mammal species use haulout sites or feeding areas along the coast. The wood frog, the lone species of amphibian found in the region, inhabits the margins of lakes and ponds of the western foothills and the shores of Cook Inlet. One hundred eighty-seven species of birds have been observed in the park and preserve. Fish include salmon, arctic char, arctic grayling, Dolly varden, northern pike, lake trout, and rainbow trout.
To learn more, look through the animals listed to the left or find wildlife information from the State of Alaska.

It is an amazing experience to view wild animals in their natural environment. Learn more about wildlife viewing, including information about safely and how to respectfully view wild animals.