Birds
Lake Clark's skies are filled with birds. Each spring the forests echo with uncountable songs. Their wing-beats flash in hypnotizing patterns along the seashore as they gather in large flocks during fall and spring migration. The tundra resounds with the calls of species nesting among the swarms of delicious mosquitoes. The winter's quiet is broken by the squawk of a year-round resident. In total 187 species of raptors, waterfowl, seabirds, shorebirds, and songbirds have been documented in the park and preserve.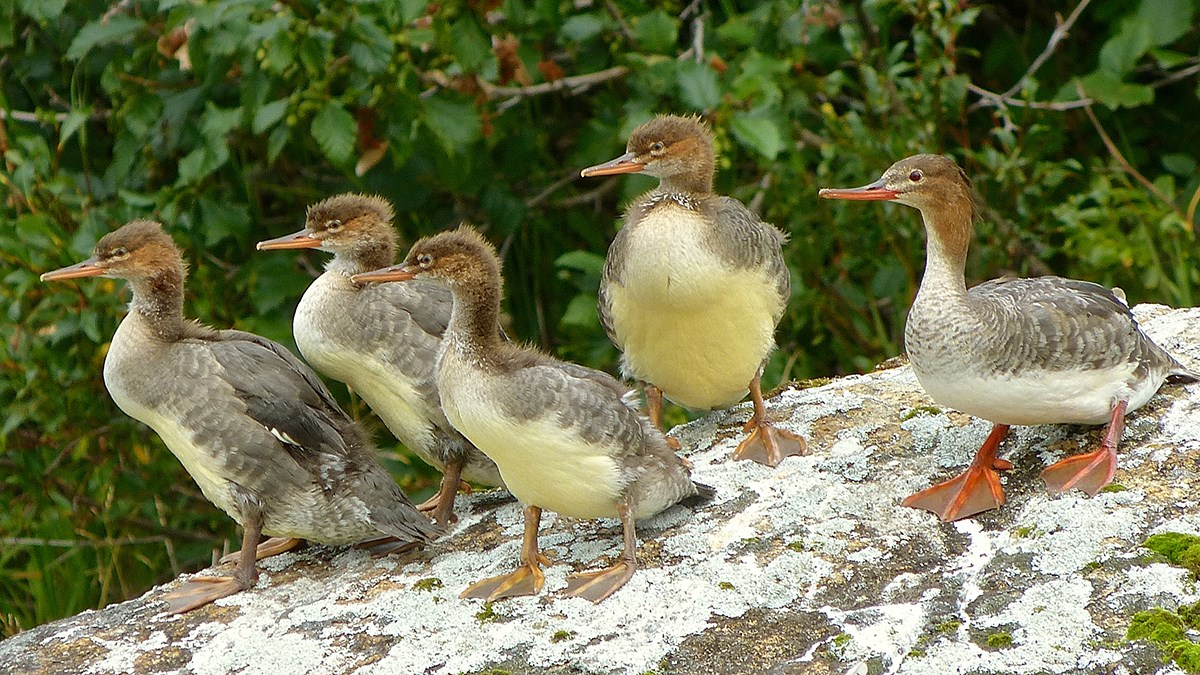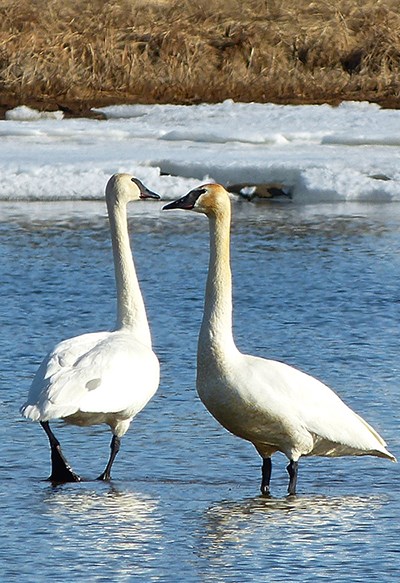 Waterfowl, Shorebirds and Seabirds
Waterfowl nest and molt in wetlands throughout the area. Large migratory flocks of ducks, swans, and geese rest and feed in the park and preserve before flying from Nikabuna Lakes to Lake Clark through low mountain passes in the Chulitna River drainage. Sea ducks, primarily white-winged and surf scoters, are the most abundant waterfowl on the coast, numbering over 18,000 in mid-August.
The coast also provides important breeding habitat for mallards, American widgeon, Barrow's golden-eye, and red-throated loons. Migrating dabbling ducks number 3,000-4,000 in spring and fall. Diving ducks, primarily greater and lesser scaup, stage along the coast in spring. They reach peak abundance (16,400 birds) in mid-May. Other ducks include green-winged teal, northern pintail, harlequin, common golden-eye, black scoter, common eider, bufflehead, and oldsquaw.
About 30 pairs of trumpeter swans nest in the park and preserve; most breed in wetlands on the coast. Canada geese occur in Tuxedni Bay and can number about 4,400 during fall migration.
Seabird breeding colonies occur along Cook Inlet, and concentrate at Tuxedni and Chinitna Bays. Of the seven seabird colonies surveyed from 1994 to 1996, the largest contained 2,700 black-legged kittiwakes. Less numerous seabirds include horned and tufted puffins, double-crested cormorants, pelagic cormorants, glaucous-winged gulls, common murres, and pigeon guillemots.
During spring migration, 86,000 to 122,000 shorebirds, primarily western sandpipers and dunlin, use intertidal mud flats in Tuxedni and Chinitna Bays.
Raptors
Raptors, including bald and golden eagles, northern goshawks, sharp-shinned hawks, northern harriers and merlins, breed in the Lake Clark area. About 50 pairs of bald eagles and 5-10 pairs of golden eagles are known to nest in the park and preserve. Bald eagles are considered a "vital sign" for the park's ecological health because they are an indicator of many environmental conditions that affect other species. Potential threats to eagle breeding populations include oil spills and exposure to environmental contaminants, increasing human visitation, incidental trapping, and potential climate change effects. The National Park Service's Southwest Alaska Network actively studies bald eagles in the area and finds populations to be generally stable.

Two pairs of osprey also nest in the preserve. Once-endangered peregrine falcons occupy eyries on cliffs along interior lakes and rivers, and at Tuxedni Bay.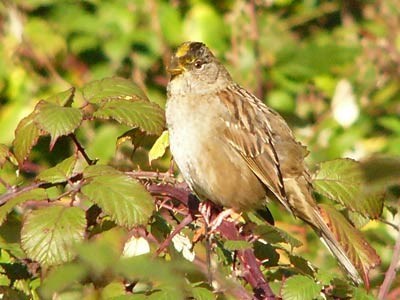 The Golden-Crowned Sparrow
In the spring, people were fishing, but there were no fish. One man was sitting on the bank and listening. A bird sang, "tsik' ezlagh."
He ran into the house. "Hurry!" he said, "that bird sang 'tsik' ezlagh.'" And everyone went down to the beach with dipnets.
The one who had spread the news was watching, and a gull flying close to the surface of the water was calling "beq'ina" ['its fish eggs']. He went there with a dipnet. He jumped in the water, and he caught a king salmon.
And they marked that day. At times the fish ran earlier. At times they ran later. And they listened for that bird. Sometimes he sings later, sometimes earlier.
That is what they said. When the first salmon run, the golden-crowned sparrow sings.
-Peter Kalifornsky, excerpt from "A Dena'ina Legacy" (translated from Dena'ina)
See a list of birds found in the park using the NPSpecies tool below.
Select a Park:
Select a Species Category (optional):
Search results will be displayed here.

Visit NPSpecies for more comprehensive information and advanced search capability. Have a suggestion or comment on this list? Let us know.


Last updated: February 23, 2018