Silver Salmon Creek
Silver Salmon Creek, on the park's Cook Inlet coast, offers outstanding bear viewing and sport fishing opportunities for visitors. Brown bears can be seen grazing in the sedge meadows, fishing in the creek or digging for razor clams on the beach. Coho (silver) and humpback (pink) salmon as well as Dolly Varden run up the creek in the late summer. The following guidelines (also available as printable pdf) have been established for Silver Salmon Creek to provide for your safety, to allow bears to naturally use the area, and to ensure the continued opportunities for bear viewing and sport fishing.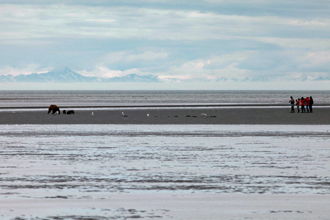 NPS Photo / K. Jalone
Bear Viewing

Bears depend on fish and other food sources at Silver Salmon Creek for their survival. All efforts should be made to minimize disruptions of the bears' behavior or habitat.
Respect a bear's space.
Never approach, crowd, pursue or displace bears.

Stay in groups and minimize noise and movement.
Reduce chances of surprise encounters by staying alert, making noise in areas of low visibility.
Give bears room to pass. NEVER RUN from a bear.
Keep all gear immediately with you.

Prevent bears from getting food from humans. See food storage requirements for this area.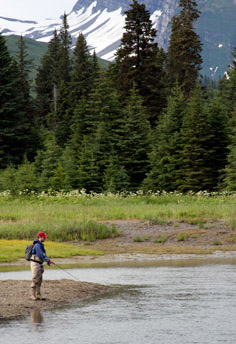 NPS Photo / K. Jalone
Fishing in Bear Country

It is important that we don't teach bears that anglers can provide an easy meal!
Splashing fish attracts bears.
If a bear is near enough to notice a fish splashing---STOP FISHING!
If a bear approaches while you have a fish on the line, give it slack or cut the line to eliminate splashing.

Secure your catch in a bear-resistant container (available from your guide or from the ranger station).

Fish remains attract bears. Clean your fish at the ocean beach and cast all remains into the ocean. If there are bears on the beach, it may be best to wait until you leave the area to clean your fish.

Allow bears access to the creek. Fish are a critical food source for bears; give them plenty of time and room to fish.
Abide by all State of Alaska fishing regulations.

NPS Photo
Need help?
There is a ranger station on the south side of the creek, just off the trail from the south beach.