South Campground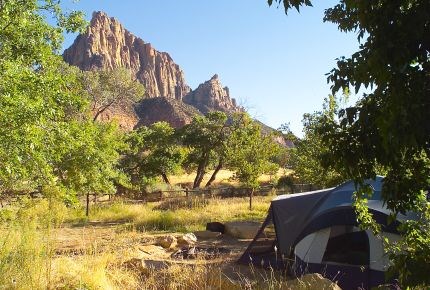 Availability
South Campground: Reservations only camping. Reservations must be made online up to two weeks in advance at Recreation.gov or by calling 877-444-6777. South Campground will open from March 15, 2021 through October 31, 2021.

CAUTION: Many campsites in both South and Watchman Campgrounds are located near the North Fork of the Virgin River. Please be aware of the recent toxic cyanobacteria bloom in the river; the National Park Service recommends avoiding contact with the water of the North Fork of the Virgin River at this time.

Accessibility
South Campground is located ½ mile from the South Entrance. There are 117 campsites (including three wheelchair accessible). South Campground has three flat sites, but no accessible facilities such as restrooms or trails. Campers staying in South Campground can travel .3 miles to the Watchman Campground to utilize accessible restrooms if necessary.

RV Hookups & Generators
There are no hook-ups available in this campground, though a dump station with potable water is available for campers. Generators are allowed from 8:00 a.m. to 10:00 a.m. and from 6:00 p.m. to 8:00 p.m. Shaded/tree sites can only accommodate vehicles with maximum height of 12 feet 6 inches (3.84 meters).

Hammocks
Hammocks are allowed in the campground with the following guidelines: Must be over the footprint of the campsite, limited to trees 10 inches in diameter with adequate padding around the tree and only 2 hammocks are allowed to be suspended from the same tree.

Cost
Campsites are $20 per night for individual campsites and $50 for group sites. Owners of an Interagency Senior/Golden Age or Interagency Access Pass receive a 50% discount on individual campsites. There is no discount on group sites. There is no discount on camping fees for Interagency Annual Passes.
Group Sites
The Group Sites in South Campground are currently open. Reservations required.

South Campground Map and Regulations

Call 435-772-3256 for additional information on camping.

Return to the Campgrounds in Zion page.
Last updated: June 24, 2021