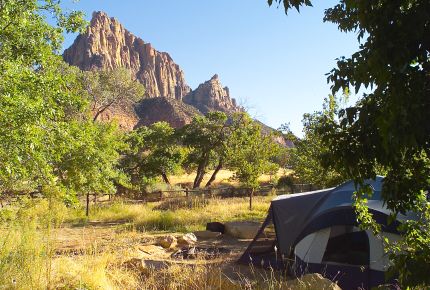 Please Note: South Campground will remain open until Friday, December 2, 2016 at 11:00 am.

Watchman Campground will close Monday November 28, 2016 at 11:00 am and will reopen on Friday December 2, 2016. Watchman Campground will closed due to tree trimming.

South Campground will reopen March 17, 2017

South Campground is located ½ mile from the South Entrance. There are 117 campsites (including three wheelchair accessible) available first-come, first-served. For the 2016 season, we have added 4 group sites that will accommodate 7-15 people, available first-come, first-served.

Campsites typically fill up daily between 9 am and noon, March through October. There may be sites available every morning at the South Campground. The earliest time that you can began waiting in line for a campsite is 7 am.
There are no hook-ups available in this campground; a dump station with potable water is available for campers. Generators are allowed from 8:00 a.m. to 10:00 a.m. and from 6:00 p.m. to 8:00 p.m.
Campsites are $20 per night for individual campsites and $50 for group sites. Owners of an Interagency Senior/Golden Age or Interagency Access/Access Pass receive a 50% discount on individual campsites. There is no discount on group sites. There is no discount on camping fees for an Interagency Annual Pass ($80 pass).
Shaded/tree sites can only accommodate vehicles with maximum height of 13 feet (3.96 meters).
The new group sites can accommodate a minimum of 7 people and maximum of 15 people; up to 5 vehicles (which can include an RV, trailer, pop-up camper, or utility trailer); and a maximum of 6 tents. Check the map at the campground kiosk for the location of these sites (indicated as Group Site A, B, C, or D).

South Campground Map
South Campground Regulations

Call 435-772-3256 for additional information on camping.

Return to the Campgrounds in Zion page.