News Release
Ask a ranger to learn more about Zion!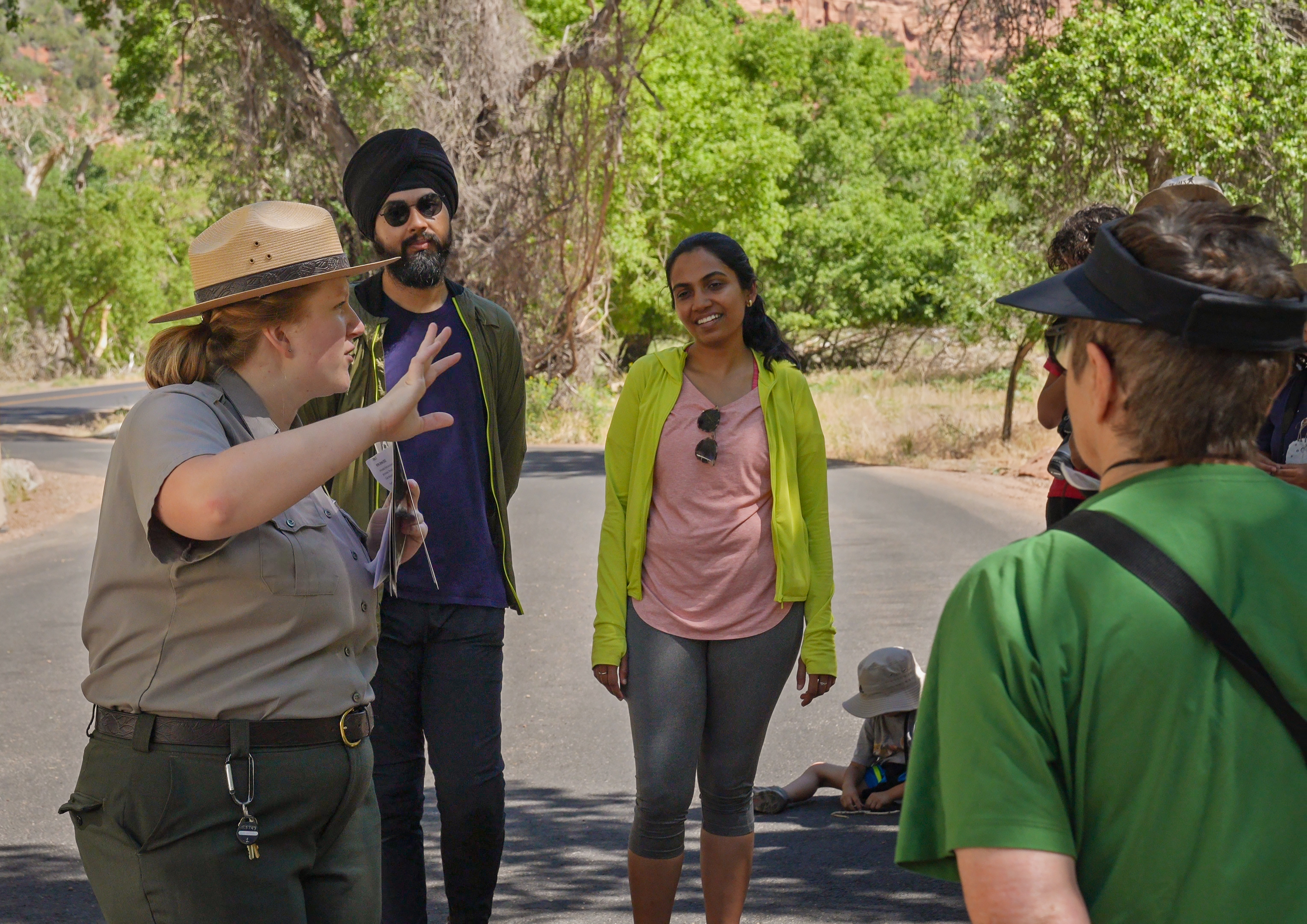 News Release Date:
August 17, 2023
Contact: Zion News Desk, zion_newsdesk@nps.gov, 435-772-0162
SPRINGDALE, Utah – Think you've seen it all? You haven't seen the half of it until you've been to a ranger program in Zion National Park! Ranger programs provide great information about the iconic landscapes, plants, animals, and history that make Zion special.

"Ranger programs fulfill an important part of our mission to conserve and provide access to Zion National Park," Jeff Bradybaugh, Zion National Park Superintendent said. "Attending a program gives the opportunity to learn what makes this park special, how to recreate responsibly, and about the hard work it takes to host millions of visits every year."

Attend a program
Rangers deliver free programs every day. Go the Zion Canyon or Kolob Canyons Visitor Centers for a full schedule or check the NPS App, nps.gov calendar, or Ranger led activities webpage to learn more. 

Be a Junior Ranger
Be a Junior Ranger on your visit to Zion National Park by picking up at the Zion Human History Museum, Zion Canyon or Kolob Canyons Visitor Center, or the Zion Nature Center. Complete the booklet, attend a ranger program, and return to be sworn in and receive an official junior ranger badge. 

Recreate responsibly 
Be patient with rangers and other visitors. Travel can be stressful, and we need your help to make sure everyone enjoys their national park visit. 

Stay between the lines. Park your car in designated lots and never on unpaved areas where plants can grow.

Drink plenty of water to avoid dehydration and watch for signs of heat stress.  

Avoid flash floods & lightening by checking the forecast. Your safety is your responsibility.

Prevent wildfires. Fireworks are not allowed in Zion National Park and fires are only allowed in designated, metal fire rings. Fires are never allowed in Wilderness.

Park only in designated parking areas. Illegally parked vehicles can harm park plants and animals and may be ticketed or towed.  

Pack it In – Pack it Out. Take everything you bring into the park out again. This helps protect plants, animals, and historic resources and reduces the amount of trash NPS staff need to manage.  

Go Before You Go. Use restrooms at trailheads and shuttle stops before venturing out on trails. 
Learn more about shuttle operations in Zion, check our social media, and visit our website for the latest park information.
Photos and Video
Get public domain photos and b-roll of ranger programs.
About the National Park Service. More than 20,000 National Park Service employees care for America's national parks and work with communities across the nation to help preserve local history and create close-to-home recreational opportunities. Learn more at www.nps.gov, and on Facebook, Instagram, Twitter, and YouTube.
Last updated: August 17, 2023