Ranger-led Activities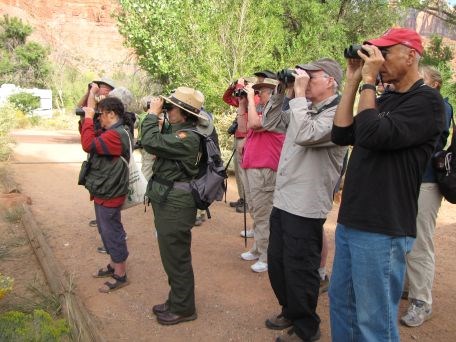 Ranger-led Programs
Enhance your understanding and enjoyment of Zion National Park by taking part in a ranger program. Limited programming may be offered throughout the year, with more program offerings in Zion Canyon from mid-April to mid-October. Topics include geology, plants, animals, human history, and more. All ranger-led programs are free and for all ages. Check the current Map and Guide, or at visitor centers and bulletin boards throughout the park for times, places, and subjects. Ranger led programs are required to earn a Junior Ranger Badge.

Daily Ranger Programs through Labor Day Weekend (see Types of Programs below for more information)
8 am - Guided Ranger Walk on Parus Trail. (2 hours, easy). Meet in front of Zion Canyon Visitor Center.
9 am - Ride with a Ranger - Reservations must be made in advance, in person, at the Zion Canyon Visitor Center.
11am - Patio Talk - Animals or History. Museum Patio.
2pm - Patio Talk - Geology. Museum Patio.
4pm - Patio Talk - Animals or History. Museum Patio.
8 pm - Evening Program - Zion Lodge.
9:15 pm - Evening Program - Watchman Campground Ampitheater.

Youth Programs
Youth programs are designed specifically for families and children. Children must be accompanied by an adult while attending the programs. Youth programs are offered intermittently through March and April, from Memorial Day through mid-August, and during Labor Day Weekend. Programs take place throughout the park at the Zion Nature Center and at the Zion Lodge.

Types of Programs
Walks
Ranger-led walks occur daily in summer on the Pa'rus Trail. Meet the ranger at the Zion Canyon Visitor Center for an 8:00 am departure. Be prepared to walk 1.7 miles on an easy, paved trail with a 50 foot elevation gain (15 m). Wear appropriate footwear and bring a hat, sunglasses, sunscreen, and water. Wheelchairs may need assistance.

Talks
Enjoy a 20-30 minute talk on the patio at the Zion Human History Museum. The Museum is at shuttle stop 2. Limited parking is available.
Evening Programs
Discover what makes Zion such a special place. Forty-five minute programs addressing a myriad of topics are offered every evening May through September at Zion Lodge and Watchman Campground. Parking is available at Watchman Campground for non-campers. Ride the shuttle to the Lodge at shuttle stop 5.
Evening Program Schedule July 7 through July13
Evening Program Schedule July 13 through July 20

Ride with a Ranger Shuttle Tours
Conducted daily from Memorial Day until late September and starting at the Zion Canyon Visitor Center. These tours last two hours. Seats are limited - make free reservations, in person, up to three days in advance at the information desk at the Zion Canyon Visitor Center. No telephone reservations accepted. Note: Because large groups can impact the availability of seats for other visitors, group size is limited to 8. This includes people sharing the same affiliation (school, club, scout troop, family, friends) on any one tour.

Nature Center Youth Programs
These programs are offered daily at 3:00 and 4:30pm from Memorial Day Weekend through Labor Day. The Zion Nature Center is located next to the South Campground. The shuttle does not stop here, but it can be accessed from the Pa'rus Trail. Limited parking is available. Programs are designed specifically for children and families and are 30-45 minutes long.

Youth Drop-In Programs
Stop by anytime between the times listed in the guide. Stay for a minute or stay for an hour. Held at the Big Bend Shuttle Stop, the Temple of Sinawava, Weeping Rock Trailhead, and the Emerald Pools Trailhead. Dates are from mid May to Labor Day.
Last updated: July 12, 2019