Ranger-led Activities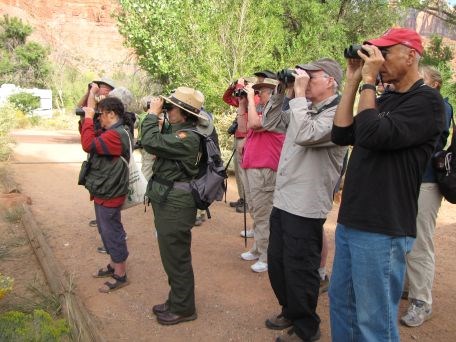 Ranger-led Programs
Please check our calendar to see an up to date schedule. You can also see our ranger program schedule in the free NPS App.
Ride with a Ranger
Join a Ranger on a 2 hour interpretive bus ride up Zion Canyon. This program requires free registration at the Zion Canyon Visitor Center front desk before the program and is limited. Accessible.
Visitor Center Patio Talk
Ranger-led Patio Talk takes place daily at the Zion Canyon Visitor Center Plaza at 1 PM daily. Subjects vary. Accessible.
Zion Lodge Talk
Ranger-led Talk takes place daily at the Zion Lodge at 4 PM. Subject vary. Accessible.
Human History Museum Patio Talks
Ranger-led Patio Talks takes place daily at the Human History Museum at 10:30 AM and 2:30 PM. Subjects vary. Accessible.
Ranger-Led Walk
Ranger-led Walk everyday on the Watchman Trail at 8 AM. Moderate, 3.5 miles, two hours. Sign up at the Zion Canyon Visitor Center in advance. Not Accessible.
Watchman Evening Program
May through October, 2023. Every evening at 9 pm. Watchman Campground Amphitheater. Discover what makes Zion such a special place. Topics often include the ranger's favorite stories (animals, people, geology). See bulletin boards for specific program topics. This program is outside so please dress accordingly. Accessible parking available.
Evening Program Schedule May 30 through June 6
Junior Ranger Programs
Youth programs are designed specifically for families and children. Junior Ranger Activity Booklets are available at the Zion Canyon Visitor Center and the Human History Museum.
Zion Nature Center
The Zion Nature Center reopened for the season on May 26, 2023. This interactive children's museum is a perfect place to learn about the geology, animals, and history of Zion. Explore different habitats, listen to bird songs and canyon tree frog calls, and watch flash flood videos in this historic building. The Nature Center is located near the South Campground, and can be accessed via the Pa'rus Trail. Limited parking is available.
Last updated: June 5, 2023