Ranger-led Activities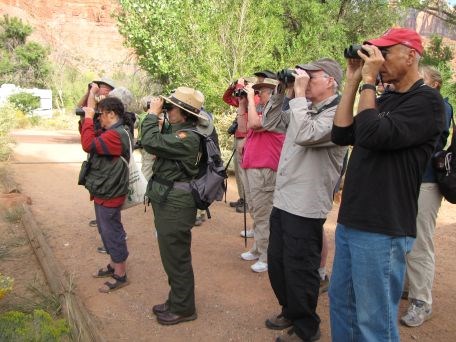 Attend a free ranger program during your visit to Zion National Park. These talks highlight information about the landscapes, plants, animals, and history that make Zion special. You can check the schedule at the bottom of this page or by downloading the NPS App. Read descriptions of programs below.
Zion Canyon Visitor Center Patio Talks
Three times daily at 11 am, 1:30 pm, and 3:30 pm in the Zion Canyon Visitor Center Plaza. Subjects vary. Accessible.
Zion Human History Museum Patio Talks
Twice daily at 9:30 am and 4:30 pm at the Zion Human History Museum. Subjects vary. Accessible.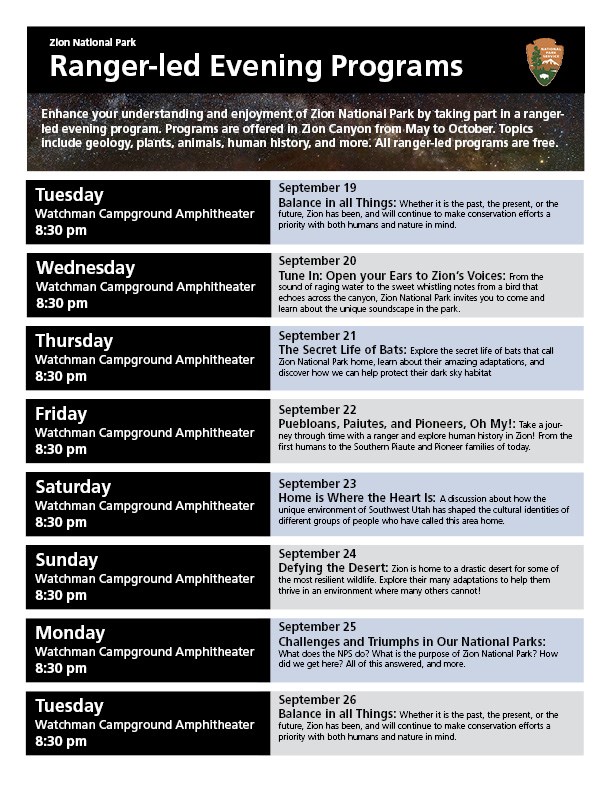 Watchman Evening Program
May through October 2023. Every evening at 9 pm. Watchman Campground Amphitheater. Discover what makes Zion such a special place. Topics often include the ranger's favorite stories (animals, people, geology). This program is outside so please dress accordingly. Accessible parking available.

Read the current Ranger-led Evening Program schedule on the right.
Junior Ranger Programs
Youth programs are designed specifically for families and children. Junior Ranger Activity Booklets are available at the Zion Canyon Visitor Center and the Human History Museum.
Zion Nature Center
The Zion Nature Center is closed for the season. This interactive site is a perfect place to learn about the geology, animals, and history of Zion. Explore different habitats, listen to bird songs and canyon tree frog calls, and watch flash flood videos in this historic building. The Nature Center is located near the South Campground, and can be accessed via the Pa'rus Trail.
Zion Ranger Program Schedule
Last updated: September 21, 2023