Nature & Science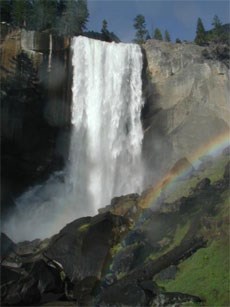 "It is by far the grandest of all the special temples of Nature I was ever permitted to enter." —John Muir
Yosemite National Park is a 195-mile escape from urban San Francisco or a 315-mile journey from Los Angeles. The expansive park's 747,956 acres or 1,169 square miles, nearly 95 percent of which are designated Wilderness, are home to hundreds of wildlife species, and over a thousand plant species. Designated a World Heritage Site in 1984, Yosemite is known for its granite cliffs, waterfalls, clear streams, giant sequoia groves and biological diversity. Two Wild & Scenic Rivers, the Tuolumne and Merced rivers, begin in the park and flow west to the Central Valley. Visitors can explore 800 miles of hiking trails and 282 miles of scenic roadways.
Animals: Yosemite supports more than 400 species of vertebrates, including fish, amphibians, reptiles, birds, and mammals. Insects abound as well, with the recent discovery of two species not believed to exist anywhere else in the world. The high diversity of animal species coincides with the striking elevational gradient and topographic variability of the park.

Plants: Move up or down in elevation and feel as though you are in another park. Vegetation changes from oak woodlands to chaparral scrublands to lower montane to upper montane to subalpine to alpine. Those who step into the alpine zone can see krummholz whitebark pines and perhaps a western juniper or mountain hemlock. Scientists study many individual plants, including the black oak, to understand its future challenges.

Ecological Restoration: Yosemite National Park has completed a wide variety of ecological restoration projects throughout the park over the past 20 years. Several projects are underway in the park and include a wide variety of park ecosystems such as meadows, invasive plants, social trails, riparian areas, and wetlands. These projects are designed to protect the ecosystem while still providing visitor access and enjoyment.
Natural Features and Ecosystems: Yosemite is a scientific laboratory of hydrology, geology and glaciology, amongst other sciences. Visitors fall in love with the park's many waterfalls, specifically 2,425-foot Yosemite Falls that ranks as the tallest in North America, flowing down into the scenic Valley meadows. Hikers take notice of the enormous granite mountains from the 8,842-foot Half Dome to the 13,114-foot Mt. Lyell-Yosemite's tallest peak. Glaciers, which John Muir sought out in California as well as Alaska, add into the mix with the Maclure and Lyell still intact. And, mapping all of this wonder is the task of GIS-skilled park scientists.
Environmental Issues: Yosemite can be affected by issues, many of which originate outside the park, like air quality and climate change. Yosemite's environment is healthy in many ways: Visitors use their senses in Yosemite to see the breath-taking scenic vistas, hear the soundscape, and almost touch the dark night sky above. Yosemite stays vigilant to protect these qualities through research, restoration, control, and monitoring. Further understanding is especially needed on climate change, fire management, and increasing visitation.
Research and Studies: Ongoing scientific research abounds at Yosemite, from declining animal species studies and invasive plant removal strategies to human carrying capacity issues. Yosemite's Division of Resources Management and Science, frequently hosts scientific symposiums for the public and other scientific presentations which are presented at monthly forums. In addition, the division processes hundreds of research permits every year for its staff and outside interests. Also, learn more about how Yosemite's scientists work on a regional level through the Sierra Nevada Inventory & Monitoring Network.


Last updated: January 5, 2020