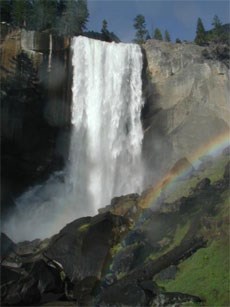 "It is by far the grandest of all the special temples of Nature I was ever permitted to enter." —John Muir
Yosemite National Park is a 195-mile escape from urban San Francisco or a 315-mile journey from Los Angeles. The expansive park's 747,956 acres or 1,169 square miles, nearly 95 percent of which are designated Wilderness, are home to hundreds of wildlife species, and over a thousand plant species. Designated a World Heritage Site in 1984, Yosemite is known for its granite cliffs, waterfalls, clear streams, giant sequoia groves and biological diversity. Two Wild & Scenic Rivers, the Tuolumne and Merced rivers, begin in the park and flow west to the Central Valley. Visitors can explore 800 miles of hiking trails and 282 miles of scenic roadways.
Animals: Yosemite supports more than 400 species of vertebrates, including fish, amphibians, reptiles, birds, and mammals. Insects abound as well, with the recent discovery of two species not believed to exist anywhere else in the world. The high diversity of animal species coincides with the striking elevational gradient and topographic variability of the park.