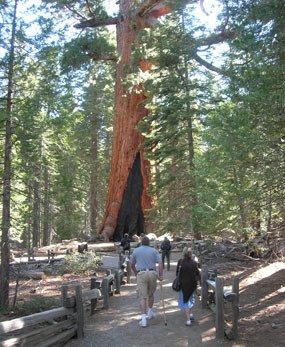 "…which purpose is to conserve the scenery and the natural and historic objects and the wild life therein and to provide for the enjoyment of the same in such manner and by such means as will leave them unimpaired for the enjoyment of future generations."
–The Organic Act of 1916, which established the National Park Service
Providing high-quality visitor experiences has always been a core principle of the national parks. However, with increasing visitation across the NPS in recent years, visitor use can also endanger the natural and cultural resources that parks exist to conserve and protect—not just trees and waterfalls, but also less tangible resources such as a sense of solitude or the experience of wilderness. Given the complexity of visitation in a park like Yosemite, social science methods provides us with tools to understand how visitor behavior and characteristics affect park resources, and help manage visitor use to avoid excessive impact levels.

Studies of visitor use using social science methods may include:
Documenting and modeling pedestrians;
Modeling transportation modes and systems;
Understanding visitor demographics, trip and visit characteristics;
Evaluating visitor services and facilities, expenditures, and opinions about selected issues via surveys; quantifying resource impacts under a variety of use levels;
Understanding visitor perceptions of crowding, wait times and various levels of service.
The park conducts research on those topics, among others, to inform visitor use management and planning. As part of this effort, the Visitor Use & Impact Monitoring Program produces annual reports on how Yosemite officials are managing the natural, cultural, and visitor experience. In addition, a number of visitor-use studies and reports (listed below) provide Yosemite with crucial data to ensure high-quality visitor experiences while mitigating impacts on the park itself.