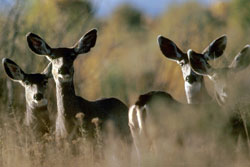 While at Yosemite, look all around you and, perhaps, you'll find something looking back at you. Chance encounters are likely because Yosemite National Park supports more than 400 species of vertebrates including fish, amphibians, reptiles, birds, and mammals. You might catch the eyes of an acorn woodpecker, a California ground squirrel, a bobcat, or a Western fence lizard. A human connection to animals, perhaps, entices our curiosity to be close to them, in part, by studying them.
The high diversity of species is the result of diverse habitats in Yosemite that are largely intact. The park's rich habitats range from thick foothill chaparral to conifer forests to expanses of alpine rock. Animals feel at home in each location; the Sierra Nevada red fox, for instance, hunts in open alpine habitat and retreats at night into the forest for safety.
In Yosemite Valley, home to the mule deer and black bear, visitors should watch for species that depend upon meadow habitat. Animals come to feed on the green grasses and use the flowing and standing water found in many meadows. Predators, in turn, are attracted to these areas. The interface between meadow and forest is also favored by many animal species because of the proximity of open areas for foraging, and cover for protection.