Ecological Restoration
Yosemite National Park strives to maintain the park's ecosystem and let natural processes prevail. As human impacts have occurred since the park was established, these restoration projects seek to restore the natural balance of the park.
Yosemite has completed a wide variety of ecological restoration projects throughout the park over the past 20 years. Several projects are underway in the park and include different park ecosystems such as meadows, invasive plants, social trails, riparian areas, and wetlands. These projects are designed to protect the ecosystem while still providing visitor access and enjoyment.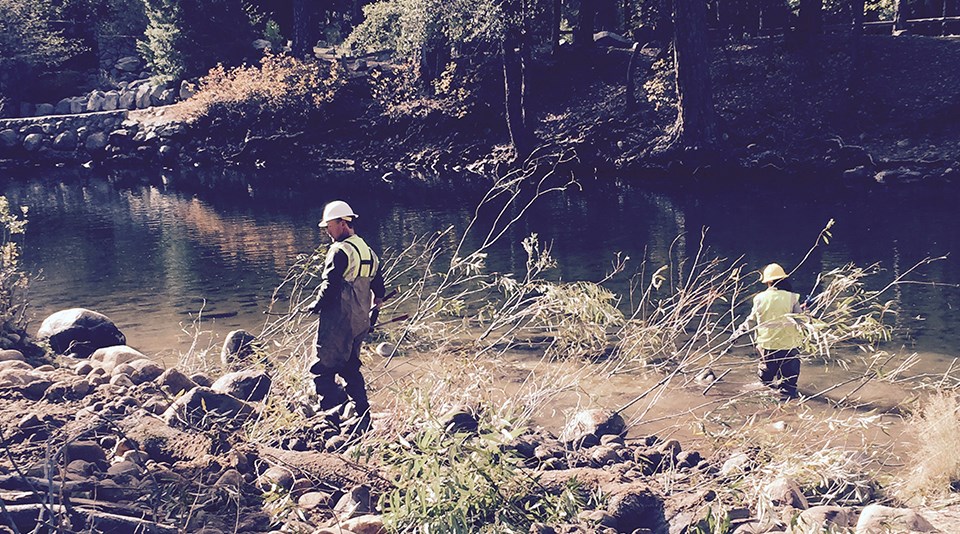 Current Restoration Projects
Ackerson Meadow Restoration (2023-2025): This 230-acre meadow restoration project is the largest in Yosemite National Park's history and will begin in August 2023. Despite its beauty, 90 acres of rare wetland habitat have been lost and 100 acres are at risk from a century-old erosion gully that has eroded more than 150,000 cubic yards of rich meadow soil. You can visualize this as more than 15,000 10-yard dump trucks. The erosion gully rapidly drains water from the meadow, dries soils, causes loss of water-loving plants and animals, and impacts endangered species. The partnership to restore Ackerson Meadow (American Rivers, Stanislaus National Forest, Yosemite Conservancy, and Yosemite National Park) will restore and protect these wetlands by filling the erosion gully by fall 2024 and planting more than 425,000 native wetland plants and 700 pounds of native seeds by spring 2025.

Forest Restoration (ongoing): Yosemite is working to restore forests to a more natural state. The lower-elevation forests of Yosemite evolved with frequent, generally low- to moderate-severity fires lit by lightning or native peoples. This process kept fuels and vegetation low, maintaining and enhancing a landscape of park-like forests, broad meadows, and open oak woodlands. Starting in the mid-19th century, European colonizers enforced a policy of fire suppression. Without fire, conifers grew into the maintained meadows and oak groves, and forests grew increasingly dense. In the 1970s, park managers began to recognize the integral role of fire in the management and overall health of the park's ecosystems and initiated a prescribed fire and managed wildfire program. Today, Yosemite's fire management program balances the protection of life, property, and other important resources with the restoration of fire as a natural process and the inclusion of traditional ecological knowledge.

Merced River Restoration (ongoing): This project is intended to provide the scientific and engineering information needed to guide both short-term and long-term restoration efforts along the Merced River in east Yosemite Valley by the National Park Service (NPS). The overarching goal for restoring the Merced River is to protect and enhance the values for which it was designated a Wild and Scenic River, while providing for present and future public use and enjoyment of those river values.
Recent Restoration Projects
Wetland Restoration in Yosemite Valley (2019-2020): This project focused on the restoration of wetland habitat near Lower River Amphitheater in eastern Yosemite Valley. Insfrastructure, trails, and invasive plants had fractured and degraded wetlands in this eastern part of Yosemite Valley. In 2019, crews removed an 80-foot section of trail that has disrupted natural hydrology; in its place, they set the stage for a raised boardwalk that will allow water to flow freely from the amphitheater area to other nearby wetlands. Additional steps to revitalize the wetland included pulling out abandoned asphalt and other infrastructure (including culverts), removing invasive plants, and sowing native vegetation. In 2020, the goals of this project included planting native vegetation in the recently cleared areas and the installation of an 85-foot long boardwalk that allows people to cross the restored wetlands without harming surrounding habitat.

Ahwahnee Tennis Court Removal and Restoration Project (2019): This project removed the historic Ahwahnee tennis courts in order to restore the Ahwahnee Meadow as called for as part of the 2014 Merced Wild and Scenic River Comprehensive Management Plan. Work has been ongoing in the Ahwahnee Meadow since 2016 and this latest project removed the tennis court infrastructure, associated planted sequoias that accompanied it, and restored the meadow and oak woodland area back to natural conditions.

Mariposa Grove Restoration (2015-2018): The purpose of this project was to restore the grove's dynamic ecology and increase its resilience. Now visitors to the Mariposa Grove will notice: a consolidated parking area and information station at the Mariposa Welcome Plaza near the South Entrance; many of the roads within the grove converted into hiking trails; over a half-mile of new accessible trails and boardwalks providing universal access for all visitors to the grove; and the removal from the grove of commercial activities such as the gift shop and tram tours.

Tenaya Lake Area (2012): The purpose of this project was to enhance the visitor experience while restoring surrounding habitat in the east beach area. The trail from the parking lot to the beach was relocated so it no longer crosses a fragile wetland, and native willows and other wetland plants were re-introduced for better soil protection.

Wawona Meadow Ecological Restoration (2010): The purpose of this project was to restore wetland hydrology by filling in ditches constructed by the CCC in 1936. Asphalt removal on the Wawona Meadow Loop trail helped to facilitate water conveyance into the meadow.

Cathedral Peak Route Delineation (2010): This project mitigated and reduced the ecological and wilderness impacts from multiple social trails that led up to the popular climbing peak by delineating a single trail.

Harden Road Removing and Restoration (2010): This project removed 1.5 miles of abandoned road near Harden Lake, allowing the park to recommend designation of 38 acres of potential wilderness to Wilderness status. This project connected with the 2009 Yosemite Fund project, Re-wilding Harden Spur Road, which reduced ¼ mile of the old road to a single-track trail and removed non-historic debris from the area. Together, the two projects helped to re-establish natural topography where possible, improve hydrologic function, restore wilderness character and improve the wilderness experience of visitors hiking out of the White Wolf area.
Past Restoration Projects
Examples of ecological restoration projects completed over the past twenty five years include:
Lukens Meadow Restoration (2008): The primary goal of this project was to restore natural ecological and hydrological processes at Lukens Meadow and enhance wilderness character by removing 2,000 feet of human caused impacts in the meadow, redirect foot traffic from the meadow to a pre-existing forest trail, and restore the nearly 3,000 square feet of bare ground at the far end of the lake.
Tuolumne Grove of Giant Sequoias (2007): Restoration and protection of the giant sequoias included mitigating trampling on the sequoia roots and other vegetation, as well as reducing soil erosion. Placement of mulch and downed branches and logs helps the soil to absorb water making it available for sequoias and other vegetation, decreasing soil erosion and soil compaction and keeping visitors from impacting natural resources by discouraging off-trail use.
Happy Isles Dam Removal (2006): The purpose of this project was to restore the free-flowing character and pool-riffle morphology of this reach of the Merced River through the removal of Happy Isles Dam and associated diversion structures.
Lower Yosemite Fall Area Restoration (2005): The Lower Yosemite Fall Project consisted of a series of re-landscaping, removal, restoration, and reconstruction projects at one of Yosemite Valley's most popular natural destination areas. This restoration project involved the removal of the asphalt parking lot and ultimately restored habitat throughout the 52-acre project area. This project enhanced forest and stream habitats by using native plants and materials throughout the area. Strategic placement of logs, vegetation, and boulders were arranged to drect visitors away from vulnerable natural areas. Pre-existing bridges with narrow openings (which restricted the natrual stream flow) were replaced in order to improve the hydrology of the braided stream system.
Cook's Meadow Restoration (2002): The Cook's Meadow Restoration Project was a 6-year effort that brought the National Park Service together with a wide range of donors, volunteers, and park partners with a common goal: to restore scenic beauty and ecological integrity to a centerpiece of Yosemite Valley. To accomplish this, actions included:
Filling four drainage ditches created by early Euro-American settlers that were designed to drain standing water, but were seriously affecting the natural flow of water across the meadow and, therefore, its overall health.
Removing a raised, abandoned roadbed and a trail that bisected the meadow and further affected natural water flow.
Reconstructing the trail on an elevated boardwalk that now allows water to flow freely and reduces foot traffic on sensitive meadow plants.
Installing culverts under Sentinel Road to direct runoff into the meadow and restore the natural flow of water from the Merced River during seasonal periods of high water.
Reducing non-native plant species encroaching on native species by using manual, mechanical, and chemical control methods.
Tenaya Lake Walk-in Campground Restoration (1998): The walk-in campground was closed in 1990 due to water and sewage system issues. Restoration of the campground area included removing campground infrastructure, revegetation and soil decompaction.
Mirror Lake (1997): The objective of this project was to consolidate multiple social trails, improve ADA access, decompact soils, revegetate denuded areas, protect cultural resources, provide interpretive information and improve visitor services.
Stoneman Meadow Boardwalk (1994): This project restored and protected Stoneman Meadow through the removal of social trails, the construction of a boardwalk across the meadow and fencing to protect the meadow from continued impacts.
Last updated: August 28, 2023