Places To Go
Yellowstone National Park is a big place—over 2.2 million acres (nearly 900,000 hectares) big! Within the park boundaries are some of the world's most amazing hydrothermal features, dramatic waterfalls, and the heart of one of the most intact temperate ecosystems left in the world.
To help you explore Yellowstone, there are five entrance stations, ten visitor centers, eight developed areas with lodges, restaurants, and stores.
Peruse the map to discover where these different places are located, or skip to a region of choice to learn what places of interest can be found there.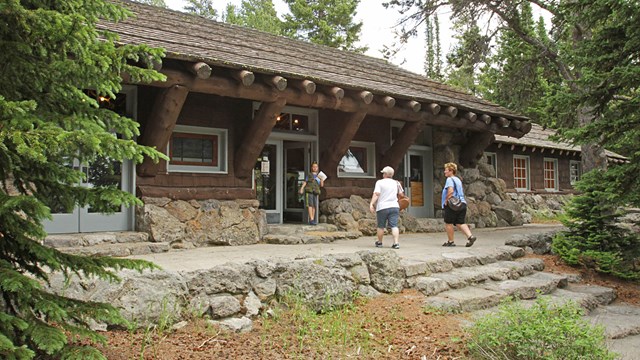 Visitor Centers
Step inside a visitor center and explore the exhibits and interpretive offerings, or talk to a ranger.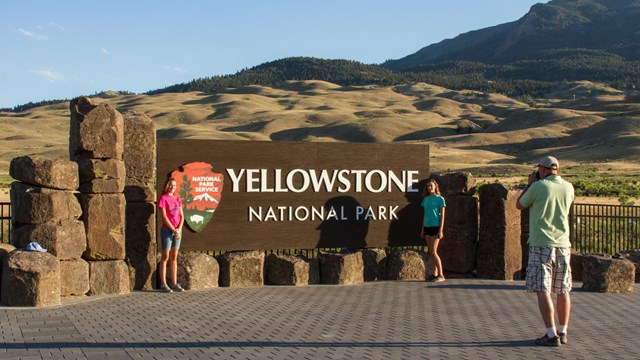 Plan Your Visit
Yellowstone is seasonal. Plan your visit by learning about current conditions, seasons, road conditions, services, activities, and more.
Some of the highlights of the Canyon area include:
Drives
Dunraven Pass, North Rim Drive, and South Rim Drive
Hydrothermal Features
Mud Volcano
Other Natural Features
Grand Canyon of the Yellowstone River, Hayden Valley, and Mount Washburn
Visitor Services
Canyon Campground, Canyon Lodge, Canyon General Store, and Canyon Visitor Education Center
Waterfalls
Lower Falls, Silver Cord Cascades, and Upper Falls
Some of the highlights of Fishing Bridge, Lake Village, Bridge Bay, and the East include:
Drives
Gull Point Drive and Lake Butte Scenic Drive
Hydrothermal Features
Mud Volcano and Steamboat Point
Other Natural Features
Mary Bay, Natural Bridge, Sedge Bay, Storm Point, Sylvan Pass, and Yellowstone Lake
Visitor Services
Bridge Bay Campground, Bridge Bay Marina, Fishing Bridge General Store, Fishing Bridge Visitor Center, Fishing Bridge RV Park, Lake General Store, Lake Hotel and Cabins, and Lake Lodge Cabins
Some of the highlights of the Madison area include:
Drives
Firehole Canyon Drive and Firehole Lake Drive
Hydrothermal Features
Fountain Paint Pot, Grand Prismatic Spring, Great Fountain Geyser, Midway Geyser Basin, Terrace Springs, and White Dome Geyser
Other Natural Features
Firehole Canyon, National Park Mountain, Madison River, and Purple Mountain
Visitor Services
Madison Campground, Madison Information Station, and West Yellowstone Visitor Information Center
Waterfalls
Fairy Falls and Firehole Falls
Some of the highlights of the Mammoth Hot Springs area include:
Drives
Blacktail Plateau Drive and Upper Terrace Drive
Historic Areas
Apollinaris Spring, Fort Yellowstone (historic US Army headquarters, now park headquarters), and Obsidian Cliff
Hydrothermal Features
Canary Springs and Mammoth Hot Springs
Other Natural Features
Bunsen Peak, Moun Everts, Sheepeater Cliffs, and Swan Lake Flat
Visitor Services
Albright Visitor Center, Indian Creek Campground, Mammoth Campground, Mammoth General Store, and Mammoth Hot Springs Hotel and Cabins
Waterfalls
Rustic Falls, Undine Falls, and Wraith Falls
Some of the highlights of the Norris area include:
Drives
Virginia Cascade Drive
Historic Areas
Museum of the National Park Ranger
Hydrothermal Features
Artists' Paintpot, Beryl Spring, Monument Geyser Basin, Norris Geyser Basin, Porcelain Springs, Roaring Mountain, and Steamboat Geyser
Other Natural Features
Caldera Boundary (at Gibbon Falls) and Gibbon Meadows
Visitor Services
Museum of the National Park Ranger, Norris Campground, and Norris Geyser Basin Museum
Waterfalls
Gibbon Falls and Virginia Cascade
Some of the highlights of the Old Faithful area include:
Historic Areas
Old Faithful Historic District
Hydrothermal Features
Aurum Geyser, Biscuit Basin, Black Sand Basin, Castle Geyser, Crested Pool, Daisy Geyser, Ear Spring, Geyser Hill, Giant Geyser, Grand Geyser, Grotto Geyser, Morning Glory Pool, Old Faithful Geyser, Riverside Geyser, Sapphire Pool, and Solitary Geyser
Other Natural Features
Continental Divide
Visitor Services
Old Faithful General Stores (2), Old Faithful Inn, Old Faithful Lodge, Old Faithful Snow Lodge, and Old Faithful Visitor Education Center
Waterfalls
Kepler Cascades and Mystic Falls
Some of the highlights of Lamar Valley, the Northeast, Tower Fall, and Tower–Roosevelt include:
Historic Areas
Northeast Entrance
Hydrothermal Features
Calcite Springs and Soda Butte
Other Natural Features
Lamar Canyon, Lamar Valley, Pleasant Valley, and Specimen Ridge
Visitor Services
Pebble Creek Campground, Roosevelt Lodge, Slough Creek Campground, Tower Fall Campground, and Tower Fall General Store
Waterfalls
Tower Fall
Some of the highlights of West Thumb, Grant Village, and the South include:
Hydrothermal Features
Abyss Pool, Fishing Cone, and West Thumb Geyser Basin
Other Natural Features
Lewis Lake and West Thumb
Visitor Services
Grant Village Campground, Grant Village General Store, Grant Village Lodge, Grant Village Marina, Grant Visitor Center, and West Thumb Information Station
Waterfalls
Lewis Falls
Last updated: October 30, 2022