Old Faithful
Watch Old Faithful Geyser
Watching Old Faithful Geyser erupt is a Yellowstone National Park tradition. People from all over the world have journeyed here to watch this famous geyser. The park's wildlife and scenery might be as well-known today, but it was the unique thermal features like Old Faithful Geyser that inspired the establishment of Yellowstone as the world's first national park in 1872.
Old Faithful is one of nearly 500 geysers in Yellowstone and one of six that park rangers currently predict. It is uncommon to be able to predict geyser eruptions with regularity and Old Faithful has lived up to its name, only lengthening the time between eruptions by about 30 minutes in the last 30 years.
Thermal features change constantly and it is possible Old Faithful may stop erupting someday. Geysers and other thermal features are evidence of ongoing volcanic activity beneath the surface and change is part of this natural system. Yellowstone preserves the natural geologic processes so that visitors may continue to enjoy this natural system.
Watch eruptions from the Old Faithful viewing area or along the boardwalks that weave around the geyser and through the Upper Geyser Basin.
When visiting Old Faithful, you can find when next eruption is predicted at the Old Faithful Visitor Education Center, at the lodges, and in the NPS App.
Notes on Predictions:
- Predictions are not available when the Old Faithful Visitor Education Center is closed, typically early November through mid-December and mid-March through mid-April.
- The last prediction made will remain up until a new prediction is available.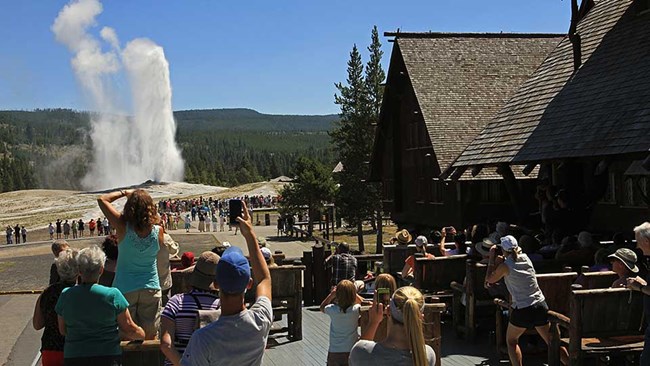 Step Back in Time at the Old Faithful Inn
The Old Faithful Inn was designed by Robert C. Reamer, who wanted the asymmetry of the building to reflect the chaos of nature. It was built during the winter of 1903–1904. The Old Faithful Inn is one of the few remaining log hotels in the United States. It is a masterpiece of rustic architecture in its stylized design and fine craftsmanship. Its influence on American architecture, particularly park architecture, was immeasurable.
The building is a rustic log and wood-frame structure with gigantic proportions: nearly 700 feet (213 m) in length and seven stories high. The lobby of the hotel features a 65-foot (20-m) ceiling, a massive rhyolite fireplace, and railings made of contorted lodgepole pine. Stand in the lobby and look up at the exposed structure, or walk up a gnarled log staircase to one of the balconies. Wings were added to the hotel in 1915 and 1927, and today there are 327 rooms available to guests in this National Historic Landmark.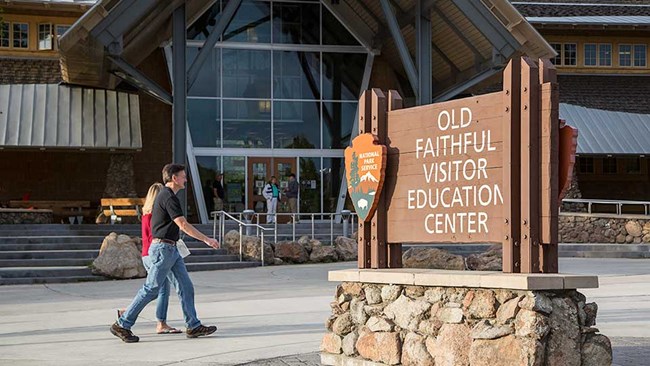 Investigate Old Faithful's Geologic Story
Tour exhibits about the geologic forces behind Old Faithful and Yellowstone at the Old Faithful Visitor Center. Kids of all ages can get Junior Ranger and Young Scientist booklets from rangers.
Evidence of the geological forces that have shaped Yellowstone are found in abundance in this district. The hills surrounding Old Faithful and the Upper Geyser Basin are reminders of Quaternary rhyolitic lava flows. These flows, occurring long after the catastrophic eruption of 600,000 years ago, flowed across the landscape like stiff mounds of bread dough due to their high silica content.
Evidence of glacial activity is common, and it is one of the keys that allows geysers to exist. Glacier till deposits underlie the geyser basins providing storage areas for the water used in eruptions. Many landforms, such as Porcupine Hills north of Fountain Flats, are comprised of glacial gravel and are reminders that as recently as 13,000 years ago, this area was buried under ice.
Signs of the forces of erosion can be seen everywhere, from runoff channels carved across the sinter in the geyser basins to the drainage created by the Firehole River. Mountain building is evident as you drive south of Old Faithful, toward Craig Pass. Here the Rocky Mountains reach a height of 8,262 feet (2518 m), dividing the country into two distinct watersheds.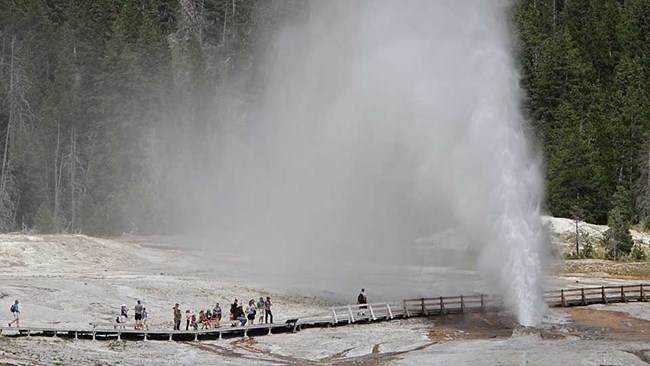 Tour the Upper Geyser Basin
Yellowstone, as a whole, possesses close to 60 percent of the world's geysers. The Upper Geyser Basin is home to the largest numbers of this fragile feature found in the park. Within one square mile there are at least 150 of these hydrothermal wonders. Of this remarkable number, only five major geysers are predicted regularly by the naturalist staff. They are Castle, Grand, Daisy, Riverside, and Old Faithful. There are many frequent, smaller geysers to be seen and marveled at in this basin as well as numerous hot springs and one recently developed mudpot (if it lasts).
Wander Biscuit Basin or Black Sand Basin
Just north of Old Faithful are two smaller basins that are worth a visit. Both basins have parking lots, or are accessible by foot via the trail network through the Upper Geyser Basin.
Black Sand Basin is northwest of Old Faithful and has several enjoyable hydrothermal features, from the rather active Cliff Geyser to the chromatic Rainbow Pool and Sunset Lake.
Further north of Old Faithful is Biscuit Basin, named after the biscuit-shaped geyserite formations that can still be seen around parts of the majestic Sapphire Pool. There are also some enjoyable surprises along the boardwalk like Jewel Geyser, as well as the start of the Mystic Falls Trail at the far end of the boardwalk loop.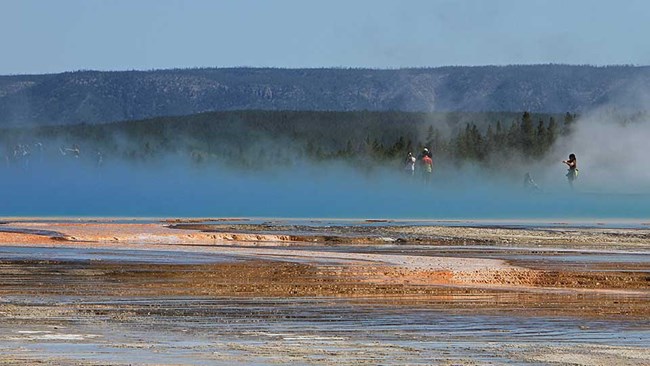 Discover Midway Geyser Basin
This geyser basin, though small in size compared to its companions along the Firehole River, holds large hydrothermal wonders.
First is Excelsior Geyser Crater, where a 200 feet x 300 feet (61 m x 91 m) hot spring steams within and constantly discharges more than 4,000 gallons (15,142 l) of water per minute into the Firehole River.
Next is the chromatic wonder of Grand Prismatic Spring, Yellowstone's largest hot springs. This feature is 370 feet (113 m) in diameter and more than 121 feet (37 m) in depth.

Hike to Lone Star Geyser
Lone Star Geyser erupts about every three hours. There is a logbook, located in a cache near the geyser, for observations of geyser times and types of eruptions. This is a 4.8 mile (7.7 km), easy there-and-back hike or bike that follows the Firehole River to the geyser. The trailhead is east of Kepler Cascades pullout, 3.5 miles (5.6 km) southeast of the Old Faithful overpass on Grand Loop Road.
Lone Star erupts 30–45 feet (9–14 m) about every three hours. If you witness an eruption, please note the time and report it at the Old Faithful Visitor Education Center. Biking is not permitted beyond a barrier near the geyser.
Go For a Hike (or a Ski)
The Old Faithful area has many trails that are wonderful to explore, no matter the time of year you find yourself in at Old Faithful.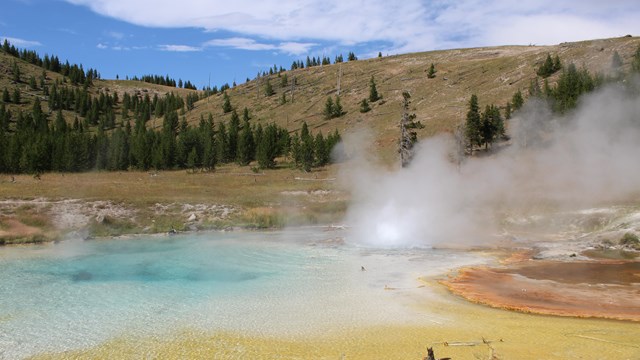 Old Faithful Hikes
Hydrothermal features abound in the Upper Geyser Basin, and many trails in the area lead to some quieter views.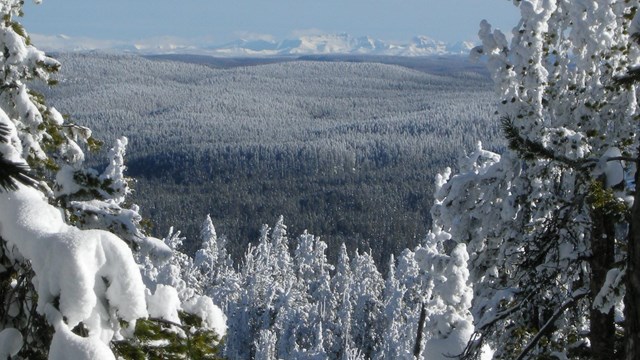 Old Faithful Skiing & Snowshoeing
Discover skiing and snowshoeing opportunities around the Old Faithful area.
Plan a Backcountry Trip
There are a lot of backcountry campsites in this region. A popular backcountry destination is Shoshone Geyser Basin. It is a 17-mile roundtrip hike that crosses the Continental Divide at Grant's Pass. This basin has no boardwalks, and extreme caution should be exercised when traveling through it. Trails in the basin must be used. Remote thermal areas, such as this, should be approached with respect, knowledge, and care. Be sure to emphasize personal safety and resource protection when entering a backcountry basin.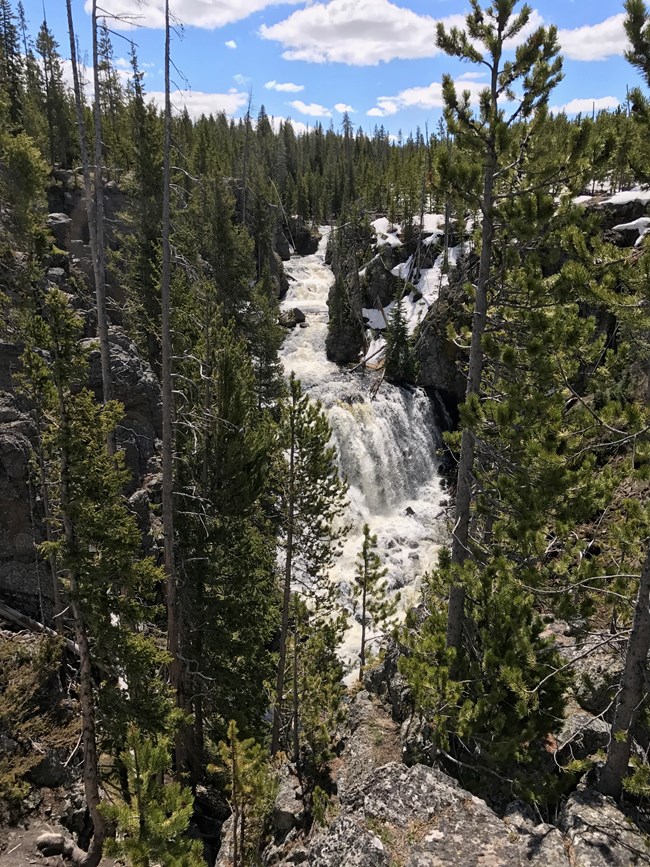 Check Out a Waterfall (or Two)
There are two waterfalls that are relatively easy to get to in this region. Kepler Cascades is visible from a viewing platform at a pullout south of Old Faithful along the Grand Loop Road.
Mystic Falls is reached via a delightful day hike that starts at the far end of the Biscuit Basin boardwalk loop. It is either an easy there-and-back hike to the base of the waterfall, or you can make a loop of the hike, ascending the nearby hillside for sweeping views back across the Upper Geyser Basin.
Stay Here
There are no campgrounds in the Old Faithful area. However, there are three lodging facilities found within walking distance of Old Faithful Geyser.
Old Faithful Inn is the oldest of the three, with a truly historic feel. Old Faithful Snow Lodge is the newest lodge in the area, and has both modern hotel rooms and cabins. The third lodge, Old Faithful Lodge, has small cabin-style accommodations.
Old Faithful Area Frequently Asked Questions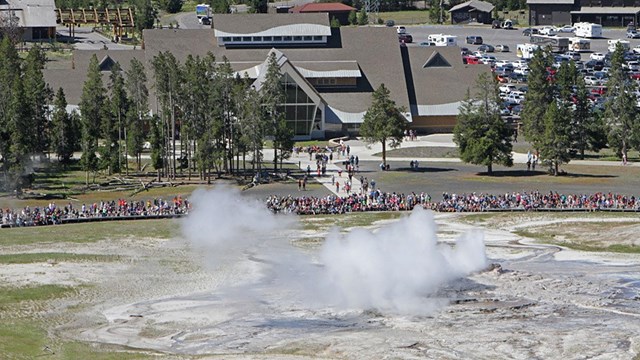 Old Faithful Visitor Education Center
Stop by the Old Faithful Visitor Education Center to explore exhibits, watch movies, and learn about the park's hydrothermal treasures.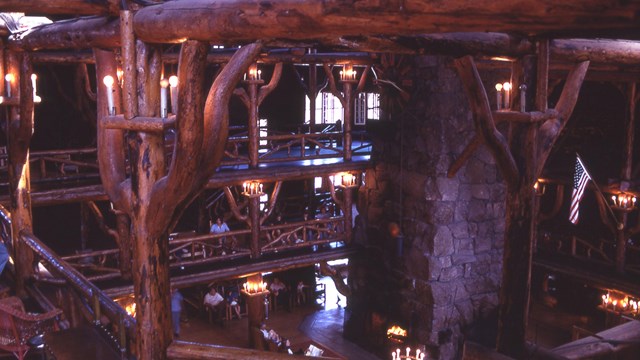 Old Faithful Historic District
The district is historically significant because of its rustic architecture and its role in early development of visitor accommodations.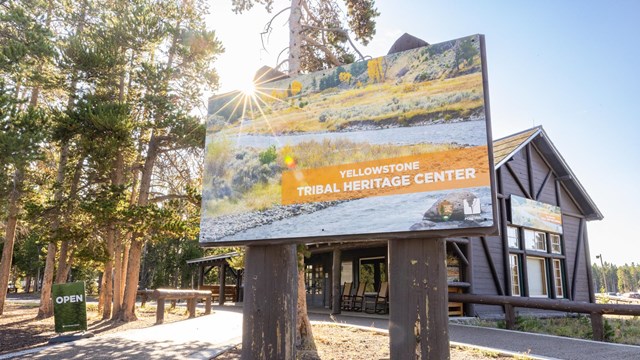 Yellowstone Tribal Heritage Center
Learn about opportunities to directly engage with Indigenous artists, scholars, and presenters through formal and informal education.
Accessibility in the Old Faithful Area
Learn about the accessibility options in and around the Old Faithful area.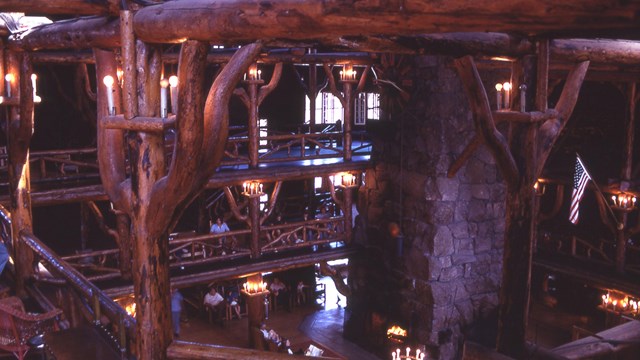 Old Faithful Historic District
The district is historically significant because of its rustic architecture and its role in early development of visitor accommodations.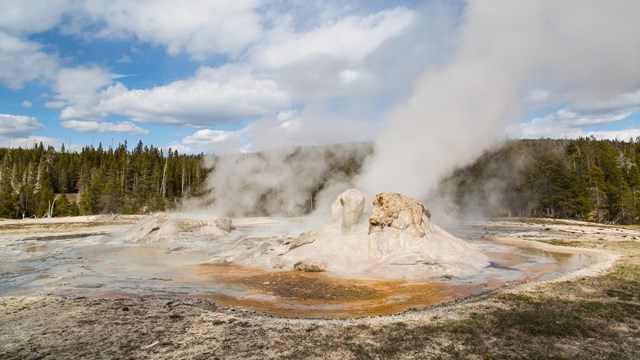 Places To Go
Learn more about the amazing variety of destinations in Yellowstone.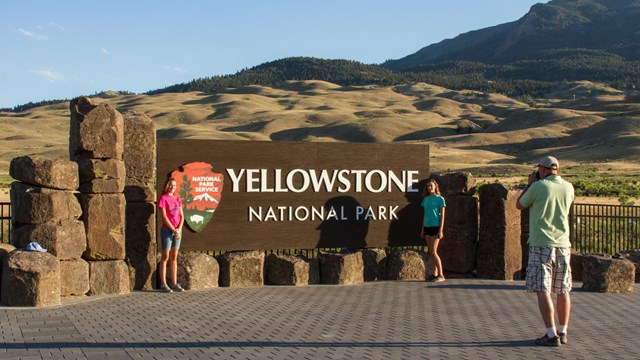 Plan Your Visit
Yellowstone is seasonal. Plan your visit by learning about current conditions, seasons, road conditions, services, activities, and more.
Last updated: September 19, 2023