Explore the Mammoth Hot Springs Area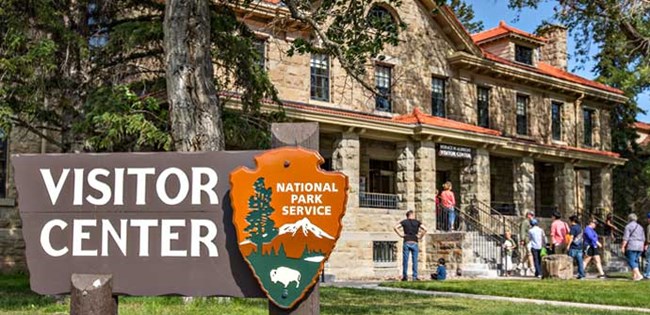 Visit the Albright Visitor Center
Talk to a ranger at the Albright Visitor Center (originally quarters for single Army officers) and learn more about the history and wildlife of Yellowstone. Get help planning your day and stamp your passport. Kids can become Junior Rangers and explore the children's area. Watch the Officers' Row webcam.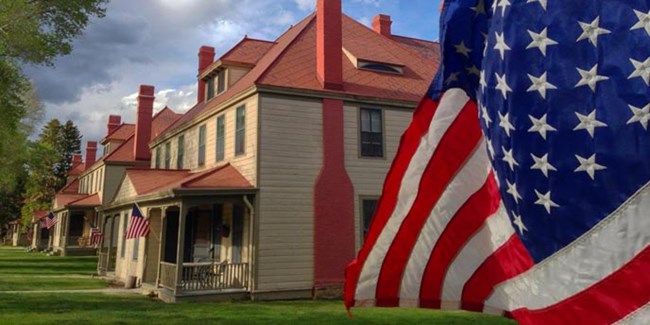 Tour Historic Fort Yellowstone
Yellowstone's first superintendents struggled with poaching, vandalism, squatting and other problems. In 1886, US Army soldiers marched into Mammoth Hot Springs at the request of the Secretary of the Interior and took charge of Yellowstone. Soldiers oversaw Fort Yellowstone's construction—sturdy red-roofed buildings still in use today as the Albright Visitor Center, offices, and employee housing.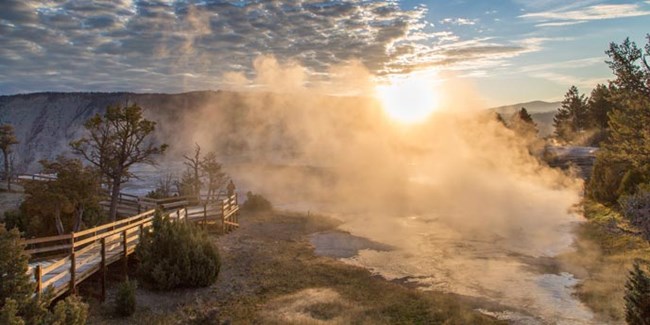 Explore the Mammoth Hot Springs Terraces
Walk on boardwalks above the steaming hydrothermal features or take a drive around the vibrant travertine terraces. In the winter, ski or snowshoe among the whiffs of sulfur along the Upper Terraces. Watch the Mammoth Hot Springs terraces webcam.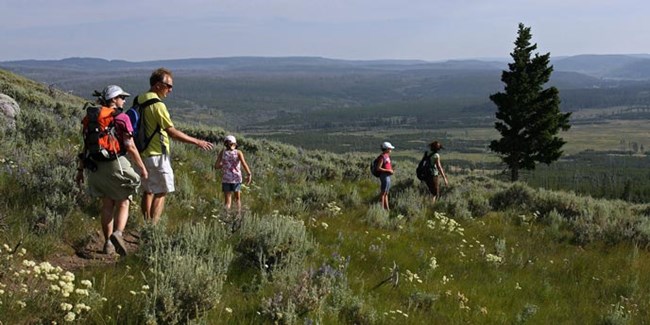 Go Hiking!
Many trails into Yellowstone's wilderness begin in the Mammoth Hot Springs area, including day hikes. Plan a short day or extended hike with our day hiking guide featuring eight hikes selected by park rangers. Always carry rain gear, extra food and water, and other emergency equipment when venturing into the backcountry. Be sure to obtain current trail condition and bear activity information at visitor centers.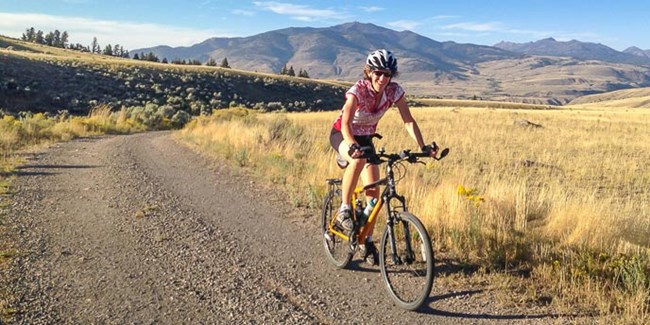 Travel the Old Gardiner Road
Follow the paths of soldiers and early visitors on this dirt road to Gardiner, Montana. Cars may only travel one-way to Gardiner, bicycle traffic may travel both ways. The roads is also open for hiking, but travel safely and know what to do if you encounter wildlife. From the Old Gardiner Road, you can see the Yellowstone River. Yellowstone is named for Mi tse a-da-zi, the Minnetaree Indians' name for the Yellowstone River, inspired by bluffs many miles downstream from the park.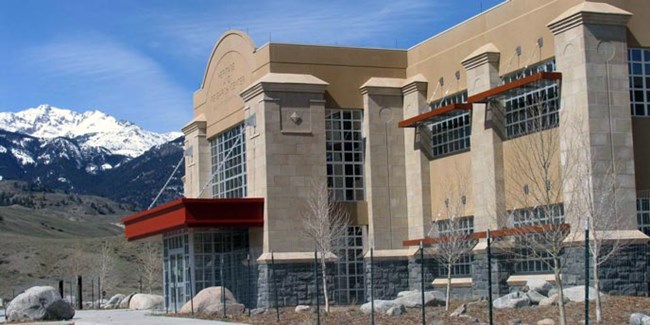 Check out the Heritage and Research Center
The Heritage and Research Center in Gardiner, Montana (5 mi or 8 km from Mammoth Hot Springs), is a state-of-the-art facility that is home to Yellowstone's museum collection, archives, research library, historian, and archeology lab. Read about museum highlights, quirky staff favorites, and newly acquired collections on the collections blog. Visit the small rotating exhibit in the lobby or plan ahead and take a behind-the-scenes guided tour. Tours are generally available twice a week from June to September; reservations are strongly recommended.
Each fall elk come to the Mammoth area to mate. During this rut, the bull elk are easily agitated and should be viewed from a distance. Duration: 2 minutes, 24 seconds

Duration:

2 minutes, 24 seconds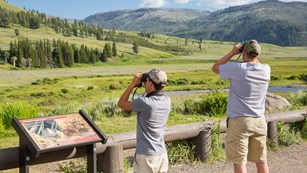 Things To Do
No matter how you like to spend your day, we've got you covered.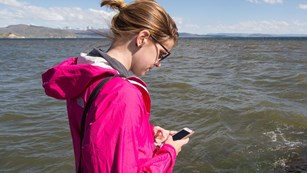 Goods & Services
From cell phone service to RV repair, see what's offered in the park.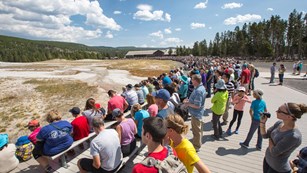 Accessibility
General information about accessibility in Yellowstone's major areas.
Last updated: March 6, 2019