Fishing Bridge, Lake, and Bridge Bay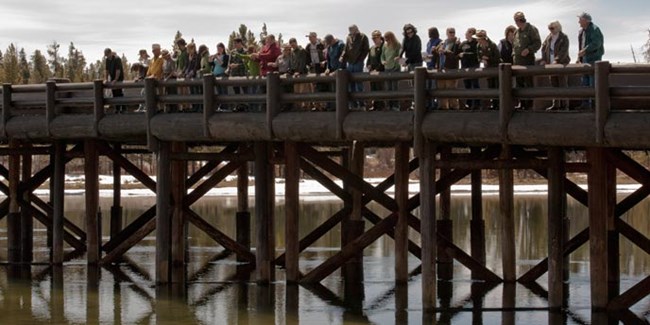 Watch Fish from Fishing Bridge
The original bridge was built in 1902. It was a rough-hewn corduroy log bridge with a slightly different alignment than the current bridge. The existing bridge was built in 1937. Fishing Bridge was historically a tremendously popular place to fish. Angling from the bridge was quite good, due to the fact that it was a major spawning area for cutthroat trout. However, because of the decline of the cutthroat population (in part, a result of this practice), the bridge was closed to fishing in 1973.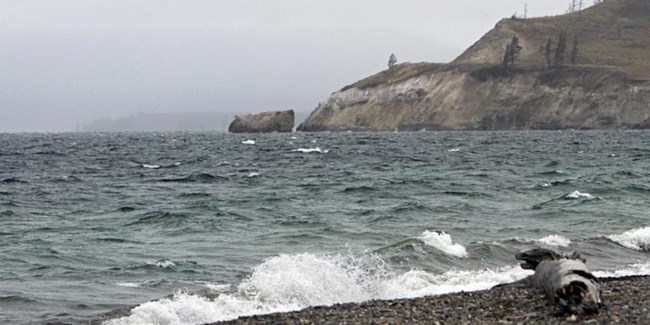 Visit Yellowstone Lake
Large volcanic eruptions have occurred in Yellowstone approximately every 600,000 years. The most recent of these erupted from two large vents, one near Old Faithful and one just north of Fishing Bridge. Ash from this huge explosion—1,000 times the size of Mount St. Helens—has been found all across the continent. The magma chamber then collapsed, forming a large caldera filled partially by subsequent lava flows. Part of this caldera is the 136-square mile (352.2-square km) basin of Yellowstone Lake. The original lake was 200 feet (61 m). higher than the present-day lake, extending northward across Hayden Valley to the base of Mt. Washburn.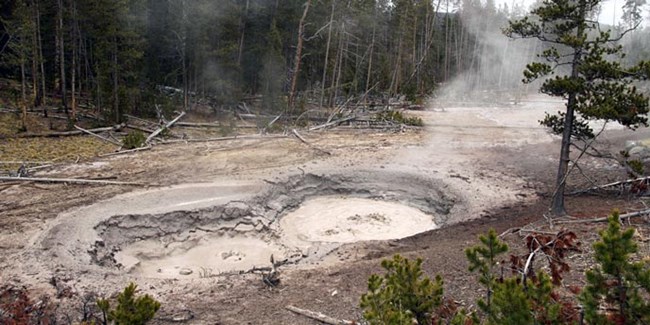 Listen to Mud Gurgle at Mud Volcano
The hydrothermal features at Mud Volcano are primarily mudpots and fumaroles because the area is situated on a perched water system with little water available. Thanks to thermophiles, the vapors are rich in sulfuric acid that breaks the surrounding rock down into clay. Hydrogen sulfide gas is present deep in the earth at Mud Volcano. As this gas combines with water and the sulfur is metabolized by cyanobacteria, a solution of sulfuric acid is formed that dissolves the surface soils to create pools and cones of clay and mud. Along with hydrogen sulfide, steam, carbon dioxide, and other gases explode through the layers of mud. A series of shallow earthquakes associated with the volcanic activity in Yellowstone struck this area in 1978. Soil temperatures increased to nearly 200°F (93°C).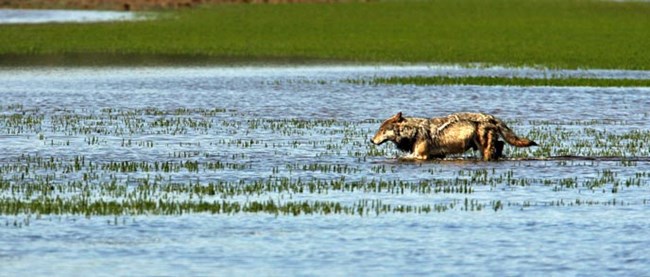 View Wildlife in Hayden and Pelican Valleys
Hayden Valley is located six miles north of Fishing Bridge Junction and Pelican Valley is situated three miles to the east of the junction. These two vast valleys comprise some of the best habitat in the lower 48 states for viewing wildlife like grizzly bears, bison, and elk.
Hayden Valley was once filled by an arm of Yellowstone Lake. Therefore, it contains fine-grained lake sediments that are now covered with glacial till left from the most recent glacial retreat 13,000 years ago. Because the glacial till contains many different grain sizes, including clay and a thin layer of lake sediments, water cannot percolate readily into the ground. This is why Hayden Valley is marshy and has little encroachment of trees.
Remember: Do not approach or encircle bears or wolves on foot within 100 yards (91 m) or other wildlife within 25 yards (23 m). Always maintain a safe distance. Each year, park visitors are injured by wildlife when approaching too closely.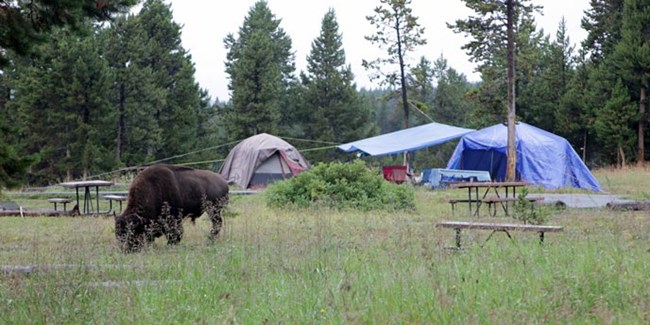 Walk to Natural Bridge
Located just south of Bridge Bay Campground, it is an easy one-mile walk to the Natural Bridge. There is also a bicycle trail leading to the bridge. The Natural Bridge was formed by erosion of the rhyolite outcrop by Bridge Creek. The top of the bridge is approximately 51 feet (16 m) above the creek. A short switchback trail leads to the top, though travel across the bridge is prohibited to protect this feature.
Stay Here
This region has four options for staying overnight in Yellowstone: Lake Hotel and Cabins, Lake Lodge Cabins, Bridge Bay Campground, and Fishing Bridge RV Park.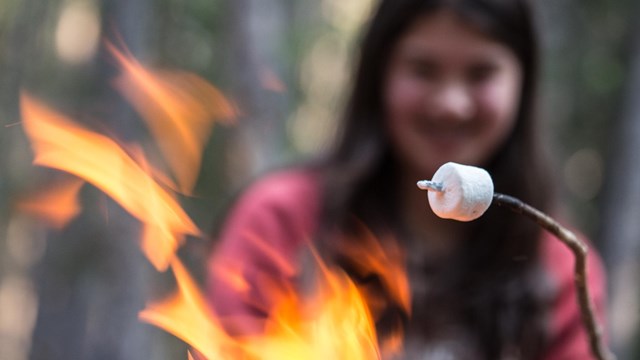 Camp in a Campground
Plan a night in one of twelve park campgrounds.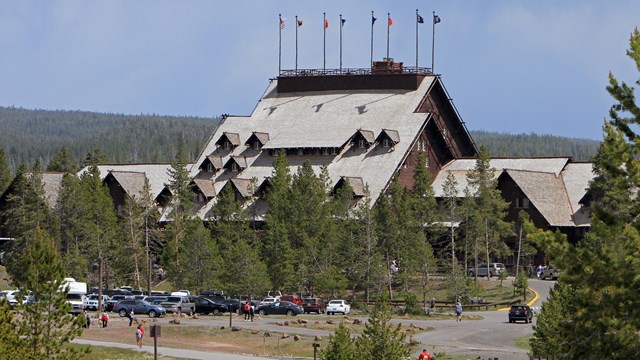 Stay in a Lodge
Pick a lodge that's right for you and make a reservation early!
Lake Area Frequently Asked Questions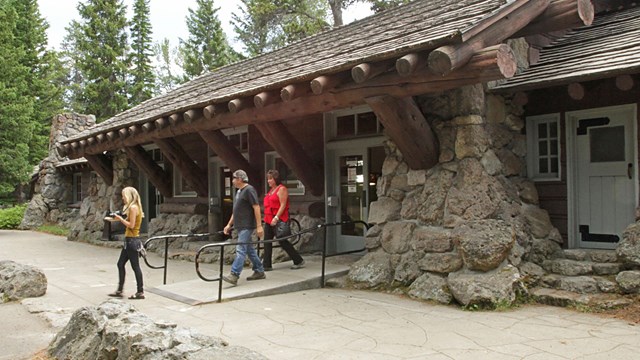 Fishing Bridge Visitor Center
Discover the opportunities available in the Lake area by stopping by this historic visitor center.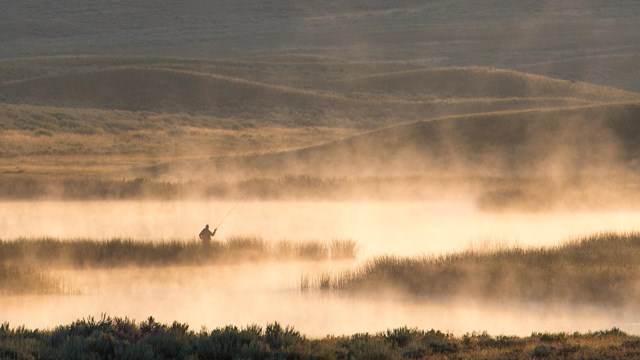 Fish
Be a responsible angler and understand the regulations before you come.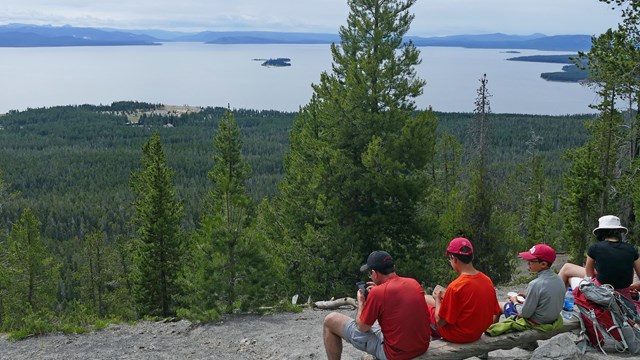 Fishing Bridge and Lake Hikes
Hikes in this area provide views of Yellowstone Lake and the surrounding mountains.
Accessibility in the Lake Area
Learn about the accessibility options in the Lake area.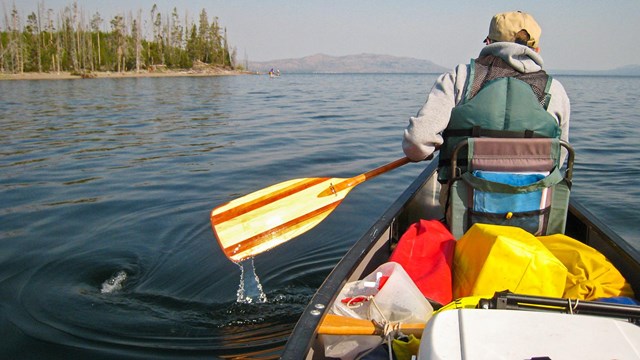 Boat
Take in the view from the water.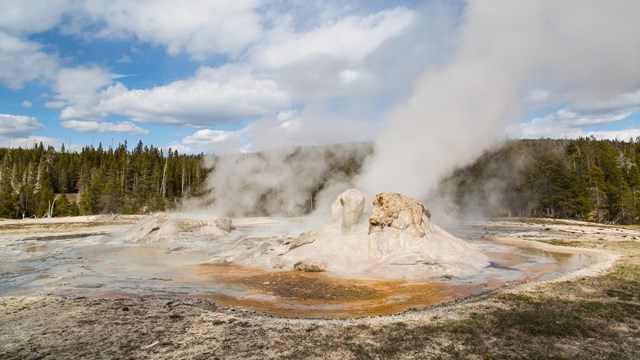 Places To Go
Learn more about the amazing variety of destinations in Yellowstone.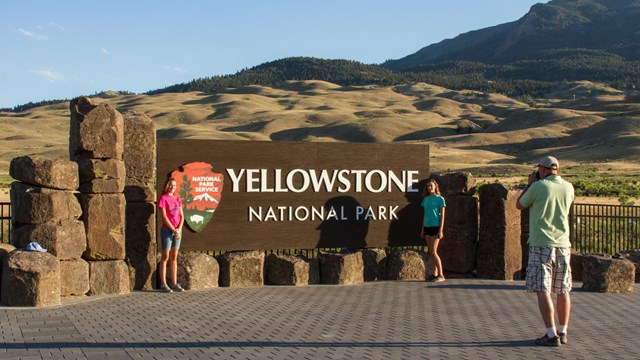 Plan Your Visit
Yellowstone is seasonal. Plan your visit by learning about current conditions, seasons, road conditions, services, activities, and more.
Last updated: October 9, 2023