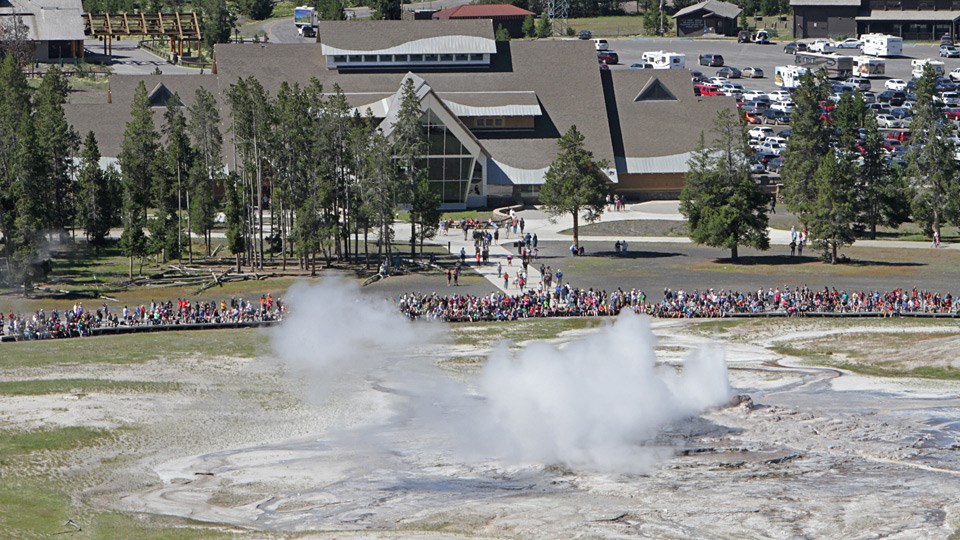 The Old Faithful Visitor Education Center features exhibits on Yellowstone's hydrothermal features (geysers, hot springs, mudpots, and fumaroles), life in these extreme environments, the volcano beneath Yellowstone, and ongoing scientific research in one of the greatest living laboratories on Earth.
Children of all ages will enjoy the Young Scientist exhibit room, which includes a geyser model, hands-on exhibits, and a gathering space for classes and other organized groups. Evening ranger-led programs are presented during the summer and the winter seasons.
A combination ranger station, backcountry office, and clinic are located across the west parking lot from the visitor center. This facility also houses the office of the district naturalist and the district library.
At the Old Faithful Visitor Education Center:
Get information on the Old Faithful area and the rest of the park.
Talk with rangers to receive information and assistance.
Find out when Old Faithful is predicted to erupt and plan your visit.
Shop at the Yellowstone Forever bookstore.
Watch orientation and resource films in the state-of-the-art theater.
Discover the hidden realm of Yellowstone's underground phenomena, including its volcano, and the amazing variety and sheer numbers of hydrothermal features by exploring the exhibit hall.
The Visitor Education Center was built to minimize its impact on the natural surroundings and is a LEED certified building.