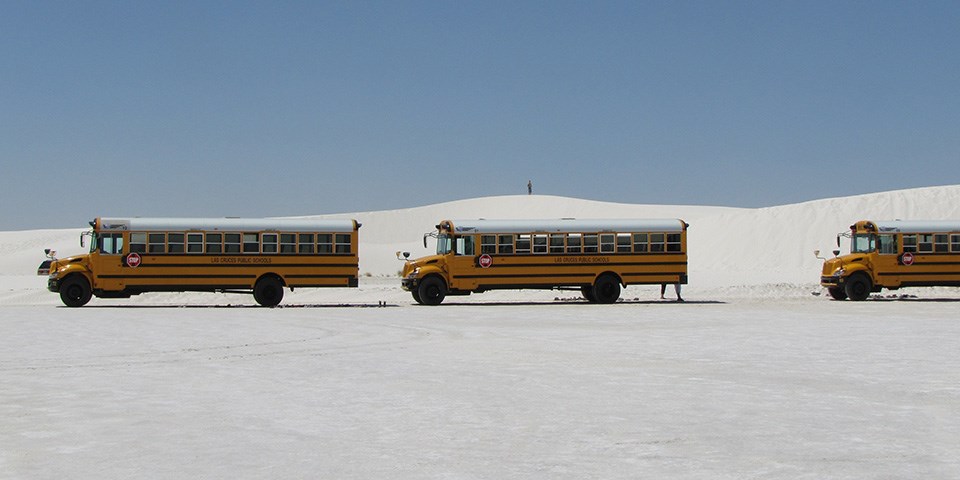 Whether you plan to arrange a
ranger program
or want to create a self-guided experience, you will find many of the following tips helpful in experiencing White Sands as the ultimate outdoor classroom.
Before Your Class Visits White Sands
Academic Fee Waiver
Your group may qualify for an
academic fee waiver
. Check for specific application instructions and contact information.
Road Closures
From time to time Dunes Drive and Highway 70 will be closed for periods of up to three hours during missile tests. Please check the
monument closures
page for information about upcoming missile test. Please check back several days before your visit to ensure the monument will be open when you arrive.
Driving time to the monument varies widely. Please make sure you plan for added travel time when you visit due to possible road closures and Border Patrol check stations depending on your direction of travel to the monument.
Weather in the Tularosa Basin can change very quickly. Teachers and students need to be prepared for a variety of weather conditions.
Wind. During our windy season, February through May, dust storms can move in fast and reduce visibility. We will not conduct a ranger led program in the dunes and you should not hike out during a windstorm.
Heat. Our summer months, May through August, daytime temperatures can exceed 100° F (38° C). June is usually the hottest month of the year. It is recommended that you do not start a hike if the temperature is above 85° F (30° C).
Storms. July through September is our monsoon season. Storms can quickly build. Lightning often occurs in the desert during thunderstorms, even if there is no rain. We will not conduct a ranger led program in the dunes if the lightning is striking within 10 miles of the monument. You should not hike out during a thunderstorm.
Cold. November through February, early morning and nighttime temperatures are frequently below freezing. Daytime temperatures can range from 30° F to 60°F (-1° C to 15° C). Dress in layers that can be easily removed or added as needed.

Month
Avg.
High
°F
Avg.
Low
°F
Avg. Precip. Inches

Month
Avg.
High
°F
Avg.
Low
°F
Avg. Precip. Inches
JAN
57
23
0.60
JUL
97
63
1.41
FEB
64
26
0.39
AUG
94
61
2.07
MAR
71
31
0.27
SEP
88
54
1.44
APR
79
40
0.29
OCT
78
41
1.09
MAY
88
49
0.49
NOV
64
28
0.68
JUN
96
58
0.89
DEC
57
22
0.79
Large Groups
If planning to go in to the visitor center or gift shop please make sure your group is courteous to other visitors. Only six kids at one time are allowed in the gift shop or visitor center. Please allow extra time for souvenir shopping with this in mind.
Areas to Visit in the Monument
Visit our
things to do
page for more detailed information and ideas about activities and educational opportunities within the monument.
The
Dune Life Nature
and
Playa trails
can accommodate education groups. These trails has educational signs along the way that can easily be incorporated into a teacher-directed educational activity. The Playa Trail is best for groups of 20 people or less. The Dune Life Nature Trail can accommodate larger groups.
The
Interdune Boardwalk
can accommodate small groups (i.e., less than 20 people), and it includes benches and a shade structure. There are also educational signs along the boardwalk that describe the plants, animals, research, and geology of the monument.
Food
Our gift shop has a limited selection of convenient food options including sandwiches, burritos, snacks and beverages. The nearby towns of Alamogordo and Las Cruces have a large variety of restaurants as well.
Picnicking
There are three picnic areas in the monument that can accommodate groups. These areas have vault toilets, trash cans, recycling containers, grills, and covered picnic tables. There is no running water anywhere in the dunefield.
In the Roadrunner Picnic Area there are two picnic pavilions that will accommodate groups of up to 20 individuals. These tables are available on a first-come, first-served basis. These areas cannot be reserved.
For larger groups, the
Group Use Area
offers a private location with several picnic tables and one large picnic pavilion. The group use area also has two grills, a vault toilet, and plenty of room for bus parking. Reservations are required to use this area.
Tips for a great picnic:
Use colored plates, napkins, cups, and silverware. White, plastic dinnerware is not easily-visible on the white sand. Remember to Leave No Trace.
When you are done with your picnic, use our recycling bins by the vault toilets to recycle plastic and aluminum.
Consider using reusable tableware to reduce the amount trash left behind in the monument.
Trash dumpsters are provided in the picnic areas for your use. If the small trash cans are please throw trash in the large dumpsters.
Bag your trash. Wind will pick up your trash like paper plates and napkins carry them into the dunes. Please bring extra trash bags to dispose of your trash properly.
Tips for a sustainable visit to White Sands
provides you with ideas how to make your field trip more environmentally sustainable.
Day of Your Field Trip
Bus Parking
The visitor center parking lot can fit up to six school buses at a time. Parking areas in the dunefield can fit a number of buses and larger groups in most parking areas.
Restroom Facilities
When in doubt, ask someone in uniform for the closest restroom facilities. Here are a few for your reference:
Visitor Center: There is a restroom facility located outside of the visitor center. These are the only facilities with running water.
Dune area: There are twelve vault toilets located along Dunes Drive, at trailheads, and in picnic areas. These are restroom facilities with no running water.
Exploring the outdoors involves risk. The National Park Service works to reduce that risk but your safety also depends on your own good judgment, adequate preparation, and constant awareness. Keep in mind that minor and moderate health or medical issues can be easily exacerbated by hiking up and down steep dunes. The elevation at White Sands is 4,235 feet (1,291 m). This may have an effect on those traveling from lower elevations or sea level. Know your limits, pace yourself, and pay attention to how you are feeling. Your safety is your responsibility. Your tomorrow depends on the decisions that you make today.
Water is NOT available in the dunefield. Be sure all students and teachers/chaperones have their own water! There is a free refill station near the visitor center. Water is required for the hike as well as for lunch time.
Limited shade is available in the dunefield. Wear hats, sunscreen with an SPF of 15 or higher, sunglasses, and lightweight, loose-fitting clothing. Long sleeves and long pants are recommended to help protect skin from the sun.
Students should wear appropriate footwear. Sneakers or hiking boots are recommended.
Natural conditions at White Sands can be hazardous. Sand sledding is a fun but potentially hazardous sport. Never sled near or into the road, and look out for plants.
Tunnels dug in the sand collapse easily, causing rapid suffocation.
Keep track of your students. Roads can be busy at times and it is easy to get lost.
Animals of Concern in the Monument
All animals in the monument are wild and their behaviors are unpredictable. Treat all animals with caution.
Rattlesnakes, scorpions, black widows, and harvester ants are only a few of the venomous animals found in New Mexico. To avoid a bite, students should be mindful of where they walk, put their hands, or sit. Never try to pick up, touch, or tease snakes and scorpions or handle spiders. If bitten, seek immediate medical attention. Bring a photo along for identification if possible.
The mission of the National Park System and White Sands National Monument is "to conserve the scenery, the natural and historic objects, and the wildlife therein, and to provide for the enjoyment of the same in such manner and by such means as will leave them unimpaired for the enjoyment of future generations."
DO NOT COLLECT any sand, rock, or any other natural or archeological objects. All things in the monument are protected. Collecting anything, including sand, is prohibited by law and can result in a fine.
Leave No TRACE! Leave no Trace means leave the land like you found it. It is important to take care of the area you visit so others can enjoy the dunes, too.
Unknown Objects
We are surrounded by an active missile range. From time to time, debris from missile tests falls into the monument and is buried by sand. If you or your students see any
strange objects
, do not touch them. Make a note of their location and tell a ranger what you found and where you found it. The ranger will dispatch appropriate personnel to remove the object in question.