Dune Life Nature Trail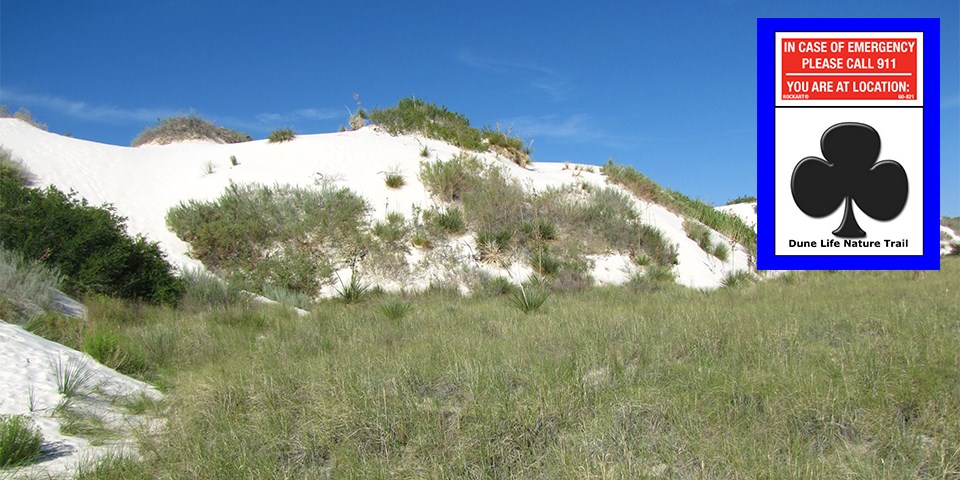 Length: One mile (1.6 km) loop
Trail marker color: Blue
Trail marker symbol: Clubs
Average Completion Time: 1 hour
Difficulty: Moderate
Distance from Visitor Center: 2.5 miles (4 km)
The Dune Life Nature Trail is full of life! Being at the edge of the dunefield, this trail has unique characteristics that are not found in the heart of the dunes. This family-friendly trail is a great way to explore White Sands. Katie the Kit Fox, the Dune Life Nature Trail mascot, will join you along the trail in 14 trailside signs. Learn about the animals that live in the park and what they like to eat.
The Dune Life Nature Trail is an ecotone: a place where two communities meet and integrate. In this area, the desert scrub community and the gypsum sand dunes meet and form one of the most diverse ecosystems in the park. While many animals live here, you may not see many of them on your hike. Wild animals are shy and try to avoid people, and most desert animals are nocturnal. Although they are rarely seen during the day, they leave signs of their presence in different forms, such as tracks in the sand. These tracks tell the stories of the previous night's activities in the dunes. Look for the tracks of the animals that call these dunes home: kit foxes, badgers, birds, coyotes, rodents, and reptiles all live in this area.
Trail Description
Blue trail markers with a club symbol mark the trail. This trail is located along the edge of the dunefield and is more heavily vegetated than other sections of the dunefield. This moderate hike requires hikers to climb two steep dunes and walk on soft sand. The trail starts down on the desert plain and is level for the first 300 yards before going up a steep slope onto the sand dunes.
Look carefully for the next trail marker before continuing. If you cannot see the next trail marker because of blowing sand or because the trail marker is knocked down, do not proceed—return to your car. Strong winds, especially in the spring, can reduce visibility to a few feet, making it easy to become lost.You do not have to hike the entire trail to enjoy the spectacular scenery. Make sure that you are off the trail by sunset.
Keep in mind, this trail is for observing plant and animal life. If you want to play in the sand, please drive farther down Dunes Drive into the heart of the dunes where there are better dunes for sledding and picnic tables with shade.
Hiking Safety
Your tomorrow depends on what you to do today. Be prepared for your hike and have a safe and enjoyable experience.
There is limited shade, no water, and no toilet facility along this trail;however, there is a vault toilet in the parking area near the trailhead. Summer temperatures can exceed 100 degrees F (38° C). Heat-related illness is common in warm weather and can be fatal. Go on this hike only if you are prepared. It is recommended that you do not start the hike if the temperature is at or above 85°F (30°C).
Remember, water is life! Bring enough water to survive. Drink water before you start hiking. Have at least one gallon (4L) of water per person per day and high-energy snacks, such as fruit and nuts. Fill up water containers at the visitor center. There is no water available in the dunefield. You will need more water than you think. Take a minimum of two 32-ounce (1 L) bottles of water per person on every trail (double for longer hikes). When your water is half-gone, go back to your car.
Rest, eat, and drink when tired. The white sand reflects sunlight. Use sunscreen. Wear a hat, long sleeves, and pants even in the summer to protect your skin from the sun. Protect your eyes by wearing sunglasses.
We recommend that you do not hike on your own. Tell someone who is not with you where you are going and when you plan to return. Bring a fully charged cell phone and put it in airplane mode while hiking to conserve the battery.
Pets
Pets are allowed as long as they are non-disruptive, on a leash no longer than six feet (2 km), and under physical control at all times. Pets, like humans, should leave only footprints. Pick up after your pet(s) and Leave No Trace.
Unexploded Ordinance
We are surrounded by an active missile range. From time to time, debris from missile tests falls into the park and is buried by sand. If you see any strange objects, do not touch them as they may still be able to detonate. Make a note of their location and tell a ranger so that appropriate personnel may remove the object in question.
Leave No Trace
Please learn and practice Leave No Trace skills and ethics. Avoid walking on vegetation and fragile biological soil crust. Please do not remove any sand, plants, animals, or other natural and historic objects. Removal of such objects is a violation of federal law (36 CFR 2.1) that carries with it a hefty fine and may result in criminal charges.


Last updated: August 13, 2023