Group Use Area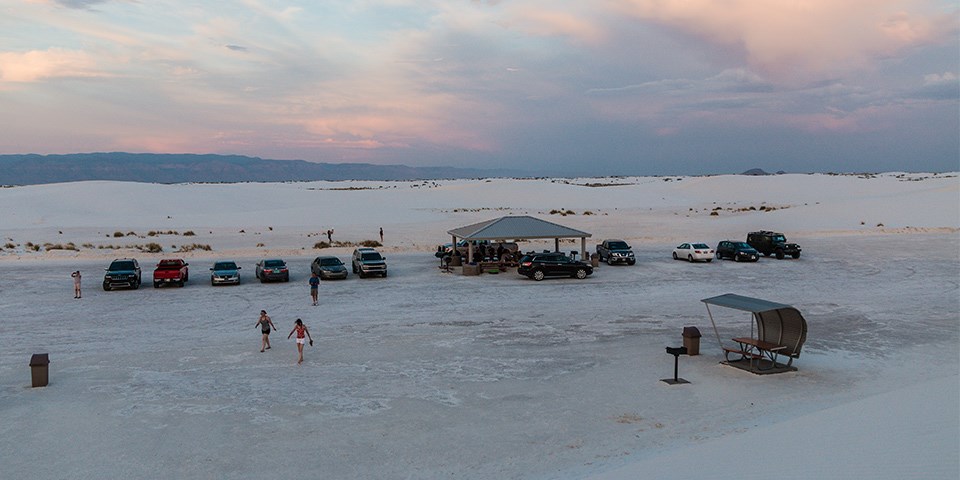 From family reunions to weddings to scout jamborees, White Sands National Park has long been a popular meeting place for large gatherings. Our group use area is the perfect location for private functions, and is available for reservation.

Group Use Area Amenities
The group use area is a semi-private location that includes one vault toilet with two stalls; one large shaded pavilion that includes five tables with enough seating for 25 people; two large charcoal grills (charcoal is not provided); and a few individual shaded picnic tables.
Trash receptacles are also available near the shade pavilion. For large groups, trash removal may be a condition of your reservation. We encourage green picnic practices to reduce the amount of trash generated in the park.

Water
No water is available in the group use area or dunefield. If you need to fill up water containers, you can do so at the visitor center. We recommend having at least one gallon of water per person per day for each person in your party. For detailed information on how to keep everyone safe during your event, please read our desert safety information.

When to Submit Your Permit Request
The group use area is reserved on a first come, first serve basis. Group use area reservation requests may be submitted up to six months in advance and no less than 21 days in advance of your requested date.

Reservation Information
The group use area is available for day use beginning at 10:00 a.m. (or earlier if available) until the park's closing time.

Fees
A $100 non-refundable reservation fee must be paid at the time of reservation. Reservation forms submitted without payment will not be processed.

How to Reserve the Group Use Area
Download and complete the special use permit application.
Download and read the White Sands Special Park Uses FYI document.
Submit the completed special use permit application to whsa_permits@nps.gov. The application must be received by the park no less than 14 days prior to the start of the event.
Place a secure credit card payment for the $100.00 application fee over the phone at 575-479-6124 ext. 206. Processing the permit cannot begin until payment has been received.
Once payment is received, most applications for permits requests will be processed within 14 working days.
The Special Use Permit Coordinator will email you with the approval or denial of the reservation. The sooner we receive your request, the better the chance of getting approved. The group use area reservations are first come first serve. Reservations may be made up to six months in advance of your requested date.
If You Have Additional Questions...
Please email whsa_permits@nps.gov. Please write "group use area" in the subject line.
Last updated: July 7, 2023