Weather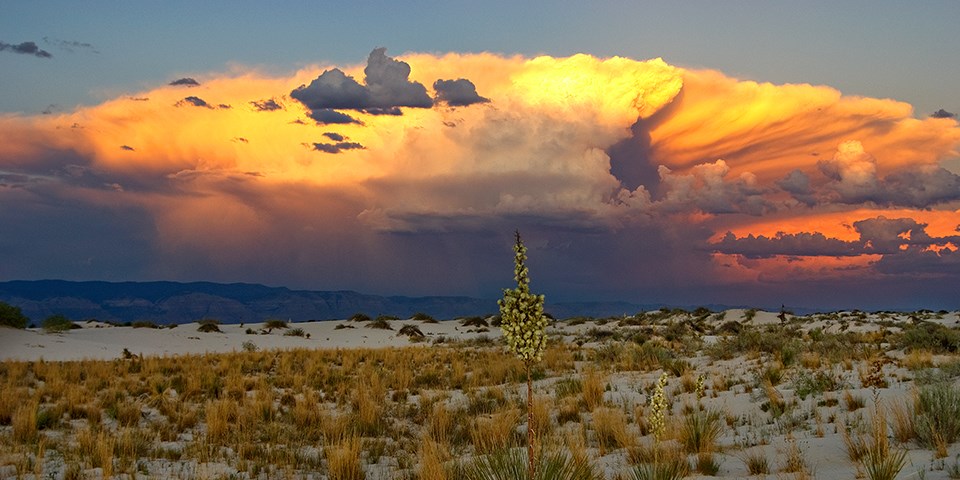 When planning a trip, it is a good idea to know what to expect regarding weather once you reach your destination. Temperatures and weather conditions at White Sands vary greatly throughout the year.
June through August, daytime temperatures average 95ºF (35ºC), with some days reaching as high as 110ºF (38º). Evenings are much cooler, ranging from 50-65ºF (10-18ºC).
The rainy season begins in early July and lasts into late September. These months bring the majority of our annual 10 inches (25.4 cm) of precipitation. Late afternoon and evening thunderstorms are common.
From September through November, daytime temperatures average 80ºF (27ºC), with a low of 65ºF (18ºC). Evenings are cooler, averaging around 40ºF (4ºC). During these months, days are typically sunny with light winds.
From December through February, daytime temperatures average 60ºF (16ºC). Evenings are cold, averaging around 23ºF (-5ºC). The occasional winter storm will bring rain and limited snow.
March through May, daytime temperatures average about 75ºF (24ºC). Evenings are cool, averaging around 40ºF (4ºC). Spring brings high winds up to 50 mph. Sunny days with strong windstorms are common.
Current Weather Forecast
White Sands National Park's forecasted weather conditions for the next few days can be found at
noaa.gov
.
White Sands also manages a network of weather stations throughout the park that monitor weather conditions. These stations also us with information on how wind shapes the dunes over time. To see the live data provided by these sites visit
mesowest.utuah.edu
and follow these steps:
Under Data Selection, change Network to "All Networks"
Click Refresh Map
Zoom in to view White Sands National Park
Hover your mouse over a weather station dot to view weather information
Monthly Weather Averages
Month
Average
High
Average Low
Average Precipitation.
Highest Recorded
Lowest
Recorded
January
57°F
14°C
22°F
-6°C
0.60 inches
78°F
26°C
-25°F
-32°C
February
63°F
17°C
27°F
-3°C
0.39 inches
82°F
28°C
-22°F
-30°C
March
71°F
22°C
32°F
0°C
0.27 inches
95°F
35°C
-19°F
28°C
April
79°F
26°C
40°F
4°C
0.29 inches
97°F
36°C
11°F
-12°C
May
88°F
31°C
50°F
10°C
0.49 inches
104°F
40°C
20°F
-7°C
June
97°F
36°C
59°F
15°C
0.89 inches
111°F
44°C
38°F
3°C
July
97°F
36°C
64°F
18°C
1.41 inches
110°F
43°C
45°F
7°C
August
94°F
34°C
62°F
17°C
2.07 inches
107°F
42°C
38°F
3°C
September
89°F
32°C
55°F
13°C
1.44 inches
104°F
40°C
30°F
-1°C
October
79°F
26°C
41°F
5°C
1.09 inches
97°F
36°C
13°F
-11°C
November
67°F
19°C
28°F
2°C
0.68 inches
86°F
30°C
-12°F
-24°C
December
57°F
14°C
21°F
-6°C
0.79 inches
83°F
28°C
-8°F
-22°C
Last updated: December 30, 2019