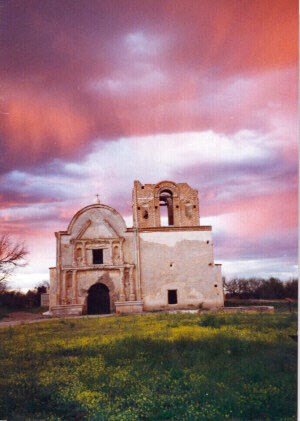 From his arrival in the Pimería Alta in 1687 until his death in 1711, Padre Kino established over twenty missions. Missions were communities established to convert Native Peoples to Christianity and the Spanish way of life.
The Jesuit religious order of Catholic missionaries administered them until the time of their expulsion in 1767. From 1768 until after Mexico earned its independence in 1821 the missions were operated by the Franciscan religious order of Catholic missionaries. Some are still in use today while others have fallen into ruin.
The mission sites of San José de Tumacácori, Los Santos Ángeles de Guevavi, and San Cayetano de Calabazas are administered by Tumacácori National Historical Park; the park offers tours of its three mission sites.
Missions of the Pimería Alta include:
San José de Tumacácori
Los Santos Ángeles de Guevavi
San Cayetano de Calabazas
San Ignacio de Sonoitac
San Xavier del Bac
Santa María Suamca
Nuestra Señora de los Dolores de Cósari
San Ignacio de Cabúrica
Santa María Magdalena
San José de Ímuris
La Purísima Concepción De Caborca
San Diego del Pitiquito
San Antonio Paduano de Oquitoa
San Pedro y San Pablo de Tubutama
Nuestro Padre San Francisco de Átil
Nuestra Señora del Pópulo del Bisanig
Nuestra Señora de los Remedios de Doágibubig
Nuestra Señora del Pilar y Santiago de Cocóspera
Santa Gertrudis del Sáric