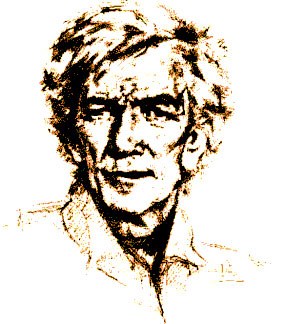 Padre Kino stood 5'6" tall and was solidly built. He had a broad nose, deep-set eyes and a pronounced brow. He was dark skinned with wavy black hair. He entered the Jesuit college at Trent and went on to the Jesuit college at Hall near Innesbruck, Austria. He joined the Company of Jesus on November 20, 1665 after an illness which nearly claimed his life. He also attended the Universities of Landsberg, Inlolstadt, Innesbruck, Munich and Oehingen. He came to the New World in 1681 and was appointed missionary and royal cosmographer for the California Expedition on October 28, 1682. He arrived in Baja California on April 4, 1683. He was on the second expedition to California on October 6, 1683 at which time he built a mission and established a fort at San Bruno near Loreto. On August 15, 1684 he took his final vows as a Jesuit. He was appointed missionary to the Seri and Guaymas Indians on November 20, 1685. He arrived at Cucurpe in the Pimeria Alta on March 13, 1687 and built his first and home mission just north of there at Nuestra Senora de los Dolores del Cosari. Over the next twenty-four years he established 24 missions and visitas and set up the foundation for modern agriculture and livestock raising. He promoted apprenticeships of artisans and similar trades. He travelled and explored extensively: Tumacácori -1691; Altar River - 1692; Gila River to Casa Grande - 1695; Baja California - 1697; Santa María and San Pedro Rivers - 1698; Gulf of California from the north, Colorado River - 1700; Repeat trip and crosses the Colorado on a raft - 1701; Repeat trip and proof that California is not an island - 1702; Guaymas - 1704; Tiburon Island - 1706; Pinacate and Santa Clara - 1706. He died shortly after midnight on March 15, 1711.
---
Learn more about Padre Kino
from the Kino Heritage Society.
from Mission 2000 and following the blue ID numbers.
from the facsimile and translation of his burial entry
---