Jesuit Missionaries
The Jesuit Order
In the year 1521, in a cave near a town in Spain called Manresa, on the road to Barcelona, a limping, crippled, thirty year old halted his travels to spend a few days in rest and recuperation. He remained for ten months. During this time he wrote what came to be known as the Spiritual Exercises, which became one of the foundational documents of what would eventually be known as the Society of Jesus - the Jesuits. The young, weary traveler was Inigo de Loyola, who later took the name Ignatius. Grievously injured in the battle of Pamplona, Loyola vowed a lifetime of dedication to God if he were allowed to live. So began the religious conversion of the future founder of the Jesuit order. In the centuries following, few human societies have aroused such profound admiration as well as such deep animosities as has the Society of Jesus.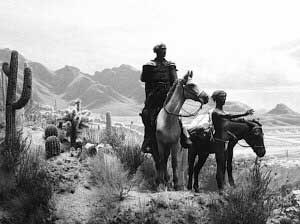 From January 1691, beginning with Padre Eusebio Kino, until the administration of Padre Custodio Jimeno in 1767, missionaries of the Catholic religious order called the Company of Jesus (Jesuits) operated the Missions of Guevavi, Tumacácori, Calabazas, and Sonoitac.


The Jesuits were expelled from the northern provinces of New Spain in July of 1767 and it was a full year before the Franciscan order of Catholic missionaries began to replace them.


Last updated: May 24, 2020