Franciscan Missionaries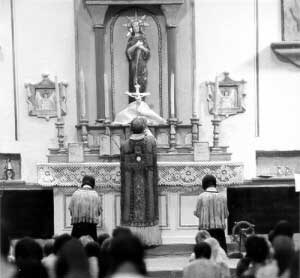 Beginning with Juan Crisóstomo Gil de Bernabe in in the spring of 1768 and ending with Ramón Liberós in the spring of 1828, Catholic missionaries of the Franciscan religious order lived at Tumacácori and administered the missions of Tumacácori, Guevavi, Calabazas, and Sonoitac. After the expulsion of Padre Liberós by the new Mexican government because of his having been born in Spain, Tumacácori never had another resident missionary. Other Franciscans tried to keep the missions opperating by visiting them from a distance, but Guevavi, Sonoitac, and Calabazas were abandoned in that order. Eventually, in December of 1848, Tumacácori was also abandoned. Following is a list of Franciscan priests who served at Tumacácori:
Juan Crisóstomo Gil de Bernabé May 1768—March 1772
Francisco Sánchez Zúñiga Spring 1771—September 1771
Juan José Agorreta Mid-October 1771 for a few weeks
Bartolomé Ximeno July 1772—summer 1773
Gaspar Francisco de Clemente November 1772—early 1775
Joseph Matías Moreno October 1773—early 1775
Pedro Antonio de Arriquibar Early 1775—March 1780
Tomás Eixarch Early 1775—late summer 1776
Juan Bautista de Beldarrain Two months, late 1776
Joaquín Antonio Belarde September 1777—spring 1779
Baltazar Carillo April 1780—October 10, 1795, death
Narciso Guitérrez July 10, 1794—December 13, 1820, death
Florencio Ibañez December 1795—early 1796
Mariano Bordoy March 1796—late summer 1799
Ramón López March 1796—May 29, 1797
Ángel Alonso de Prado May 1797—January 1798
Manuel Fernández Saravia February 1804—mid-June 1804
Joseph Ignacio Ramírez de Arellano November 1804—May 1805
Gregorio Ruíz Late 1805—late 1807
Francisco Pérez June 1813-June 28, 1814
Juan Bautista Estelric December 1820—May 1822
Ramón Liberós Late May 1822—April 1828, expelled
Juan Maldonado Mid-June 1824—about November 1824
Rafael Díaz Late 1825—1841
After the expulsion of peninsular-born Spanish priests in 1828, Díaz resided at Cocóspera and rode the circuit to the presidio at Tucson and stopped at Tumacácori from 1837 until 1841 when he died. He was pastor to the entire northern Pimería, San Ignacio to Tucson.
Antonio Gonzalez Early fall 1841—1842 or 1843
Trinidad García Rojas June 20, 1844—1848
---
Two Tumacácori Franciscans were disinterred twice and
reburied
after their death and initial burial beneath the floor of the Jesuit church at Tumacácori.
---
Other Franciscan missionaries who served in the Pimería Alta and were familiar with Tumacácori and its visitas include:


Last updated: February 24, 2015