Guided Tours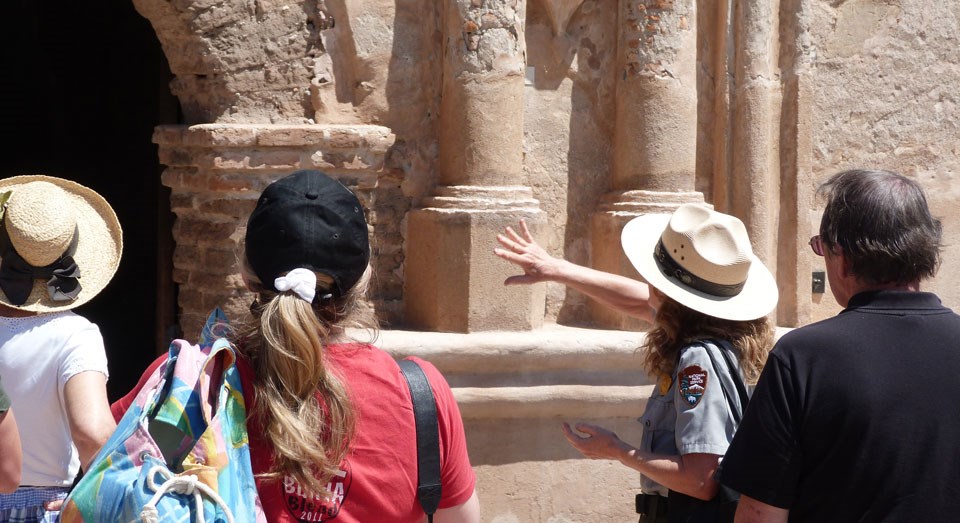 Tumacácori Mission Church and Grounds
January through March
Daily, 11:00 a.m. and 2:00 p.m.
Tours begin at the visitor center and last approximately 45 minutes. When staffing permits, tours are also given on the hour between 10:00 a.m. and 4:00 p.m. during the winter season and may also be available at other times of the day and year: Call, email, or inquire at the visitor center information desk.
Will you be missing the guided tour? Use the self-guided tour offered in English or el corrido autoguiado en Español.
Graffiti Program
January through March
(NEW PROGRAM) 2nd Thursdays, 11:00 a.m. - 12:00 p.m.
When does scratching one's initials on a wall go from an act of vandalism to a historic cultural resource? Does it matter whose initials they are? Join park rangers on an interactive discussion through the mission grounds.
Calabazas and Guevavi Missions Tour
January - March
(NEW DAY) 3rd Saturdays, 9:00 a.m. - 1:00 p.m.
Reservation Required - $15 per vehicle
Special tours are offered to two missions historically associated with Tumacácori, Los Santos Ángeles de Guevavi and San Cayetano de Calabazas.Their fragile ruins, protected by the National Park Service, are normally closed to the public and can be visited only as part of these special reserved tours. See more details at Calabazas and Guevavi Tours.
River Walk
January through March
(NEW DAY) 1st Sundays, 9:30 a.m. - 11:00 a.m.
Ranger-guided walk through nature and history along the Anza Trail to the Santa Cruz River. 1/2 mile roundtrip. Meet at the visitor center. Wear comfortable shoes and bring water. Learn more about the Anza Trail: Tumacácori to Tubac.
Bird Walks
2nd Saturdays, January - April, 8:30 a.m. (8:00 a.m. in March and April)
Come explore birding hotspots in habitats from the courtyard garden to the Santa Cruz River. Participants will need to wear comfortable walking shoes and bring water. Beginners welcome. While bringing your own binoculars is recommended, the park has several pairs of binoculars available for loan to participants.
Experience the Night
Monthly, January through March
Park is open until 8:30 p.m. Programs vary.
Throughout the year, Tumacácori offers access to the mission grounds outside of normal operating hours. Full moon programs include candlelight tours or other guided workshops. Find out more about Sunrise, Sunset, and Night Sky Programs.
Special Reserved Tours and Programs
Special tours, school programs, and special interest talks may also available by advanced request. For further information about these offerings, please email us or call the park at 520-377-5060.


Last updated: September 30, 2020