Nuestra Señora del Pilar y Santiago de Cocóspera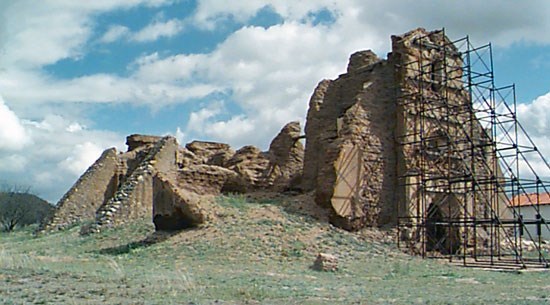 Cocóspera was probably visited by Father Kino soon after 1687, although the earliest mention of it in his memoirs concerns a visit made there early in 1689 by Father Visitor Manual Gonzáles. Either later in 1689 or in 1690, Father Juan del Castillejo became the mission's first resident priest, but he served less than a year.
"In 1697 Kino reported that Cocóspera had the 'good beginnings of a church and house,' beginnings apparently brought to completion by February, 1698 when 'the village, the church, and the father's residence were sacked and burned' by an attacking force of some three hundred Jocomes, Sumas, and Apaches. Cocóspera's position at the eastern edge of the Pimeria Alta left it exposed throughout its active history to almost unimpeded raiding and revenge warfare by Apaches living in the mountains and valleys to the northeast and east.
"Never one to be deterred, the always-optimistic Father Kino gave orders in 1700 to 'roof the little church,' and in 1701 he saw to the erection of torreones (towers) as an aid in defending the settlement. The following year he began to erect an adobe church on a far grander scale. Cocóspera and Remedios were then visitas of his cabecera at Dolores, and he carried out a building program in these places at the same time. Kino was proud of this work, and he observed that as good as his church at Dolores was, those at Remedios and Cocóspera 'turned out even better, for they have transepts, etc.' The new temple was dedicated in January 1704 'with all the ceremonies and benedictions which our Holy Mother Church commands, according to the holy Roman ritual.'
"After Kino's death in 1711, Cocóspera fell into decline. In 1720 it was reported that the physical plant was in bad repair. By 1730 the church was essentially in ruins, and in 1746 Apaches delivered the coup de grâce by torching its remaining timbers and other wooden elements. Despite its ruined condition, Cocóspera took in O'odham refuges from Dolores and Remedios when those places were abandoned in the 1740s. In 1776 the Apaches attacked once more and burned whatever they could.
"The savior of Cocóspera, Father Juan de Santisteban, arrived there in 1784 and remained for nearly seventeen years. Inspection of today's ruins reveals that Father Santisteban sandwiched the sun-dried adobe walls of an earlier Jesuit church, possibly that dedicated by Father Kino in 1704 and which had undergone many subsequent repairs and alterations. Besides new exterior and interior surfaces for the old walls, using a combination of sun-dried adobes and fired brick and lime mortar the friar added a new facade as well as a baptistry, sacristy, choir loft, and twin bell towers, each with a spiral staircase of mesquite wood. The roof of the building was unique among Pimeria Alta temples. The exterior surface was a pitched roof covered with fired clay tiles - the first of record in the upper Pimeria - set in lime mortar. The interior ceiling above the choir loft and nave was in the shape of a plastered barrel vault formed by dressed beams laid at right angles across the top of three arches. Small transverse poles, possibly ocotillo stems, were used to fill the spaces between the beams and to hold the plaster vault. The roof above the sanctuary, which remained until as recently as 1935, was a burned brick barrel vault.
"Father Santisteban left Cocóspera in 1801 to take over the chaplaincy at the military hostpital in Arizpe, and other Franciscans were assigned to Cocóspera until 1836. With the departure of the last Franciscan, and with Apache raiding on the increase, the population of Cocóspera rapidly declined. "Cocóspera was temporarily occupied by would-be French colonists in 1851 and 1852, but those short-lived efforts gave way to intermittent abandonment alternating with times when squatters camped there.
"In the 1980s it became necessary for Mexico's Instituto Nacional de Antropología e Historia - the caretaker of many of that country's historic structures - to erect an unsightly scaffolding at the front of the building to prevent the Franciscan-added brick facade from pulling away from the original Jesuit adobe wall and collapsing into a pile of rubble. Even this distraction, however, cannot conceal the former magnificence of what was once the most unusual construction in the Pimería Alta." (The Pimería Alta: Southwest Mission Research Center)


Last updated: May 14, 2020