Nuestra Señora de los Dolores de Cósari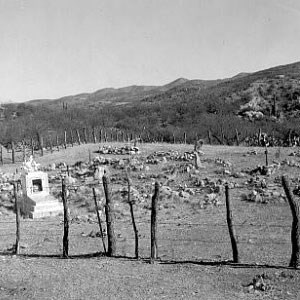 Nuestra Señora de los Dolores, founded in 13 March 1687, was the first mission that Father Kino established. It is located 55 miles south of Tumacácori near the village of Cósari, a Pima settlement, 20 miles above Cucurpe. The mission name means "Lady of Sorrows" and it was the mother mission of the Pimería Alta.

A church with seven bells was on the site in 1693, along with other mission buildings such as a carpentry shop and a blacksmith. However, the mission population rapidly decreased and by 1744 the Padre Visitador noted that the mission had been vacated.

Father Antonio de los Reyes on 6 July 1772 submitted a report on the condition of the missions in the Upper and Lower Pimería Alta. This was his report on Nuestra Señora de los Dolores as translated by Father Kieran McCarty.

"This Mission is reduced at the present time to only one outlying mission station, since during the recent year of 1766 the two villages of Arizona and Busani had to be abandoned. This was due to the continued assaults of the warlike Apache, which caused the natives to flock the two villages extant at the present time. To the east at a distance of twenty leagues lies the mission of San Ignacio, and eight leagues to the west that of Tubutama. To the south lies the uninhabited land of Lower Pimería and to the north the settlements of Papago Indians and other pagans that people all the known land up to the Gila River.

The village of Sáric is situated in a valley surrounded by high mountains. An arroyo flows beside the village into the plentiful and fertile lands of the Mission. A few Indians farm their individual fields and communally plant wheat, Indian corn, and other crops. The church is adorned on the inside with a side chapel and painting in gilded frames. In the sacristy are two chalices, a dish and cruets, a processional cross, a baptismal shell, all of silver, vestments of every kind and color with other poor adornments for the altar and divine services. According to the Census Book, which I have here before me, there are thirty-two married couples, fifteen widows, twelve orphans, the number of souls in all the one hundred thirty seven.

The outlying mission station of San José at Aquimuri, two leagues southeast of Sáric, has neither house nor church for the Missionary. According to the Census Book, which I have here before me there are fourteen married couples, five widowers, two widows, the number of souls in all fifty eight."

The Franciscans did not inhabit Dolores after the Jesuit expulsion since the mission had already been made into a hacienda. All that remains today to remind us of the emission is cemetery.
Last updated: May 14, 2020