Santa María Magdalena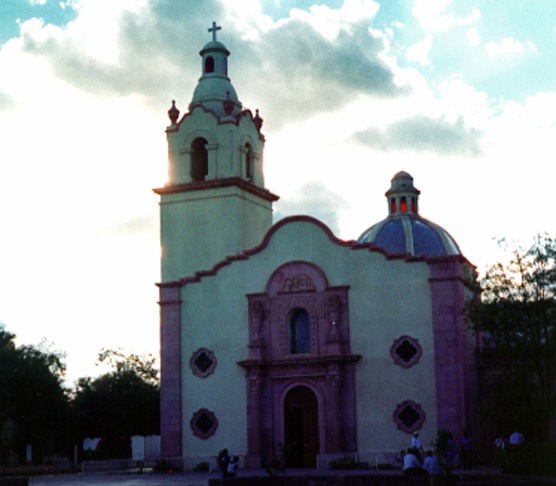 The first adobe chapel at Magdalena was built during Father Pineli's time, presumedly in 1691. Father Agustín de Campos came to San Ignacio in 1693 and remained for 43 years. Magdalena, a visita of San Ignacio, was under his care for all that time.
Two westward expeditions of Father Kino to the Gulf of California took place in 1694. On February 7, accompanied by Father Kappus of Cucurpe and Captain Juan Mateo Manje, he was received at Magdalena "with arches, crosses and demonstrations of joy." He baptized two women and a child and "instructed 120 persons." On February 22 they again visited Magdalena on the return trip to Dolores where they were greeted by Father Campos and "lodged in an adobe house which had been built in their absence."
On March 16, 1694, Kino, again accompanied by Manje, stopped for the night and said mass at Magdalena. They were traveling with 12 carpenters to the Gulf with the intent of constructing a boat capable of crossing over to Baja, California. They stayed overnight once more on the return trip in the dwelling Manje described as "adobe, with a flat roof and beams." Manje accompanied Father Kino on three more visits to Magdalena as they traveled west on expeditions in 1699 and 1701.
In 1695, the buildings at Magdalena and San Ignacio were destroyed during an uprising of the Pimas. By May, 1705, Father Campos was constructing a new church building at Magdalena. In January 1706, Kino visited him there and found "squaring of the timbers for the building and the arches of the sanctuary of the very good church which Father Campos had under way."
On March 15, 1711, Father Kino was in Magdalena to consecrate the chapel of San Francisco Xavier in Father Campos' church. He became ill while singing the dedicatory mass and died the same night. He was buried in the chapel he had so recently consecrated.
In 1771 Franciscan Francisco Sánchez Zuñiga arrived to take charge of San Ignacio. For a while Pedro Font, a recent arrival, was assigned to Magdalena.
Bishop Antonio de los Reyes on 6 July 1772 wrote a report on the condition of the missions in the Upper and Lower Pimería. Following is his report on Santa María Magdalena as translated by Father Kieran McCarty:
The village of Santa Maria Magdalena is located two leagues to the west of San Ignacio and three from the aforementioned town of Santa Ana. The house of the Father Missionary is entirely in ruins. The church is large but dilapidated and only a chapel to San Francisco Xavier has an decent furnishings. In the sacristy are one chalice, and baptismal shell of silver, three chasubles, one alb, two amices, a censer, two candlesticks of copper, and other adornments for the altar and divine services, very poor and almost unserviceable. The native Indians of this village, although they are blessed with good lands, do very little or no farming at all. According to the Census Book, which I have here before me, there are nineteen married couples, five widowers, one widow, six orphans, the number of souls in all eighty-six.
On November 16, 1776, San Ignacio and Magdalena were attacked by Apaches and Seris. Magdalena again lay in ruins, the roof of the church burned and the ornaments stolen.
The decree of expulsion of Spanish priests and officials from newly independent Mexico occurred in December, 1827. After the expulsion, Father Perez Llera was left alone to minister to San Ignacio, Tubutama, Oquitoa and Caborca along with their visitas. During these desperate years of "hanging on," now Father President Perez Llera was able to oversee the construction of a new church at Magdalena. In 1832 the four remaining Franciscan missionaries of the Pimeria gathered there to dedicate the church that stands today in the Kino Memorial Plaza. This church was heavily remodeled in the late 1950s.
Throughout the mission era, both Jesuit and Franciscan, Santa Magdalena de Buquivaba remained a visita of San Ignacio. Today it is a town of about forty thousand people and carries the name Magdalena de Kino. It is honored as the burial place of Father Eusebio Francisco Kino. The river once known as the Río San Ignacio is now known as the Magdalena River.


Last updated: May 14, 2020