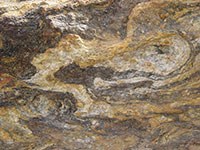 Metamorphic Rocks
Metamorphic rocks form when high temperatures and pressure act on a rock to alter its physical and chemical properties (metamorphism means 'to change form'). These conditions often stretch, twist and fold the rock as it cools. In metamorphic rocks some or all of the minerals in the original rock are replaced, atom by atom, to form new minerals. Types of metamorphic rocks include gneiss, quartzite, marble, schist, soapstone, and phyllite.
Parks with examples of metamorphic rocks include
Key Terms
Contact Metamorphism: A type of local, thermal metamorphism caused by the intrusion and extrusion of magmas; takes place in rocks at or near their contact with a body of igneous rock.

Parent Rock: Rock from which soil, sediment, or other rock is derived.

Regional Metamorphism: A type of metamorphism that affects an extensive region, as opposed to local metamorphism that is effective only in a relatively restricted area.