Hiking Basics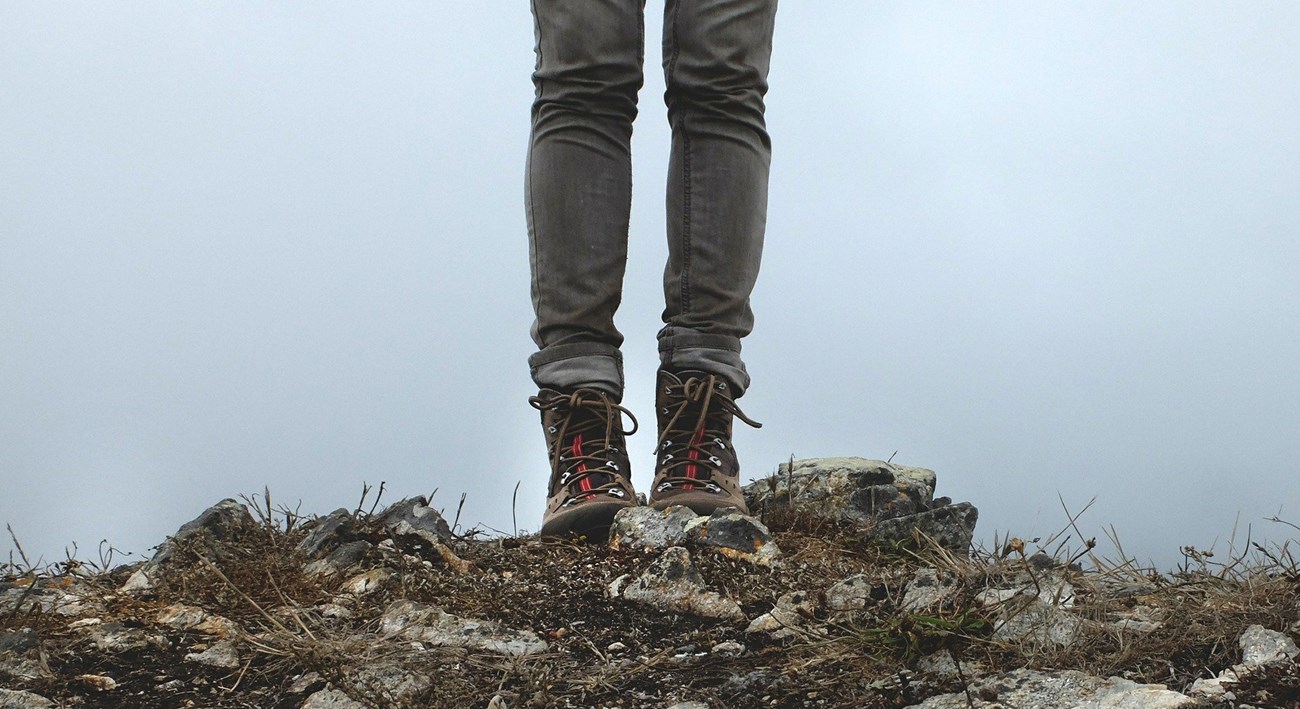 With over 500 miles of trails in Shenandoah National Park, chances are high that you'll be lacing up your hiking boots at some point on your next trip here. As with any outdoor activity, there are a few things to know that will help keep you, your loved ones, and the wildlife that you may encounter safe.
Water. See more about this essential below.
Food. Plan on bringing one snack per person, per hour. Salty snacks can help you to replace lost electrolytes.
Map. Know where you are and where you're going at all times!
Proper footwear. Wear sturdy footwear when hiking on any unpaved trail.
Extra clothing layers (rain jacket, fleece, etc.). Temperatures can change drastically, so be prepared for anything. Dressing in layers can help keep you comfortable, no matter what the weather brings.
Flashlight. Remember, cell phones don't make reliable flashlights! Don't forget extra batteries.
Emergency whistle. A whistle is a great way to alert someone to your location, if necessary. Check to see if your hiking backpack as one built into the chest strap!
Sun protection. Sunglasses, sunscreen, and a hat are essentials when spending any extended amount of time outdoors. 
The average person drinks one quart of water per hour while hiking on a hot day! It's important to plan ahead and bring plenty of water for everyone in your group, including pets!
Be sure that you know your hiking route before you get out on the trail, and bring a trail map of the area where you'll be hiking. A compass and a GPS unit can also help to keep you on track.
Shenandoah's trails are well-marked, but it's important to know what to look for. Trail markers are cement posts found at trailheads and trail intersections. The metal bands on them will show you what trail you are on, what other trails converge at that intersection, and the mileages to other points of interest. You will also see trail blazes painted on trees and rocks along the trail. The color of the paint indicates the type of trail that you are on:
Blue - hiking trail
White - Appalachian Trail
Yellow - hiking trail that is also open to horses
Cell service is unreliable in Shenandoah, so be sure to let a friend or family member know where you plan to hike and when to expect your return.
Shenandoah National Park is one of the few national parks that allow pets on trails, but they must be kept on a physical leash no longer than 6 feet at all times, and there are several trails within the Park where pets are prohibited. Please follow all park regulations regarding pets in order to help ensure your safety, as well as the safety of your pet and the wildlife you may encounter.
Slips, trips and falls can happen at any time, but observing the following guidelines can minimize the likelihood of a serious injury while hiking in Shenandoah:
Watch your step and be prepared to turn around in dangerous settings such as a wet and slippery conditions, high-water crossings, or ice on the trail.
Never walk around the top of a waterfall - wet rocks are surprisingly slippery and many people have been injured, some fatally.
Be sure to always stay on Park-maintained trails.
Always check the weather forecast and be prepared for changing conditions. Remember, temperatures on the mountain can be 10 to 20 degrees cooler than in the valley!
Even if Skyline Drive is closed due to inclement weather, Shenandoah National Park is still open to hiking during the winter months, and, with all of the leaves off the trees, you'll see views that you can't see in the warmer months. While it can be a great time to explore Shenandoah, hiking during the winter does take a bit more preperation. 
While out hiking, visitors may see white-tailed deer, birds, snakes, and black bears, among other animals. In most cases, these wildlife encounters are events that visitors enjoy and that have no impacts on the animal. There are some instances, however, when the encounter poses risk to both the visitor and the animal.Being informed about the animals you might encounter can help protect Shenandoah's wildlife and greatly increase your chance of a safe and enjoyable experience.
Poison ivy grows plentifully along roadsides, trails, and the edges of parking lots as a vine or a low shrub. Most people are sensitive in varying degrees to the sap of this plant, which makes skin itch, blister, and swell. Because of this, it's important to learn to identify it so that you can avoid it if you see it out in the Park. If it does touch your skin, wash the area with soap and water as soon as possible, as the sap can penetrate your skin in only a few minutes.
While most hiking trails within Shenandoah are accessed via Skyline Drive, there are several trailheads located on the Park boundary, allowing access even when Skyline Drive is closed.

Park boundary trailhead accesses are generally in remote areas with very limited parking, and some pass through private land. Please respect private landowners by staying on the blazed trail. There have been continued issues on some of these trails with trespassing, littering, illegal fires, camping, fishing, and a general lack of respect for the private property. This kind of behavior puts future trail access at risk.

Also note that an entrance fee is still required when accessing the Park via a boundary trailhead. This can be paid at any park entrance station or self-pay fee station. You may also purchase annual passes online prior to your visit.

Changes to trailhead access and parking conditions may occur without notice.
No hunting is allowed inside Shenandoah National Park, however several trails and gravel roads connect Shenandoah to the Rapidan Wildlife Management Area and private property where hunting is allowed. Be sure to wear blaze orange if hiking in the surrounding area during hunting season. Visit the Virginia Department of Wildlife Resources to learn more about hunting regulations and seasons.
While hiking, take valuables with you or leave them locked in your vehicle, hidden from view.
Shenandoah's Hiking Difficulty
is determined by a numerical rating using the following formula:
Elevation Gain x 2 x distance (in miles). The product's square root is the numerical rating.
For example, a 10-mile hike that gains 2,200 feet in elevation:
2,200 x 2=4,400
4,400 x 10 = 44,000
Square root of 44,000=209.8
The hike's numerical rating is then tied to one of five descriptors: Easiest, Moderate, Moderately Strenuous, Strenuous, Very Strenuous.
The example hike above would be rated Very Strenuous.
This formula approximates difficulty and is imperfect. Dark Hollow Falls has a numeric rating of 36.3. Under the formula this would be in the "Easiest" range, however the steepness of the trail over such a short distance warrants a "Moderate." When choosing a hike, always consider the specific elevation and distance in addition the the given difficulty rating.
Last updated: August 16, 2023