Winter in Shenandoah
Download the Winter Site Bulletin (1.4mb pdf) for a printer-friendly copy of this information.

Experience the solitude of winter in Shenandoah National Park. In winter you'll have a better chance of seeing woodland animals like deer, squirrels, and turkeys as they forage for food. Foxes and bobcats are active through winter. Snow on the mountains makes it easier to spot tracks of mice, rabbits, and other animals.

Listen and look for Shenandoah's winter birdlife. Chickadees, nuthatches, and a host of woodpeckers will be searching for seeds and berries or peeking under bark for hard-to-find insects.
As leaves fall and cooler temperatures improve visibility, the valleys below and mountains beyond are more spectacular than ever.
Picnicking and Restroom Facilities Along Skyline Drive
Status from December through March, from north to south.
Winter Picnic and Restroom Facilities

| MILE | SITE | FACILITY |
| --- | --- | --- |
| 4.6 | Dickey Ridge Visitor Center | flush restroom; hydrant not frost-proof - will be turned off |
| 24.1 | Elkwallow Picnic Grounds | picnicking, vault toilets, frost-proof hydrant |
| 31.5 | Thornton Gap Entrance Station | water only; frost-proof hydrant |
| 31.5 | Panorama | flush restroom; frost-proof hydrant |
| 35.1 | Pinnacles Picnic Grounds | picnicking, vault toilets, frost-proof hydrant |
| 51 | Byrd Visitor Center | flush restroom; hydrant not frost-proof - will be turned off |
| 62.7 | South River Picnic Grounds | picnicking, vault toilets, water must be boiled |
| 65.5 | Swift Run Entrance Station | water only, not potable |
Hiking When Skyline Drive is Closed
Skyline Drive is an historic scenic byway with twists, turns, and grades designed to maximize the mountain views and the driving experience. Even with diligent work crews it can be days before Skyline Drive opens after temperatures drop and the road is icy or blanketed with snow

The road closure does not have to deter you from enjoying and exploring the Park with these tips:
Park at the entrances and access the Appalachian Trail (A.T.). To do this get a good, topographic map. The Shenandoah National Park Association sells Potomac Appalachian Trail Club (PATC) maps. These are a series of detailed topographic maps, one for each of the Park's districts: North, Central, and South. Using these maps you will be able to see where the A.T. intersects with the boundary and with other nearby trails.
Access other trails through the Park boundary. Some boundary trails are better than others, and you will still need a good topographic map. Learn about boundary access (83kb pdf). Boundary accesses can change from time to time, so be sure to check the information on this list against the alerts: https://www.nps.gov/shen/planyourvisit/alerts.htm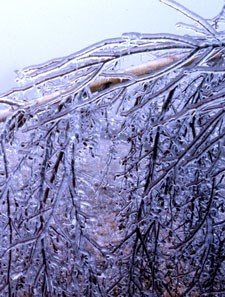 Winter Safety
Winter in Shenandoah is unpredictable. Temperatures are usually 10 to 20oF cooler than in the lowlands and weather conditions can change quickly. What comes down as rain below can be ice and snow on the mountain.
Be sure your gas tank is full before you enter the park.
Have warm clothing and/or blankets in case your vehicle becomes disabled. You may have to wait for assistance.
Cell phones do not work from many areas in the park. Leave an itinerary with someone at home.
If you plan to hike wear layers, bring extra water and food, bring a flashlight, and bring a map. Even on mild days, be prepared for unpredictable weather changes.
Weather conditions may require traveling at lower speeds than the 35 mile per hour limit. There may be icy patches on shaded curves that otherwise appear dry.
Phones along Skyline Drive

*

| MILE | LOCATION | PHONE TYPE |
| --- | --- | --- |
| 0.6 | Front Royal Entrance Station | Emergency phone (auto dial) |
| 4.6 | Dickey Ridge Visitor Center Restrooms | Local/calling card/collect only phone |
| 24.1 | Elkwallow Wayside | Pay phone |
| 31.5 | Thornton Gap Entrance Station | Emergency phone (auto dial) |
| 51.2 | Big Meadows Campground | Emergency phone outside campground office |
| 65.5 | Swift Run Gap Entrance Station | Pay phone |
| 79.5 | Loft Mountain Wayside | Emergency phone (auto dial) |
| 104.9 | Rockfish Gap Entrance Station | Emergency phone (auto dial) |
There are two emergency phones at popular boundary access points:
Old Rag Parking Area on VA Rt. 600, near Nethers, VA
White Oak Canyon Boundary Trailhead on VA Rt. 600, near Syria, VA

*Emergency phones connect directly to the Park emergency services number: (800) 732-0911
Last updated: November 20, 2019