Winter in Shenandoah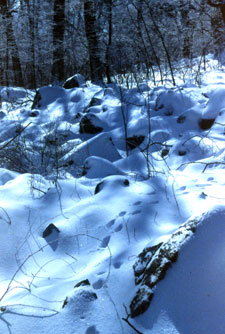 Winter Experiences
As the leaves fall from the trees and cooler temperatures improve visibility, valleys below and mountains beyond are more spectacular than ever. Experience the quiet solitute of winter in Shenandoah National Park.
You'll also have a better chance of seeing woodland animals like deer, squirrels, and turkeys as they forage for food. Foxes and bobcats are also active through winter. Snow in the mountains makes it fun and easy to see who's out and about. Look for tracks of mice, rabbits, and other animals.
Listen and look for Shenandoah's winter birdlife. Chickadees, nuthatches, and a host of woodpeckers will be searching for seeds and berries or peeking under bark for hard-to-find insects.
A crisp, winter visit is just one more way to experience Shenandoah.
Scroll down for tips to help you enjoy Shenandoah National Park in the winter months.
---
Know Before You Go
Shenandoah National Park is always open. However, the lodging and food services, campgrounds, and most other facilities are closed from late November - March, with the exception of Byrd Visitor Center at mile 51 which is open weekends (Fridays through Sundays). Check the current operating hours and seasons.
Portions of Skyline Drive, the only public road through the park, are periodically closed during inclement weather and at night during deer hunting season. Visitors can still enter the park on foot for hiking or backcountry camping even when Skyline Drive is closed. Please call the park's recorded information line: (540) 999-3500, 1, 1 for the most current Skyline Drive status.


Hiking When Skyline Drive is Closed
Skyline Drive is an historic scenic byway with twists and turns and grades that were designed to maximize the experience of driving along the crest of a mountain and getting fantastic views, but when it comes to clearing it of ice and snow, it gets a little tricky. Crews work diligently, but when the temps drop, it can be days before it is safe to open the road to public use.

Although not being able to access the Drive may keep you from your favorite spots in Shenandoah, you can take the opportunity to explore new places! Here's how:
Get a good map. We recommend the Potomac Appalachian Trail Club (PATC) maps sold by our partner, the Shenandoah National Park Association. Click here to link to their maps page. These are detailed topo maps, one for each of the Park's three districts. You can buy them separately or all three in a pack.
Using these maps you can find access points, usually the Appalachian Trail (A.T.), near entrances. You can park at the entrance stations, catch the A.T. and then access many cool places from it.
There are also access points along the boundary. Some are better than others. Find a list and descriptions here. Again, a good map is a must!
Winter hiking can be rewarding. The solitude, the crisp, cool air, the expansive views enhanced by low humidity and no leaves, and the opportunity to see wildlife make winter a great time to hike.
Be sure to observe a few important safety tips:
Be sure someone knows where you are and when to expect you back.
Be prepared for changing conditions: wear layers, take water and snacks, have emergency supplies in your car in case you become stranded.
If you are hiking or skiing along Skyline Drive listen and look for plows and quickly yield!
Know the time of sunset and either be prepared for darkness with a headlamp or return before nightfall.
Remember that conditions on the mountain can be very different. There's usually about a 10-degree difference in temperatures, which can be an important difference between rain and ice!
Picnicking and Restroom Facilities Along Skyline Drive
Status from December through March, from north to south. (Park Map, pdf, 480kb).
| | | |
| --- | --- | --- |
| MILE | SITE | FACILITY |
| 4.6 | Dickey Ridge Visitor Center | flush restroom; hydrant not frost-proof - will be turned off |
| 24.1 | Elkwallow Picnic Grounds | picnicking, vault toilets, frost-proof hydrant |
| 31.5 | Thornton Gap Entrance Station | water only; frost-proof hydrant |
| 31.5 | Panorama | flush restroom; frost-proof hydrant |
| 35.1 | Pinnacles Picnic Grounds | picnicking, vault toilets, frost-proof hydrant |
| 51 | Byrd Visitor Center | flush restroom; hydrant not frost-proof - will be turned off |
| 62.7 | South River Picnic Grounds | picnicking, vault toilets, water must be boiled |
| 65.5 | Swift Run Entrance Station | water only, not potable |
| 83.7 | Dundo Picnic Grounds | picnicking, vault toilets, frost-proof hydrant, water must be boiled |
---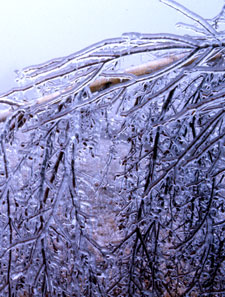 Winter Safety-Be Prepared!
Winter in Shenandoah is unpredictable. Temperatures are usually 10 to 20oF cooler than in the lowlands and weather conditions can change quickly. What comes down as rain below can be ice and snow on the mountain.
Be sure your gas tank is full before you enter the park.
Have warm clothing and/or blankets in case your vehicle becomes disabled. You may have to wait for assistance.
Cell phones do not work from many areas in the park. Leave an itinerary with someone at home.
If you plan to hike, wear layers and take a flashlight and a map. Even on mild days, be prepared for unpredictable weather changes. Bring more water and food than you think you will need.
Although the speed limit on Skyline Drive is 35 mph, weather conditions may require lower speeds. Even when the pavement appears to be dry, there may be icy patches on shaded curves.
Telephones are located along Skyline Drive at the following locations. Emergency phones connect directly to the park emergency services number: (800) 732-0911
| MILE | LOCATION | PHONE TYPE |
| --- | --- | --- |
| 0.6 | Front Royal Entrance Station | emergency phone (auto dial) |
| 4.6 | Dickey Ridge Visitor Center Restrooms | local/ calling card/ emergency |
| 22.2 | Mathews Arm Campground | emergency phone outside campground office |
| 24.1 | Elkwallow Wayside | pay phone |
| 31.5 | Thornton Gap Entrance Station | emergency phone (auto dial) |
| 51.2 | Big Meadows Campground | emergency phone outside campground office |
| 57.6 | Lewis Mountain Campground | emergency phone at self-registration kiosk (not accessible by car in winter, short walk from Skyline Drive.) |
| 65.5 | Swift Run Gap Entrance Station | emergency phone (auto dial) |
| 79.5 | Loft Mountain Wayside | emergency phone (auto dial) |
| 79.5 | Loft Mountain Campground | emergency phone (auto dial) |
| 104.9 | Rockfish Gap Entrance Station | emergency phone (auto dial) |
There are also emergency phones at two popular access points along the park boundary:
Old Rag Parking Area on VA Rt. 600, near Nethers, VA
White Oak Canyon Boundary Trailhead on VA Rt. 600, near Syria, VA
Last updated: August 18, 2017