Drinking Water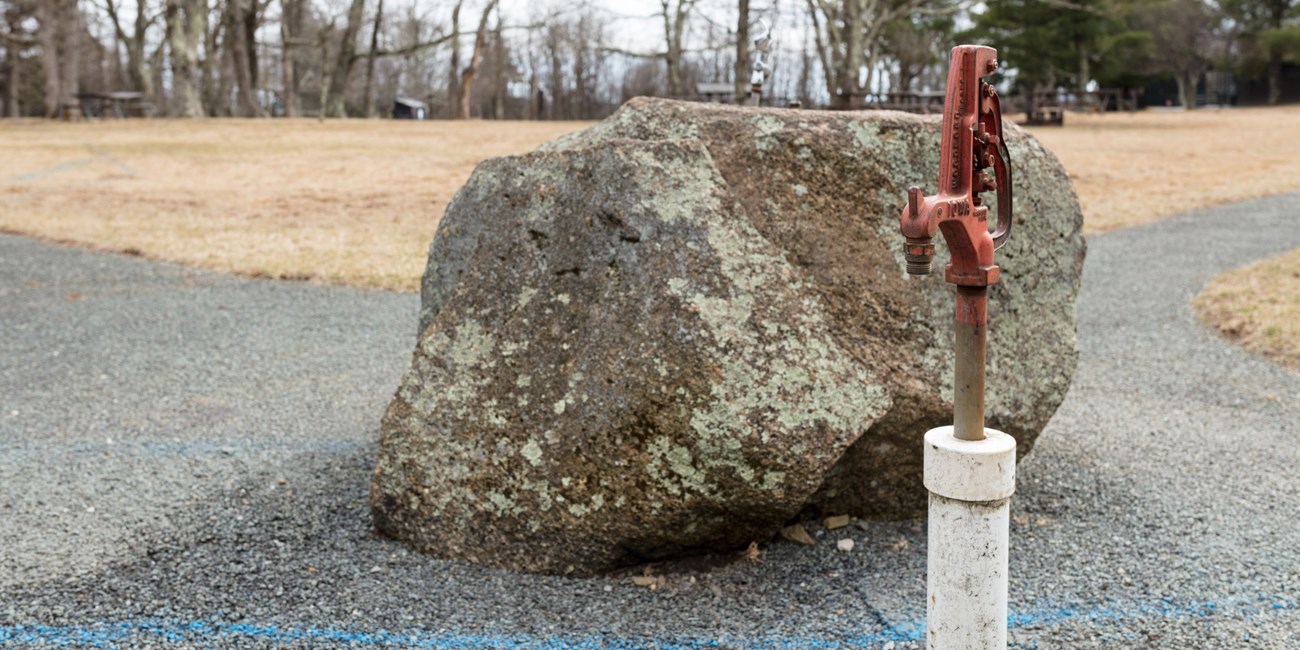 Did you know that the average person drinks one quart of water per hour while hiking on a hot day? It's important to plan ahead and bring plenty of water whenever you plan on being outside in order to avoid dehydration. While you may use the water fountains during the warmer months in some of the developed areas of the Park, you'll need to plan ahead if you will be spending any time on a trail or in the backcountry, or if you plan on visiting the Park in the winter.

Although the Park may have natural sources of clean, potable water, most springs and water sources along the trails are unprotected and susceptible to contamination by disease-causing organisms. These organisms include bacteria, viruses, and parasites which can cause vomiting, diarrhea, and cramps. People with weakened immune systems, pregnant women, infants, young children, and older adults are at increased risk of illness.. For this reason, with the exception of developed water fountains and marked water spigots within the Park, all water should be purified before is used for drinking, cooking, food preparation, handwashing, brushing teeth, or washing dishes.

To purify water, simply boil it for at least two minutes, use a chemical treatment (purification tablets), or filter it through a portable water filtering system. If you choose to use purification tablets or a water filter system, follow the manufacturer's directions. Dishes, clothes, and hands should be washed well away from the water supply.

The tables below list water sources, or springs, in order, from north (US 522) to south (Calf Mountain Hut) along the Appalachian Trail. The water flow conditions are updated periodically.
Water Sources along the Appalachian Trail

| Mile Along AT | Spring Location | Comments |
| --- | --- | --- |
| | Tom Floyd Wayside | Unknown |
| 5.3 | Indian Run Maintenance Building Area | Piped; Shallow pool; slow trickle (10/18/19) |
| 9.9 | Hogwallow Flats | Piped; No Flow; very shallow pool (10/24/19) |
| 14.3 | Gravel Springs Hut | Deep pool; slow flow (10/24/19) |
| 19.4 | Range View Cabin | Piped; 1.5 liters per minute (10/24/19) |
| 20.7 | Elkwallow Gap (below picnic area) | Piped; 3.3 liters per minute (10/24/19) |
| 24.3 | Beahms Gap | Shallow pool, no flow (10/28/19) |
| 26.4 | Pass Mountain Hut | Piped; 0.5 liters per minute (10/28/19) |
| 34.7 | Byrds Nest #3 (access road near Drive) | Piped; 4.5 liters per minute (10/22/19) |
| 44.3 | Hawksbill Gap | Piped; 2.5 liters per minute (10/22/19) |
| 45.6 | Rock Spring Hut | Piped; 5 liters per minute (10/21/19) |
| 57.1 | Bearfence Mountain Hut | No flow; shallow pool (10/22/19) |
| 59.8 | Pocosin Cabin | Piped, no flow; shallow pool (10/22/19) |
| 63.1 | South River Maintenance Building | No flow; shallow pool (10/22/19) |
| 69.5 | Hightop Hut | Piped; No flow; shallow pool (10/24/19)l |
| 77.7 | Pinefield Hut | No flow; shallow pools (10/24/19) |
| 81.4 | Ivy Creek Maintenance Building | Piped; 20 liters per minute (10/24/19) |
| 85.7 | Doyles River Trail near cabin | Piped; 6 liters per minute (10/24/19) |
| 90.9 | Blackrock Hut | Piped; 0.5 liters per minute (10/24/19) |
| 97 | Jarman Gap | Small pool; slow trickle (10/24/19) |
| 103.9 | Calf Mountain Hut | Piped; 0.5 liters per minute (10/4/19) |
Water Sources along Skyline Drive

| Skyline Drive mile | Water Source Location | Water Availability |
| --- | --- | --- |
| 4.8 | Dickey Ridge VC/Picnic area | frost free hydrant (PA year round, VC seasonal) |
| 22.1 | Piney River Maintenance Office | frost free hydrant (year round) |
| 24 | Elkwallow Picnic Area | frost free hydrant (year round) |
| 31.6 | Thornton Gap Entrance Station | frost free hydrant (year round) |
| 31.6 | Panorama | frost free hydrant (year round) |
| 36.7 | Pinnacles Picnic area | frost free hydrant (year round) |
| 42 | Skyland area | frost free hydrant (stables area) (year round) |
| 51 | Big Meadows area (2) | frost free hydrant (Maintenance area/Visitor Center comfort station – both are year round) |
| 57.8 | Lewis Mtn. CG and Picnic area | Intermittent (shut off for winter) |
| 62.8 | South River Picnic area | frost free hydrant (year round) Not Potable. Boil! |
| 65.4 | Swift Run Entrance Station | frost free hydrant (year round) |
| 73.1 | Simmons Gap area (2) | frost free hydrant (Trails cache / Maintenance area - both are year round) |
| 80 | Loft Mtn CG and Wayside area | Intermittent (shut off for winter) |
| 83.6 | Dundo CG | frost free hydrant (year round) Not potable. Boil! |
Last updated: July 2, 2021