Backcountry Regulations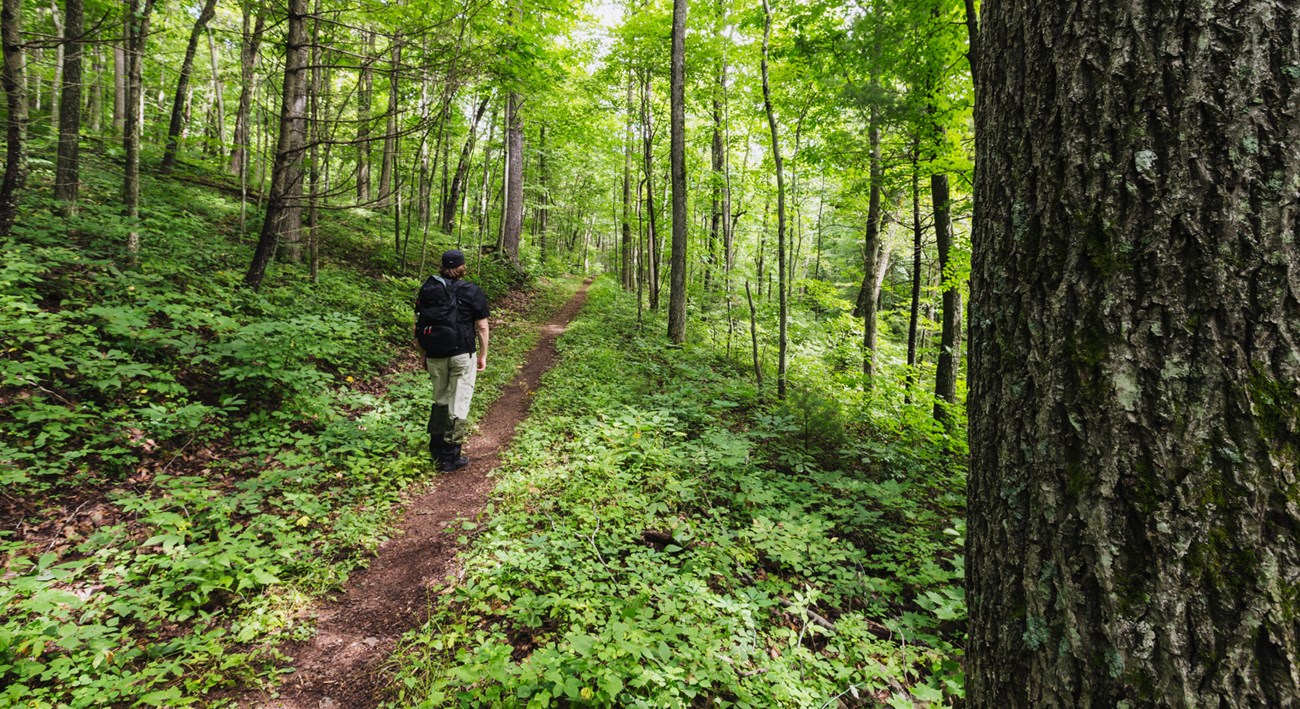 Each year thousands of people spend a night or more in the Shenandoah's backcountry. While visitors seek the backcountry for isolation, the cumulative actions of everyone in these areas can have dire effects on the resources we seek to enjoy. We can mitigate these effects by following Leave No Trace principles, as well as observing park backcountry regulations. The following regulations exist to keep Shenandoah's wilderness wild and untrammeled for you and for future generations of hikers and campers.
1. A backcountry camping permit is required.
A free backcountry camping permit is required to camp in Shenandoah's backcountry. Please be sure to fill out your permit completely. In order to so, you will need to know your full itinerary prior to registering. You may fill out an online backcountry camping permit or visit a self-registration station at one of the following locations:
A.T. North entry point

Front Royal Entrance Station (mile 0 of Skyline Drive)

Panorama Comfort Station, near Thornton Gap Entrance Station (mile 31.5)

Swift Run Entrance Station (mile 65.5)

Loft Mountain Wayside (mile 79.5)
Rockfish Gap Entrance Station (mile 105)

A.T. South entry point

Old Rag Trailhead parking area at Etlan, Va
2. If you're camping on Old Rag Mountain, a day-use ticket is also required.
If you will be hiking on the Saddle, Ridge, or Ridge Access trails, or camping on Old Rag Mountain, you are required to purchase an Old Rag day-use ticket for each day that you will be in the area. This is required, in addition to a backcountry camping permit.
3. Know how to choose the right campsite.
Allow time in your trip to look for a legal, comfortable, and safe place to camp before dark. It is strongly recommended that you camp at pre-existing campsites; these campsites have been created and established by prior visitor use and are not posted, signed, or designated by the Park. Remember, good campsites are found, not made! Campsites must be at least:
10 yards away from a stream or other natural water source.
20 yards away from any park trail or unpaved fire road.
50 yards away from another camping party or no camping post sign.
50 yards away from any standing buildings and ruins including stone foundations, chimneys, and log walls.
100 yards away from a hut, cabin, or day-use shelter.
1/4-mile away from any paved road, park boundary, or park facility (i.e. campgrounds, picnic grounds, visitor centers, lodges, waysides, or restaurants).
4. Store your food properly.
Believe it or not, storing your food properly while in Shenandoah is one of the most important steps you can take to protect wildlife and help keep yourself safe. Allowing a bear, or any other wild animal, to obtain human food, even once, can lead to aggressive behavior.
5. Campfires are not permitted in the backcountry.
Unattended or poorly-managed campfires have caused thousands of acres of wildland fires to burn in Shenandoah. Illegal campfires also sterilize the ground, scar rocks, and consume wood that turns into the soil that plants need to thrive. Because of this, campfires are only permitted at park-constructed fireplaces found at Appalachian Trail huts and day-use shelters. If you want to have a campfire, consider staying in one of our developed campgrounds or at nearby National Forest Service land.

To prepare your food without a campfire, use a backpacking stove. Backpacking stoves must be small enough to be packed and carried by an individual (usually around 6 cubic inches or less). Larger portable stoves and grills that are intended for group-use are prohibited in the backcountry.

Twig burning stoves are allowed, as long as they meet the preceeding requirements. Additionally, they must burn short twigs no larger than the diameter of a common pencil. Twigs must be burned completely to ash, which must also be quenched with water to ensure that the fire is completely out before scattering ashes.
6. Properly dispose of human waste.
Defecation within 20 yards of a stream, trail, or road is prohibited. If designated bathroom facilities are provided - use them. If not, solid human waste must be buried in a hole 3 - 8 inches deep in order to protect water sources, and fellow hikers, from harmful pathogens found in human feces. Backpacking with a trowel makes digging a hole much easier.
7. Carry out all trash.
Pack it in; pack it out. Protect the backcountry experience by keeping the backcountry free of trash. All garbage, including food scraps, must be carried out. Leave glass containers at home.
8. Backpacking groups larger than 10 individuals are prohibited.
Keep your group size small. Large backcountry camping groups can cause greater impacts to the plants and wildlife in the Park. They can also impact the wilderness experience of other hikers and backcountry campers. If you do have more than 10 campers, plan different itineraries, divide into smaller groups, and obtain a separate backcountry camping permit for each group. Groups must camp at least 50 yards away from each other.
9. Know the limits on consecutive nights that you're allowed in the backcountry.
Backcountry camping may not exceed 2 nights in one campsite location or 14 consecutive nights in the backcountry. Camping in one spot for consecutive nights increases damage to Park resources, which we are tasked to protect.
10. Know the areas where camping is prohibited.
Closures and campsite regulations protect the fragile plants that live on Shenandoah's rock outcrops, prevent certain areas from being overused, and allow for better experiences for all visitors in the Park. It is the camper's responsibility to know and observe these closures. Signage on trails closed to camping will help guide you. The following areas are closed to overnight camping:
Limberlost Trail: area bounded by Skyline Drive, Whiteoak Canyon Fire Road, and the Skyland-Big Meadows Horse Trail
Hawksbill Mountain Summit: area above 3,600 feet
Whiteoak Canyon: area between Skyland-Big Meadows Horse Trail and Cedar Run Link Trail
Old Rag Mountain Summit: area above 2,800 feet
Big Meadows: cleared area within view of Skyline Drive
Rapidan Camp: area within 0.5-mile of buildings
Appalachian Trail: area between Hogwallow Flats and Gravel Springs Hut
Rock Outcrop Management Areas: In an effort to prevent further degradation of important outcrop ecosystems, the Park is currently implementing several rock outcrop management area closures.
Last updated: March 17, 2023