Food Storage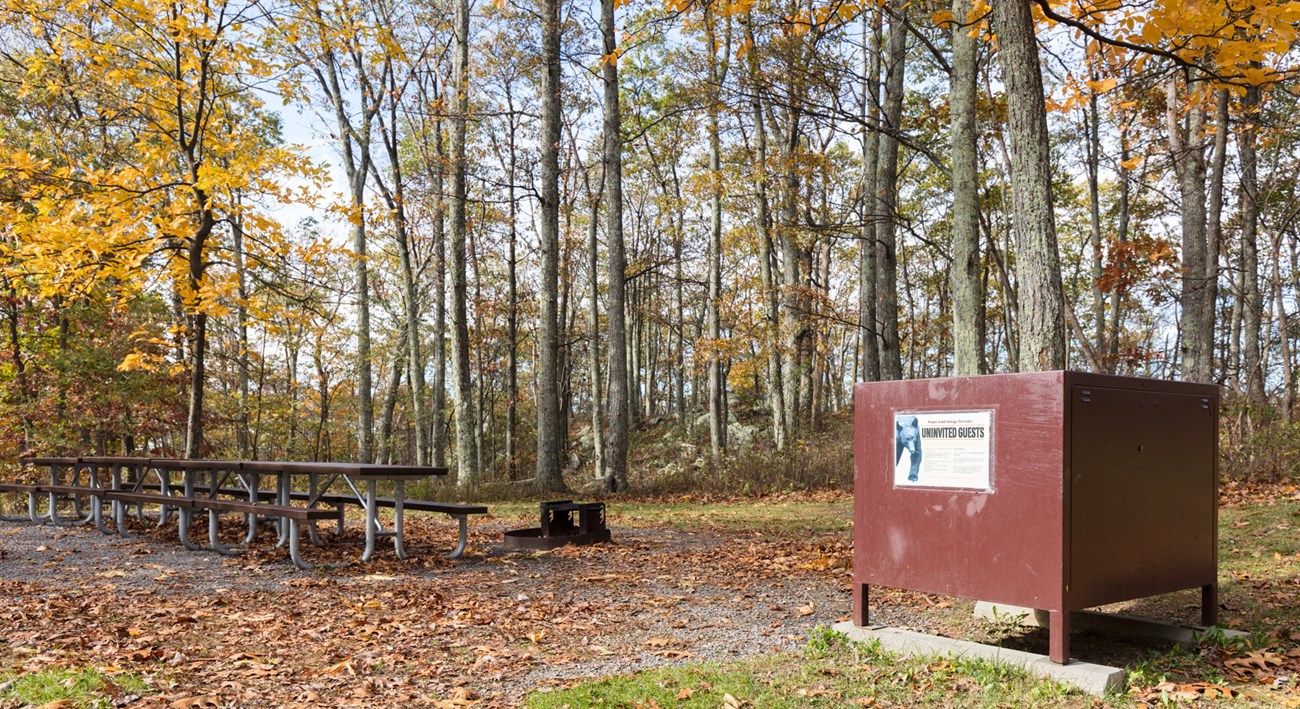 Storing your food properly while in Shenandoah is one of the most important steps you can take to protect wildlife and help keep yourself safe. Allowing a bear, or any other wild animal, to obtain human food, even once, can lead to aggressive behavior. An aggressive animal that associates humans with food is a threat to human safety, requiring the removal or killing of the animal. Please do your part by following these simple steps:
1. Never feed wildlife.
Not only is this extremely dangerous for you and other visitors, it can also lead to the death of that animal. Animals don't need your handouts to survive, so keep your food to yourself and just enjoy the view!
2. Throw away your trash.
You know this one. Trash and leftover food scraps invite skunks and raccoons, along with other unwanted animals to your campsite or picnic table. Dispose of your garbage in bear resistant trash cans and dumpsters located throughout the Park. And please don't leave your garbage, even if it's bagged, outside of a full trash can - just find another one!
3. Don't leave food unattended.
Not even for a few minutes. Before going to sleep or leaving the area, store all of your food in a food storage locker (the brown metal boxes provided in some campgrounds and picnic areas), the locked trunk of your car, a bear-resistant canister, or a bear bag hung from a tree or bear pole (more on that later). Never bring food, toiletries, or cooking utensils into the tent!

It's important to note that keeping your food in a cooler does not count as proper food storage... bears will quickly destroy that expensive, new birthday gift!
4. Properly store all other scented items.
You did a great job properly storing all of your food in your campsite, but don't forget about the rest of your scented items! This includes all of those dirty dishes and utensils that your prepared your food with. Clean everything thoroughly with unscented soap and water well away from your campsite, making sure no trace of food is left for animals to smell. Also make sure not to put cooking grease or food scraps in fire rings.

After cleaning up your cooking items, don't forget to properly store the other scented items that you're likely to have. This includes, but is not limited to: sunscreen, soap, insect repellent, lip balm, toothpaste, deodorant, medications, and feminine products. As a general rule, if you put it in your mouth or on your skin, it should be stored along with your food.
5. Use a bear-resistant canister.
If no food storage options are provided in your campsite or picnic area, using a bear-resistant food canister is the preferred alternative. Store your canister on level ground at least 70-100 yards from your campsite. Do not place it near a cliff or water source, as bears may knock the canister around. Bears may also be able to carry canisters away if there are ropes are strings attached to them.
6. Hang a bear bag.
If no other food storage option is available, you'll need to hang a bear bag before leaving the area or tucking in for the night. You'll need 50-100 feet of rope and a waterproof bag big enough to hold all of your food and scented items. Bear bags need to be suspended at least 12 feet above the ground and 6 feet away from the trunk and branches of the tree. Shenandoah's forest consists primarily of tall trees with very few low branches, which can make properly hanging a bear bag difficult. This gets even more challenging after sunset, so prioritize this activity when you first arrive in your chosen campsite!
7. Save some money.
Food, coolers, trash, and dirty cookware left unattended, even for a short time, are subject to citations and confiscation by Park Rangers. Save yourself some money and embarrassment by doing your part to store your food properly!
Last updated: October 25, 2023