Rock Outcrop Management

Intense use of rock outcrops by hiking, climbing and camping enthusiasts has led to severe degradation of vegetation and soils at some cliff sites, including impacts to rare species and communities. An assessment of human use and impact at fifty of the Park's outcrops found that 40% of sites exhibited moderate to severe human impacts in the form of social trails, campsites, rock graffiti, trash, and soil and vegetation damage. The majority of impacts to rock outcrop natural resources were from day use activities including hiking and vista viewing. Two sites, Little Stony Man and Old Rag Mountain, were shown to have significant rock climbing use, and areas of impact caused by rock climbing activities.
ROMP Closures
In an effort to prevent further degradation of important outcrop ecosystems, the Park is currently implementing the Rock Outcrop Management Plan (ROMP). The plan calls for backcountry camping closures at six sites and complete closures at three locations (total of ~20 acres, or 0.01% of the total Park area). Implementation of these closures was not taken lightly by Park management. It was recognized that these sites are very popular with visitors, but the Park must honor the National Park Service Organic Act (1916), which mandates the protection of natural objects so that they will be "unimpaired for the enjoyment of future generations." The plan was developed with significant input from the public with the goal to protect the sensitive natural resources on rock outcrops and cliffs while still providing opportunities for visitor enjoyment of these popular recreational areas.

The sites affects by closures are Mount Marshall, Overall Run, Marys Rock, Little Stony Man, Hawksbill, and Old Rag. See closure details for each site below.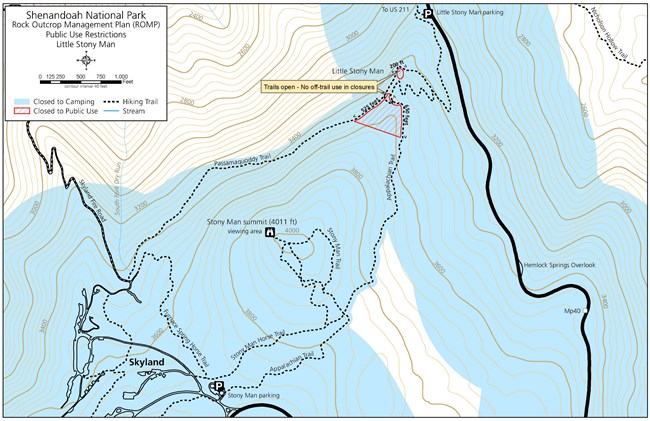 Little Stony Man
Camping is not permitted in the vicinity of Little Stony Man cliffs because of existing backcountry camping regulations (no camping within 0.25 mile of Skyline Drive). This includes the area just north of the Passamaquoddy Trail vista at the bottom of Little Stony Man Cliffs. Areas immediately to the north and south of the primary rock climbing area are closed to all public use.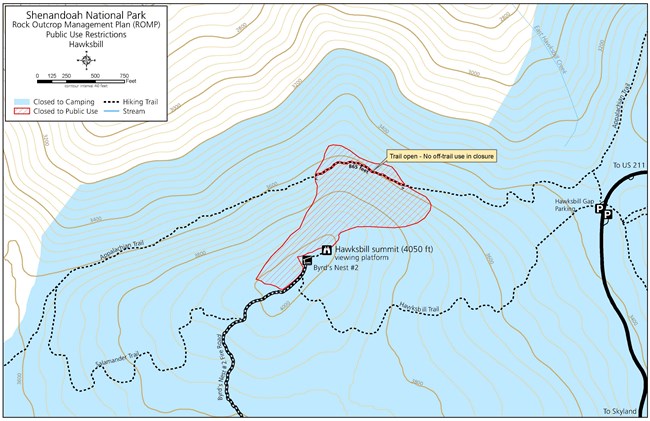 Hawksbill
Camping is prohibited above 3,200'. The cliffs to the west of the Byrd's Nest Shelter at the summit are closed to all public use, as is the north slope of Hawksbill below the viewing platform at the summit (this closure extends downslope across the Appalachian Trail, but the trail corridor remains open to the public).
This is the first phase of the ROMP implementation. Outcrop communities will be monitored in future years to determine the effectiveness of the closures and the health of rock outcrop ecosystems. Additional restrictions may be put in place in the future if deemed necessary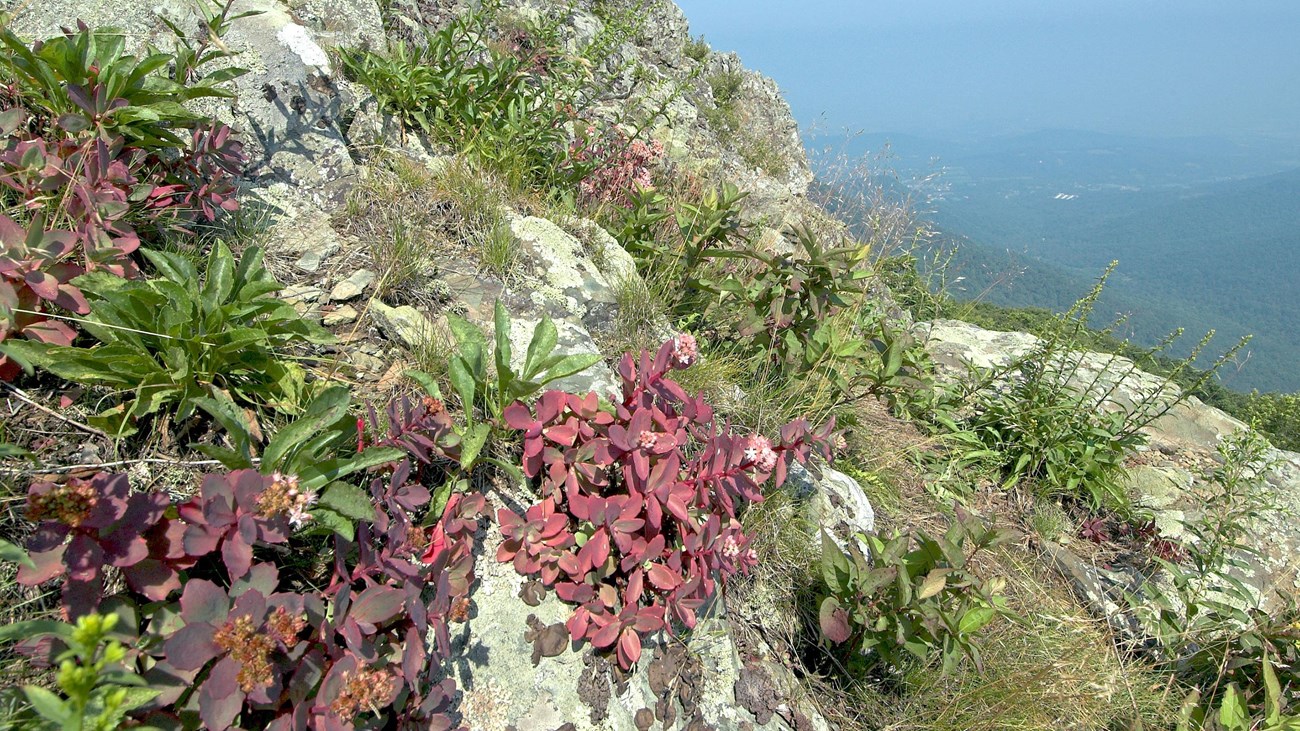 Rock Outcrops
Learn about rock outcrops in Shenandoah and the plants and animals that call these unique places home.
Last updated: July 11, 2023