Bicycling In The Redwoods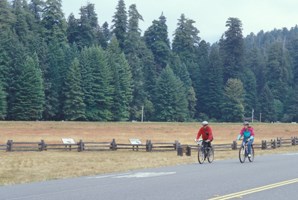 What We Offer

Bicycling in Redwood National and State Parks can be both a challenging and an awe-inspiring experience. There are several hike/bike trails in the parks, but the main bike "hub" is in the southern part of the parks. With planning you will able to combine different hike/bike trails and pass through ancient redwood groves, peddle under second-growth forests, or work up a sweat along sections of the California coastal trail.

Although most national and state parks prohibit biking on backcountry hiking trails, here we are able offer several bike trails - mostly on rehabilitated logging roads. These old roads are sturdy enough so bike tires cause less erosion and are where routes are wide enough to safely accommodate multiple uses. Help limit damage on other trails by respecting the areas where bicycles are not permitted.

Print out, or pick up a biking in the parks brochure (Oct 2020) at any visitor center.

Additionally, each year from autumn until spring, we have monthly "Hike and Bike" days on the Newton B. Drury Scenic Parkway. This is normally held on the first Saturday of October to May.

Check the Park Alerts and Current Conditions for any updates on bike trails.
Electric Bikes
Learn how national parks are embracing
electric bikes
. E-bikes are allowed on hike/bike trails that are completely inside the boundary of Redwood National Park.
However, there are hike/bike trails in Redwood National and State Parks that cross state park boundaries. Because state laws are different from federal laws about e-bikes, there are some hike/bike trails where e-bikes can not be taken. Using an electric bike anywhere on the following four hike/bike trails is not allowed:
Little Bald Hills Trail
Coastal Trail -– Last Chance Grade Section
Ossagon Trail
Coastal Trail -– Gold Bluff Beach Section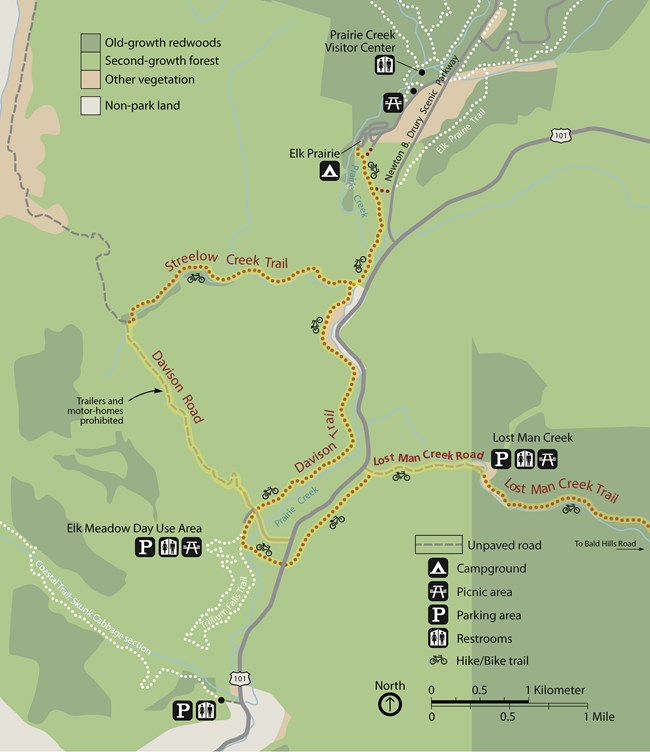 Elk Meadow Day Use Area
Elk Meadow Day Use Area
is the hub for connecting different bike trails in the Greater Prairie Creek watershed. Most of these bike trails are on old logging roads that go through second-growth forests. However, a mile of ancient redwoods can be explored by bike at the western end of the Lost Man Creek Trail.
In late 2019, an ecosystem restoration project called
Redwoods Rising
began in the park. One of the goals is to repair degraded second-growth forests and rivers in the Greater Prairie Creek Watershed. In summers during this years-long process there may be temporary bike / trail closures in place.
Seven Bike Routes (North to South)
Little Bald Hills Trail on Howland Hill Road: 4.8 miles on parks' side. Continue on the USFS Paradise Trail for 5 more miles. Steep. (No e-bikes).
Coastal Trail, Last Chance section, located at the southern end of Enderts Beach Road or at milepost 15.6 on Highway 101: 6 miles. Some steep areas. (No e-bikes).
Ossagon Trail Loop starts at milepost 132.9 on Newton B. Drury Scenic Parkway: 19-mile loop when combined with Coastal Trail, Gold Beach section, Davison Road and back to the Scenic Parkway.
Coastal Trail, Gold Bluffs Beach section, accessed via Ossagon Trail or Davison Road: 3 miles. Easy. (No e-bikes).
Streelow Creek Trail, 1.8 miles on mostly single-track that connects Davison Road in the west with Davison Trail in the east. Easy.
Davison Trail, start at Elk Meadow Day Use Area or at the south end of Elk Prairie campground: 3 miles. Easy. Combine with Streelow Creek Trail and Davison Road for a 7½ loop. Easy to moderate. Carry on to Lost Man Creek trailhead for another 2½ miles. Moderate.
Lost Man Creek Trail located 3 miles north of Orick or 6½ miles up Bald Hills Road off Hwy 101: 11 miles. Combine with Bald Hills Road and Highway 101 for a 20½-mile loop. Add on four miles by going to Elk Meadow Day Use Area. Moderate with some steep grades.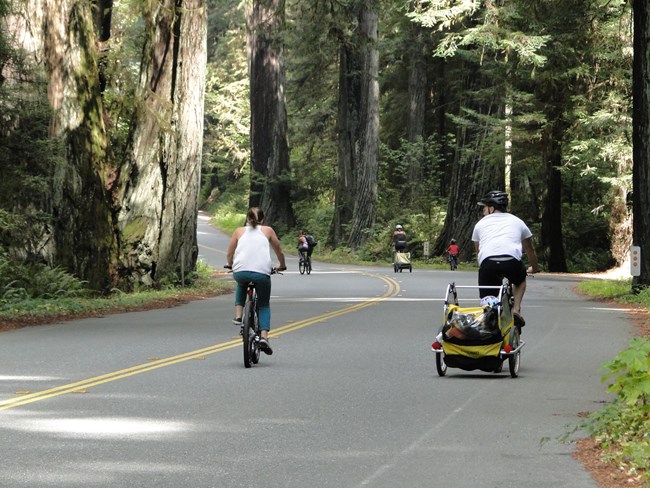 Newton B. Drury Scenic Parkway: Hike and Bike Days
You can ride anytime through 10-miles of stunning redwoods on the paved Newton B. Drury Scenic Parkway in Prairie Creek Redwoods State Park.
A treat for cyclists and walkers is that on the first Saturday of each month (October to May) the Parkway is closed to motorised vehicles.
This event is a wonderful way for cyclists to safely enjoy this road. The Parkway is fairly flat except when the road climbs / descends over 400-feet in the nothern one-mile section.
Other Local Biking Opportunities
There are local businesses that offer rental bikes and other services that might be of interest to you. Check with the Brookings OR, Crescent City, Klamath, Orick, Trinidad, McKinleyville, Arcata or Eureka Chambers of Commerce for more information.

To our north and east there are lots of biking opportunities in the Smith River National Recreation Area which is managed by the Six Rivers National Forest. About an hour's drive to our south is the Arcata Community Forest - this is a popular location where locals ride single-track routes through 100-year old redwood forests.
Last updated: February 27, 2023