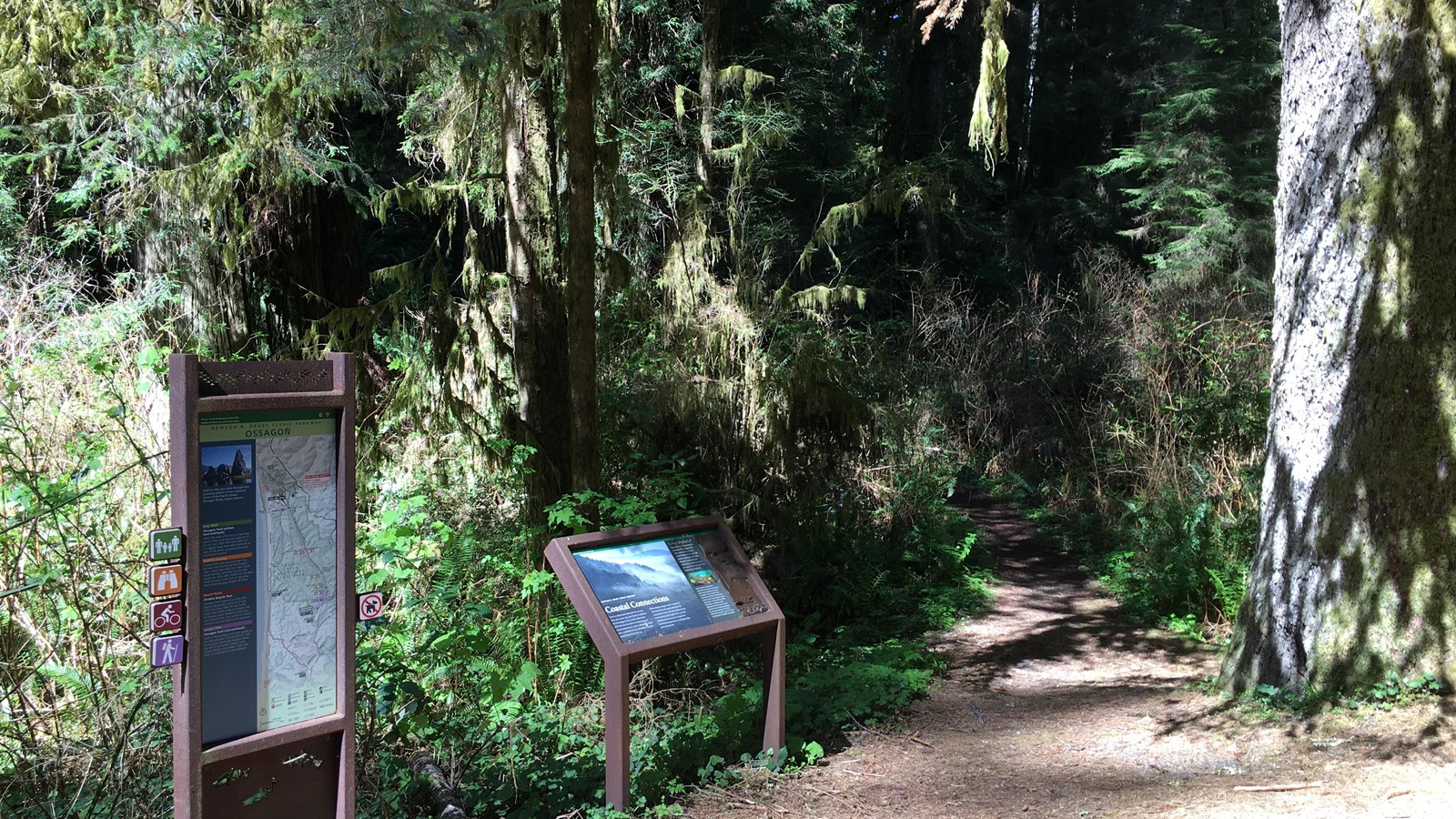 Location:
Northern end of the Newton B. Drury Scenic Parkway.
Significance:
A Hike and Bike Trail to the Coast
Bicycle - Rack, Historical/Interpretive Information/Exhibits, Parking - Auto, Trailhead, Trash/Litter Receptacles
A Hike and Bike Trail to the Pacific Ocean
The trailhead is at milepost 132.9 on the
Newton B. Drury Scenic Parkway
. This trail links up with the California Coastal Trail and can be used as part of a 19-mile loop in Prairie Creek Redwoods State Park.
This 1.8 mile (2.5km) trail will take hikers and bikers from the Parkway to the northern end of Gold Bluffs Beach. The Ossagon trail climbs (and then descends) about 700 feet. In the winter and spring it will be very wet by Ossagon Creek. Near the coast, often the trail will be flooded, or have lots of mud.
The forest habitat on the eastern end of the trail by the Scenic Parkway is old-growth redwoods and as the trail heads west it soon becomes a sitka spruce forest. Hikers and bikers should stay aware for branches and tree limbs that often fall and block the trail.
Pets are not allowed on this trail. A herd of
Roosevelt Elk
is often on the beach at the western end of this trail. These are large, wild animals should not be approached. 
This trail is entirely in California State Park lands and
e-bikes
are not permitted on state park bike trails.
Safety Tips
We recommend you purchase and use a good map and trail guide for your adventures in Redwood National and State Parks. Don't rely on online maps when you are here.
To protect the habitats, leave no trace also means staying on the developed trail. Please don't go off-trail and make any new trails. These forests grow by the inch, and will die by your foot.
To protect the wildlife (and you and other visitors), pets are not allowed on park trails.
Cell coverage is very limited and cannot be relied on in an emergency. Have a plan for checking in and checking out with a friend when you are here.
Last updated: April 15, 2022