Accessibility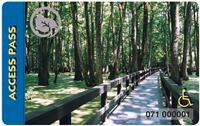 Access Pass
U.S. citizens or permanent residents with permanent disabilities may be eligible for the "
America the Beautiful - National Parks and Federal Recreational Lands Pass - Access Pass.
" The Access Pass provides access to, and use of, federal recreation sites that charge an entrance or standard amenity fee. It will provide 50 percent off camping at the four state park campgrounds in Redwood National and State Parks.
Redwood is a diverse park with landscapes as varied as beaches, forests, hills, trails, open prairies and wild rivers. The National Park Service and California State Parks strive to make the parks universally accessible to all. However, extra obstacles will be encountered in places because of the wild nature of this special place.
Our
visitor centers
and
ranger-led programs
try to engage multiple sense and learning styles, and often include tactile objects and listening activities. The trails upon which rangers lead walks and hikes are typically well compacted gravel, or paved paths. Occasionally ranger-led hikes will be over rocky, uneven terrain, along streams, in rock-pools, through grass, or over sand-dunes
TDD phones are not available in Redwood National and State Parks.
Physical & Mobility Needs
All the visitors centers, picnic areas, campgrounds and cabins, and many trails in the parks are accessible to visitors with physical or mobility concerns. Wheelchairs and beach wheelchairs are available.
Find out more
.
Deafness or Hearing Loss
Official park information and brochures are available for free at all the visitor centers. Open captions are included in the park orientation film that is shown at two visitor centers. Closed-captions are incorporated in all our online, ranger-made videos. Find out more.
Blindness or Low Vision
Tactile models are found in the visitor centers, as well as audio descriptions recent video products. Some of our on-line publications are machine readable PDF (Portable Document Format) documents. The park map is provided in braille.
Find out more.
Cognative
Noise-free and quiet spaces are easy to find in the forests, campgrounds, or along the beaches. The visitor centers have no PA systems, though they often are noisey and busy in summer. In the event of an emergency, the visitor center fire alarms are loud. If there is an earthquake or tsumani warning, rangers will be very vocal when giving instructions and evacuation orders.
Service Animals
Service animals are allowed in national and state parks.
Learn more.


Last updated: November 17, 2017