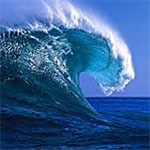 "Sneaker" Waves and Tide Safety
Sneaker wave safety
Sneaker waves are disproportionately large ocean waves which appear suddenly and without any warning. The waves are unexpected that can occur even on the mild-weather days. It is this combination that makes sneaker waves a serious hazard to people, especially children. Sneaker waves form when several smaller waves combine their energy, creating a single larger wave. Read the Beach Safety brochure to learn more about sneaker waves.
Tide safety
Don't get trapped by a rising tide! Always carry -- and know how to use -- a tide table, topographic map and a watch whenever hiking along the redwood coast! Several points along the coast are only passable at lower tides. DO NOT GUESS! Know when the tides will occur and plan your hike according. Strong winds or storms can significantly elevate tides and create hazardous conditions. Be attentive to your surroundings and never underestimate the power of the Pacific Ocean.
Tips to stay safe while enjoying the North Coast

Before heading to the coast, check the

National Weather Service forecast: (707) 443-7062.
Expect sneaker waves! Keep children close!

Always face the water while on the beach and always keep an eye on the incoming waves.

Wet sand makes walking easier but puts you at higher risk.

Choose to sit or picnic higher up on the dry sand.

Life jackets are lifesavers. Wear a life vest during activities that require you to be on the beach with your attention diverted, such as fishing or tidepooling.

Watch for High Surf Advisories issued by the National Weather Service, but remember that sneaker waves can occur any time – even when the forecast call for small waves.

Check the tides before you go. Know when high tide occurs. High tides put you at greater risk while on the beach.