Fees & Passes
Entrance Fees - Effective March 1, 2022
All visitors (16 years old and up) are required to have a Park Entrance Pass. All vehicles must display a pass clearly visible through the windshield. Display park annual pass and federal lands passes, such as senior and military passes, on your dashboard with the signature and expiration date facing up. You may also pick up a hang tag at the park.
Entrance Fee by Private Vehicle - $10.00
This is an entrance fee for all persons traveling in a single, private, non-commercial vehicle. The entrance pass is good for 7 continuous days. The pass is non-transferable.
Entrance Fee by Individual - $5.00
This is a per person entrance fee for a visitor arriving on foot, bicycle, snowmobile, or boat-in. The pass is good for 7 continuous days and is non-transferable.
Entrance Fee by Motorcycle - $10.00
This is for the motorcycle or snowmobile and passengers. The pass is good for 7 continuous days and is non-transferable.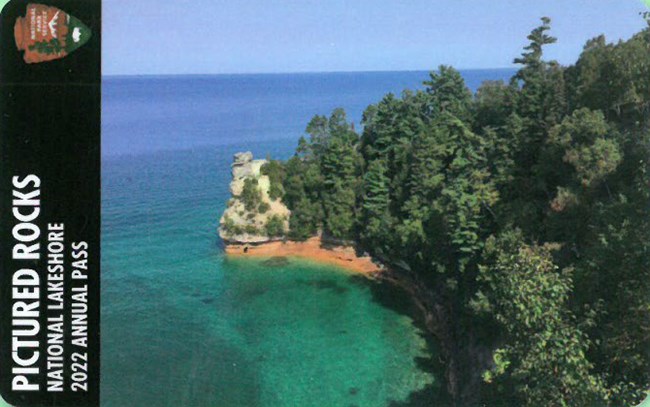 Pictured Rocks National Lakeshore Annual Pass - $20.00
This pass is valid for one year from the month of entry and admits the purchaser and passengers in a single, private, non-commercial vehicle. It is nontransferable, nonrefundable, and does not cover tour or camping fees.
Buy Your Digital Pass on Recreation.gov
Whether you're planning a single visit or coming back multiple times a year, enjoy the convenience of purchasing a Pictured Rocks NL site-specific digital pass on Recreation.gov before you arrive. You have immediate access to your digital pass and can easily download it on your phone or tablet. Your pass will also be emailed as a PDF and can be printed out for display when you arrive. 
Click the Purchase Passes link below or visit: 
www.recreation.gov/sitepass/pictured-rocks-nl.
Purchase Passes
Commercial Vehicles (for-profit)
Entrance fees are based on the seating capacity of the vehicle.
Commercial Sedan (1-6 seats): $25, plus $5 per person, 16 years of age or older
Commercial Van (7-15 seats, regardless of occupancy): $40
Commercial Mini Bus (16-25 seats, regardless of occupancy): $40
Commercial Motor Coach (26 or more seats, regardless of occupancy): $100

2022 Fee-free Days
The National Park Service will have five entrance fee-free days in 2022. The free entrance dates for 2022 are:

America the Beautiful - National Park & Federal Recreational Land Passes
The America the Beautiful – The National Parks and Federal Recreational Lands Pass Series is your ticket to more than 2,000 federal recreation sites across the United States.
Passes cover entrance fees at many national parks, including Pictured Rocks National Lakeshore, and national wildlife refuges and standard amenity fees (day-use fees) at national forests and grasslands and at lands managed by the Bureau of Land Management, Bureau of Reclamation, and US Army Corps of Engineers.
In general, one pass covers the fees listed above for a driver and passengers in a personal vehicle at per-vehicle fee areas or up to four adults at sites that charge per person. Children age 15 or under are admitted free. Some passes provide additional benefits. Check with individual sites for details.
Photo identification will be required to verify ownership.

Passes are non-refundable, non-transferable and cannot be replaced if lost or stolen
The program has passes that range in cost from 0$ to $80. There are passes for US Military and their dependents, US citizens 62 and older, US 4th Grade Students, US citizens with a permanent disability, as well as annual passes for anyone to purchase.
Interagency passes include:
Annual Pass: $80
Annual Military Pass, US Military Veterans, and Gold Star Family Members: Free*
Annual Fourth Grade Pass for US students in fourth grade: Free
Annual Senior Pass: $20
Lifetime Senior Pass: $80
Lifetime Access Pass: Free
Annual Volunteer Pass: Free (250 hours of volunteer service at any of the six participating federal agencies is required)
*A new program that provides free access for US military veterans and Gold Star Family members took effect in fall 2020 as a way to thank them for their support of our country and to encourage them to explore recreational opportunities on their public lands and waters. Find detailed information about who qualifies, acceptable forms of identification, and how to download a Gold Star Family voucher.


At Pictured Rocks, these passes are sold/issued at the Munising Falls Visitor Center only during summer months. Passes can be purchased online as well. Visit https://www.nps.gov/planyourvisit/passes.htm to learn more. To purchase passes, go to: https://store.usgs.gov/pass
Other Fees
Drive-In Camping - $25 per night
Campsites in the park's drive-in campgrounds are $25 per night. Reservations are required. There is a 50% discount on camping fees for holders of the
America The Beautiful Senior Pass and Access Pass
and the old Golden Age and Golden Access passes (prior to 2006).
For information on reserving a campsite, please go to our
Camping
page.
Backcountry Camping - $15 permit fee, plus $5 per person per night
A backcountry camping permit is
required
for all overnight stays in the backcountry year-round, whether by hiking or kayaking.
The permit is only for the dates, locations, and party size specified. Camping fees are $5 per person per night; plus the $15 reservation fee. There are no refunds.
For more information on obtaining a permit, please go to our
Backcountry Camping
page.
Au Sable Guided Tours - $5 per person
Visitors to the
Au Sable Light Station
may enjoy the grounds year-round at no charge. During summer, ranger-led tours of the keepers quarters and lighthouse are offered Wednesday - Sunday. There is a $5 fee (cash only, exact amount required) per person for ages 6 and up.


Last updated: September 9, 2022