Frequently Asked Questions
How can I get the most up-to-date information about the national lakeshore?
Take the time to look through this website, particularly the "Plan Your Visit" section and any "Alerts" that are listed. We try to post changes and updates as quickly as possible. Also, call the main park
visitor center
at (906) 387-3700, open daily 9 am to 5 pm in summer (reduced days and hours in winter).
What are the Pictured Rocks?
The Pictured Rocks are sandstone cliffs rising 50 to 200 feet above Lake Superior. The cliffs begin just east of Sand Point and extend eastward for about 15 miles. Mineral seepage creates the cliffs' vibrant colors, which are best seen from the water. Red and orange are iron, green and blue are copper, black is manganese, and white is limonite. The "Pictured Rocks" refer to these mineral colors only: there are no pictographs (rock paintings) or petroglyphs (rock peckings) within the national lakeshore.
What is the best way to view the Pictured Rocks?
A National Park Service authorized concessionaire offers a narrated two-hour
non-stop boat cruise
along the colorful sections of the Pictured Rocks cliffs. Guided
kayak tours
are also available. Significant portions of the cliffs may be reached via
hiking
, particularly the 10-mile Chapel-Mosquito loop trail. You may also drive directly to
Miners Castle
, which offers views of this famous sandstone landmark (including a wheelchair-accessible viewing platform).
Are pets allowed in the park?
Pets are permitted on various beaches, in the Miners area, in drive-in campgrounds, on some waterfall trails, the access road to the Au Sable Light Station, and certain other locations.You are responsible to know where you can and cannot take your pet. Pets must be kept on a 6-foot leash at all times, even on beaches or while swimming. You must clean up after your pet. Pets are not permitted in the park backcountry or at backcountry campsites.
more...
How's the weather?
Lake Superior generally keeps summers cooler and winters warmer than inland areas. Summertime highs can reach the 90s with much cooler evening temperatures. Daytime temperatures in the 60s to upper 70s are more common. Typically, winter temperatures are below freezing but not bitterly cold. Average annual snow total is about 150 inches, although totals over 200 inches are not uncommon. Layered clothing for changing weather is recommended.
more...
When is black fly season?
As a general rule, black fly season runs from mid-May through mid-June. In addition, you may experience mosquitos, no-see-ums, stable flies (most active in hot humid weather!), and other biting insects when you visit Pictured Rocks. Be prepared with insect repellent and protective clothing.
more...
When is peak color season?
Autumn colors are usually at their peak either the last week in September or at some point during the first ten days of October. The "peak" weekend is hard to predict. Consider planning your visit earlier rather than later. Remaining green leaves enhance the autumn colors. A heavy rain or windy day can knock down many of the autumn leaves if your visit is later.

Do your campgrounds have electricity or showers?
The drive-in campgrounds at Pictured Rocks are rustic, and do not have electrical hookups, hot water, sewer hookups, or dump stations. Cell phone service is typically not available throughout much of the national lakeshore.
more...
How can we reserve a campsite?
Go to the
Camping
page for information on reserving a campsite in one of our three drive-in campgrounds. Go to the
Backcountry Camping
page for information about reserving a (hike-in or boat-in) site in the backcountry. When our campgrounds are full, please refer to the
Nearby Campgrounds
page for other options in the area.
Are campfires allowed in the backcountry campgrounds?
Campfires are only permitted in the community metal fire rings within backcountry campgrounds; use only dead and down wood. Driftwood may be collected for fires as long as it is not removed from the park. Small backpacking stoves may be used at individual campsites. Fires are not permitted at the Chapel Beach and Mosquito River backcountry campgrounds.
more...
Is drinking water available in the backcountry?
Water from streams and lakes is available near most backcountry campgrounds. Water must be boiled for one full minute or filtered through a 1-micron filter before it is used. Water is not available at the Cliffs, Potato Patch, or Masse Homestead campgrounds.
more...
What about drone use?
Launching or landing a drone within the boundaries of Pictured Rocks National Lakeshore is not permitted. Drone use is prohibited at every NPS unit (with a few limited exceptions) throughout the country.
more
...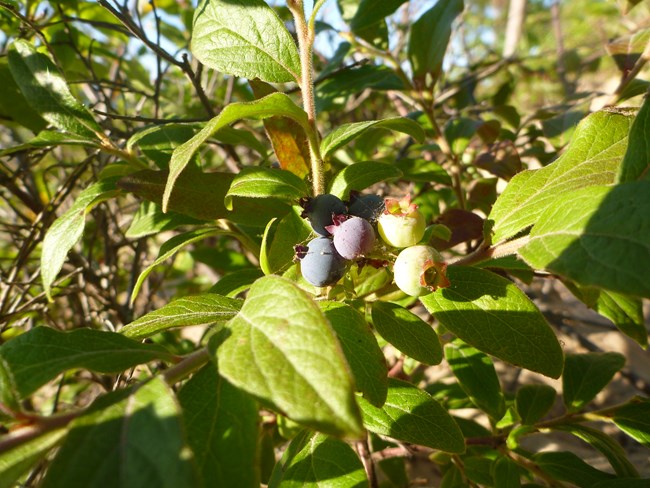 Can we pick blueberries?
Native fruits, berries, and mushrooms may be gathered by hand for personal use - limited to one gallon per day per person. Apples may be gathered in quantities up to five gallons per day per person. Gathering for commercial use is prohibited. Picking flowers or removing living plants is not allowed.

Last updated: September 26, 2022