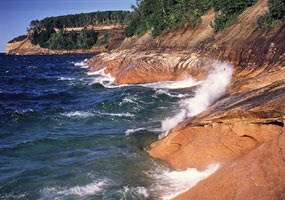 "Lake Superior possesses all the sublimity of the ocean. In gazing upon its surface, whether stretched out like a vast mirror, reflecting the varying tints of the sky, or ruffled by gently–curling waves, or lashed by the fury of the storm, the beholder is alike impressed with a feeling of the grand and the infinite."
- J.W. Foster and J.D. Whitney, geologists, 1850.

Lake Superior is the dominant force affecting Pictured Rocks National Lakeshore. This powerful inland "sea" creates its own weather and climate, resulting in cooler temperatures in the summer and milder temperatures in the winter. Waves continually sculpt the cliffs and reshape beaches, but the effect of Lake Superior is also felt far from shore. Storms, snow, fog, humidity, temperatures, and wind generated from the lake impact every park ecosystem.

Lake Superior is the largest, coldest, and most pristine of the Great Lakes. It has the largest surface of any freshwater lake on earth and it is the third largest lake by volume. Its striking clarity is due to a low amount of organic material. Lake Superior is oligotrophic, meaning it is nutrient poor. The surrounding forests and rock layers filter water entering the lake, which limits the amounts of phosphorus and various biological nutrients needed for algae and other plant growth. Despite this, the lake supports a healthy ecosystem of plankton, invertebrates, and cold water fish.