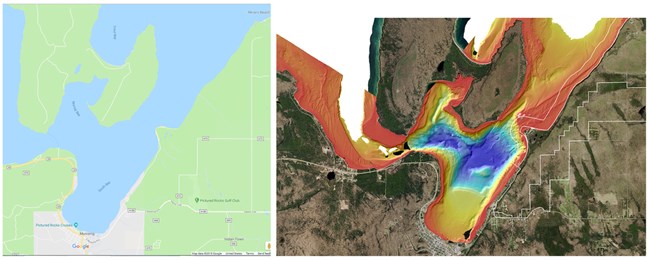 Look at any map and you'll find that water is simply flat and blue — no texture, no detail. Even nautical charts, dedicated to the open waters of the world, depict the depth and contours as small black numbers on a plain white or blue background.
Science and our own individual experiences tell us there is more to lakes than this, and a National Park Service project to map the bottom of Lakes Superior and Michigan has confirmed our suspicions. A lot of sandy lake bottom at Sleeping Bear Dunes? Yep. A lot of rocks below Isle Royale? Of course. But we've also discovered some secrets. Possible submerged glacial features! The story behind the name of Marina Shoal in the Apostle Islands! There is a lot to discover out there beneath the waves.
The Research Vessel Echo (ECho, echo, ...)
The National Park Service Midwest Region's Great Lakes Strategy outlined steps for conserving natural resources in parks along the inland coasts. One of the goals was to "inventory, map, and monitor natural and cultural resources within and near the submerged land boundaries of Great Lakes national parks." It would be two years before the Great Lakes Restoration Initiative (GLRI) provided much-needed funding for us to begin this work, but since 2010, the NPS has received more than $36 million from the GLRI, with projects having many positive outcomes for parks.
One of the more intensive projects made possible by GLRI funding was the purchase and outfitting of the NPS research vessel Echo, a 28-foot vessel, custom-made to collect multi-beam sonar data in the waters around national parks on Lake Superior. This was just one part of a multi-faceted, multi-year effort to map the lake bottom within park boundaries on Lakes Superior and Michigan. Great Lakes Network staff worked as boat operators, while hydrographic technician Lara Bender ran the sonar and processed the data to create the bathymetric images seen here.
LiDAR (light detection and ranging) data from the U.S. Army Corps of Engineers filled in the areas closest to shore and out to a depth of 10 meters (about 30 feet) --- which was sufficient to map all of the park waters at Indiana Dunes National Lakeshore on Lake Michigan. Partners at Michigan Technological University and Northwestern Michigan College collected multibeam sonar data at Sleeping Bear Dunes National Lakeshores on Lake Michigan.