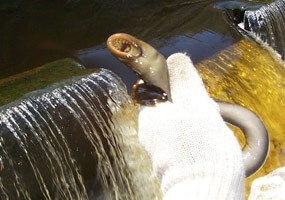 Unwelcome Visitors
Invasive non-native plant and animal species, both terrestrial and aquatic, are major threats to resources, ecosystems, habitat integrity, and biodiversity at Pictured Rocks National Lakeshore. Non-native species are those that originate in other regions of the world and have been brought to the United States (either accidentally or intentionally) through human activity.

Many have arrived in shipping crates, cargo, grain supplies, ship ballast water, construction materials, or the personal property of people traveling to the U.S. Early settlers and colonists brought various plant species from their home countries as garden and culinary plants, which then escaped over time into native ecosystems. Some invasive animals were originally pets or exotic game species that either escaped or were released by their owners into natural areas.

Non-native species are further transported by "hitchhiking" on vehicles, recreational equipment, hiking boots, firewood, and boats traveling from one waterway to another.

Many non-native species have little or no negative impact on the environment, but others called invasive species can do a great deal of damage. Invasive species spread quickly and aggressively out-compete native species for space and nutrients. Without the natural predators, diseases, competition, and environmental conditions that kept them in check in their native land, these species become robust "invaders" that can alter entire natural communities. They are more successful in a wider range of habitats than native species and they take advantage of disturbed environments.

Invasive species cause economic and environmental harm, and some are hazardous to human health. Once they get established, invasives are almost impossible to get rid of.