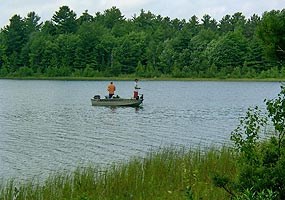 About 60 species of native and non-native fish are present in the lakes and streams of Pictured Rocks National Lakeshore and the nearshore waters of Lake Superior. The park's many beautiful fishing locations attract anglers of all kinds.

Major cool water game species include smallmouth bass, northern pike, walleye, yellow perch, and non-native smelt and coho salmon. Typical trout species found in the lakeshore are brook trout, lake trout and non-native rainbow trout or "steelhead." White sucker, minnows, darters, sculpin, shiners, dace, and sunfish species are also common.

For several decades before and after the establishment of the national lakeshore, the Michigan Department of Natural Resource stocked game fish species in several inland lakes. Because park management seeks to foster naturally reproducing populations of native fish, stocking of game fish no longer occurs.