Condors with Blue Tags
Condors with blue wing tags are older birds that hatched between 2003-2005. The blue signifies that they are "300" birds. For example, a blue tag with a 10 on it is actually condor 310.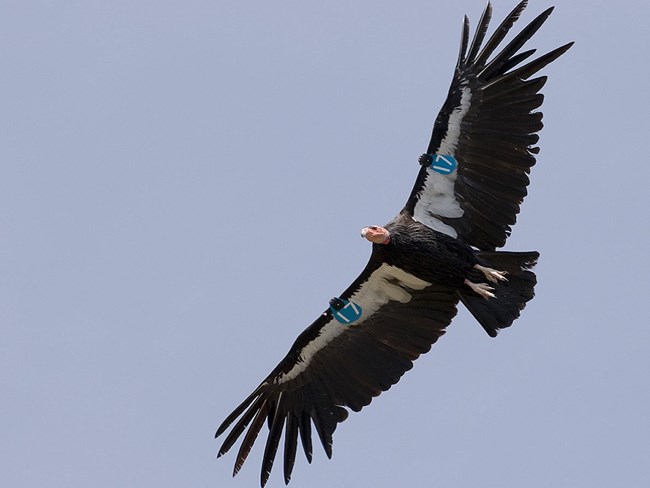 317
Hatched:
5/26/2003 at the San Diego Zoo
Sex:
Female
Released in Pinnacles:
2004
Current Mate:
Condor
330
Previous Mates:
VWS condor
318
(deceased 2012); VWS condor
171
; condor
564
(deceased 2020)
Offspring:
VWS condor
787
(deceased 2017), condor
1021
Fun Fact:
In 2010, laid the first condor egg seen in Pinnacles since 1898; unfortunately the nest failed. She has been given two foster eggs from zoos to raise over the years, but unfortunately both chicks had to be evacuated from the nest and taken back to the zoo. One was condor
550
, who was evacuated from the nest due to lead poisoning and was later released from captivity. The other was condor
595
, who is now an ambassador condor at the LA Zoo known as
Dolly
. She somehow broke her wing while in the nest and couldn't be released.
317
also successfully raised a foster chick (
787
) with a female partner (
171
) in 2015. Condor
1021
is her first blood-related offspring.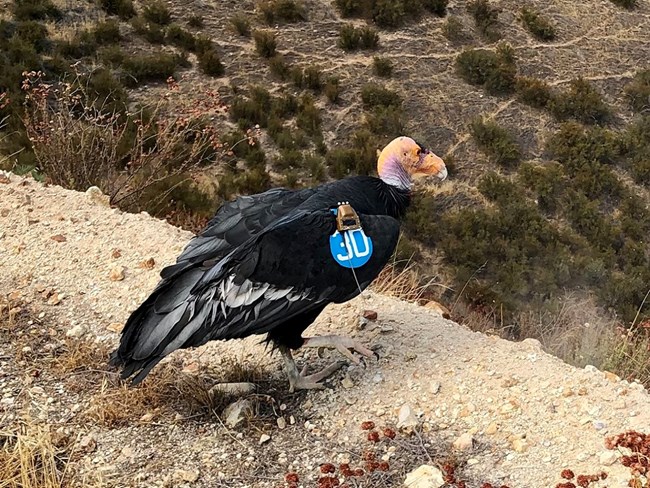 330
Hatched: 4/19/04 at the San Diego Wild Animal Park
Sex: Male
Released in Pinnacles: 2005
Current Mate: Condor 317
Previous Mate: Ventana Wildlife Society condor 375 (deceased 2020)
Offspring: condors 800, 877 (deceased 2021) and 1006
Fun Fact: Until July 2021, had only been caught once in nearly ten years- notorious for being one of the most secretive condors in central California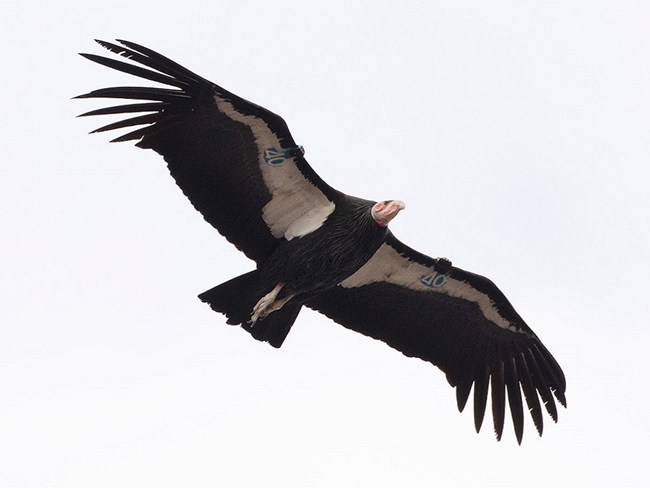 340
Hatched: 5/9/04 at the Oregon Zoo
Name: Kun-Wac-Shun, meaning "Thunder and Lightning"- named by Chief Nelson Wallulutum of the Wasco tribe
Sex: Male
Released in Pinnacles: 2005
Previous Mate: VWS condor 444 (deceased 2014)
Current Mate: VWS condor 236
Offspring: Condors 828 (deceased 2022), 912, 1027, 1096 (deceased 2022), 1238
Fun Fact: One of the most dominant condors in the flock; raised the first condor chick (828) to fledge from a nest in Pinnacles in over 100 years
Last updated: October 4, 2023
Explore More Condor Pages