Condors with Blue Tags
Condors with blue wing tags are older birds that hatched between 2003-2005. The blue signifies that they are "300" birds. For example, a blue tag with a 10 on it is actually condor 310.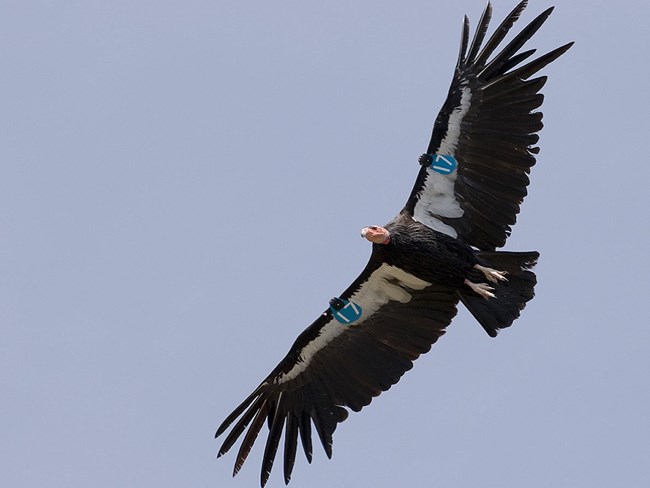 317
Hatched:
5/26/2003 at the San Diego Zoo
Sex:
Female
Released in Pinnacles:
2004
Previous Mates:
VWS condor
318
(deceased 2012); VWS condor
171
Offspring:
VWS condor
787
(deceased 2017)
Fun Fact:
In 2010, laid the first condor egg seen in Pinnacles since 1898; unfortunately the nest failed. She was then given a foster egg from the zoo to raise, which was condor
550
. However,
550
had to be evacuated from the nest due to lead poisoning and was later released from captivity. In 2011,
317
was given another foster egg. This chick,
595
, somehow broke her wing while in the nest. She was taken to the LA Zoo, where she is now an ambassador condor known as
Dolly
.
317
also successfully raised a chick (
787
) with a female partner (
171
) in 2015.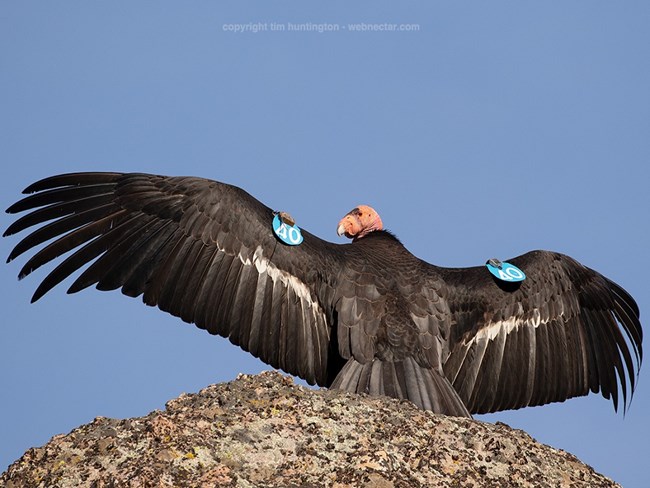 340
Hatched: 5/9/04 at the Oregon Zoo
Name: Kun-Wac-Shun, meaning "Thunder and Lightning"- named by Chief Nelson Wallulutum of the Wasco tribe
Sex: Male
Released in Pinnacles: 2005
Previous Mate: VWS condor 444 (deceased 2014)
Current Mate: VWS condor 236
Offspring: Condors 828 and 912
Fun Fact: One of the most dominant condors in the flock; raised the first condor chick (828) to fledge from a nest in Pinnacles in over 100 years
Last updated: August 2, 2020
Explore More Condor Pages