| | |
| --- | --- |
| National Parks Portfolio | |

National Monuments
---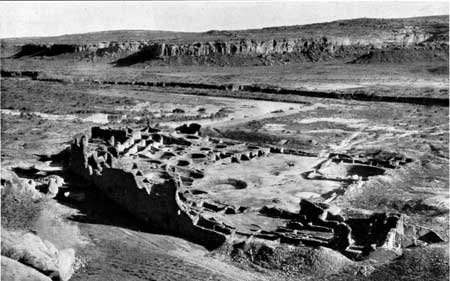 Copyright by the National Geographic Society
THE CHACO CANYON NATIONAL MONUMENT
THE Chaco Canyon National Monument preserves remarkable relics of prehistoric people once inhabiting New Mexico. Here are found numerous communal or pueblo dwellings built of stone, among which is the ruin known as Pueblo Bonito, containing, as it originally stood, twelve hundred rooms. It is the largest prehistoric ruin in the Southwest.
Interesting exploration and excavation work among the ruins has been carried on by the National Geographic Society.
SHOSHONE CAVERN NATIONAL MONUMENT
A FEW miles east of the celebrated Shoshone Dam, in Wyoming, is found the entrance to the picturesque Shoshone Cavern. Some of the rooms are a hundred and fifty feet long and forty or fifty feet high, and all are remarkably encrusted with limestone crystals. The passages through the cavern are most intricate, twisting, turning, doubling back, and descending so abruptly that ladders are often necessary.
COLORADO NATIONAL MONUMENT
THIS area, near Grand Junction, Colorado, is similar to that of the Garden of the Gods at Colorado Springs, only much more beautiful and picturesque. With possibly two exceptions it exhibits probably as highly colored, magnificent, and impressive examples of erosion, particularly of lofty monoliths, as may be found anywhere in the West. These monoliths are located in several tributary canyons. Some of them are of gigantic size; one over four hundred feet high is almost circular and a hundred feet in diameter at base.
LEWIS AND CLARK CAVERN NATIONAL MONUMENT
THE feature of this national monument is a limestone cavern of great scientific interest because of its length and because of the number of large vaulted chambers it contains. It is of historic interest, also, because it overlooks for more than fifty miles the Montana trail of Lewis and Clark.
The vaults of the cavern are magnificently decorated with stalactite and stalagmite formations of great variety of size, form, and color, the equal of, if not rivaling, the similar formations in the well-known Luray caves in Virginia. The cavern has been closed on account of depredations of vandals.
THE DINOSAUR NATIONAL MONUMENT
THE Dinosaur National Monument in northeastern Utah was created to preserve remarkable fossil deposits of extinct reptiles of great size. The reservation contains eighty acres of Jura-Trias rock.
For years prospectors and residents had been finding large bones in the neighborhood, and in 1909 Prof. Earl B. Douglass, of the Carnegie Museum of Pittsburgh, under a permit from the Department of the Interior, undertook a scientific investigation. The results exceeded all expectation. Remains of many enormous animals which once inhabited what is now our Southwestern States have been unearthed in a state of fine preservation. These include complete and perfect skeletons of large dinosaurs.
The chief find was the perfect skeleton of a brontosaurus eighty-five feet long and sixteen feet high which may have weighed, when living, twenty tons.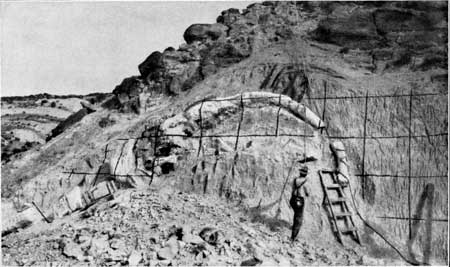 UNEARTHING THE SKELETON OF A GIANT DINOSAUR OF PREHISTORIC DAYS
Continued >>>