| | |
| --- | --- |
| National Parks Portfolio | |

DIFFERENCE BETWEEN A NATIONAL PARK AND A NATIONAL MONUMENT
---
THE two classes of reservations comprising the national-park and national-monument system differ primarily in the reasons for which they are established. National parks are areas set apart by Congress for the use of the people of the United States generally, because of some outstanding scenic feature or natural phenomena. Although many years ago several small parks were established, under present policies national parks must be sufficiently large to yield to effective administration and broad use. The principal qualities considered in studying areas for park purposes are their inspirational, educational, and recreational values.
National monuments, on the other hand, are areas reserved by the National Government because they contain objects of historic, prehistoric, or scientific interest. Ordinarily established by presidential proclamation under authority of Congress, occasionally these areas also are established by direct action of Congress. Size is unimportant in the case of the national monuments.
A few of the national monuments are under the supervision of the Forest Service of the Department of Agriculture because they are located within national forests, and several others are administered by the War Department because of their military significance. The majority of them, however, are administered by the National Park Service of the Department of the Interior, and only these latter are considered in this book.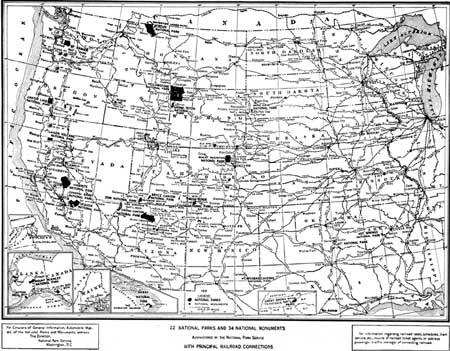 (click on image for an enlargement in a new window)
Continued >>>