| | |
| --- | --- |
| National Parks Portfolio | |

Bryce Canyon
---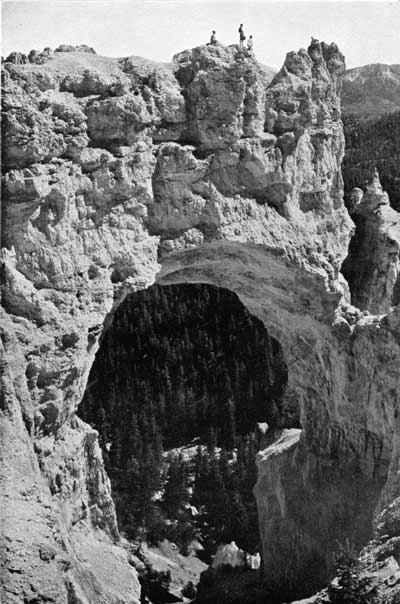 THE NATURAL BRIDGE IN BRYCE CANYON
Photograph by Grant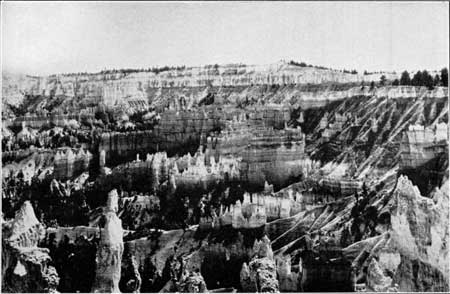 SILENT CITY IN BRYCE CANYON
Photograph by J. Reed Jones
BRYCE CANYON
NATIONAL PARK
THE highest and the newest of the canyon parks, Bryce Canyon is located in the same general desert region that produced the Grand Canyon and Zion. It, too, is the result of erosion, but because it was sculptured in a higher rock stratum, one that has long since been eroded from the more southerly canyons, it is different in form and coloring.
The park, through recent additions, now contains several great box canyons or amphitheaters. Bryce, however, is still the most important. It is a great horseshoe-shaped bowl, sunk deep into a plateau of brilliant composition and soft texture, and its eroded pinnacles and towers, its many queer formations, sculptured on a delicate scale, are exquisitely colored.
There is an unreal quality to the whole that lends to the air of enchantment. Entire cities of spires seem to rise against the sky line, deep rose at their base and their tips brilliant white, gleaming in the sunshine. Temples and towers, fairies and dwarfs, statues and busts of famous people, the superb and grotesque, all meet and mingle in the carvings of Bryce. There is no end to what the imagination may find.
Viewed at sunrise, the coral and rose-colored spires glow as though lighted by living fire, and by moonlight the higher white tips have an almost unearthly brilliance. Every hour of the day it is different, but always beautiful.
Continued >>>